Lessons Learned from two years of City Year service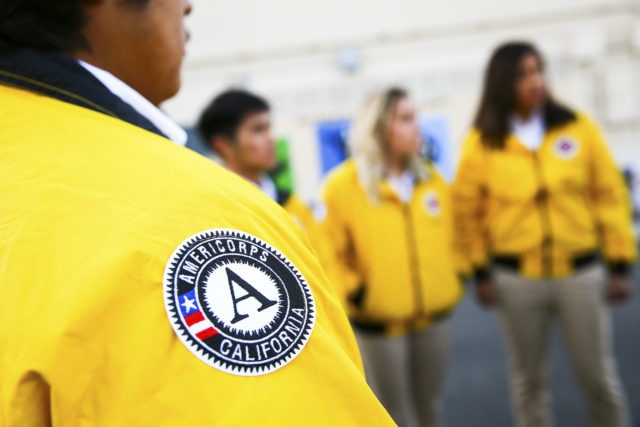 A few years ago, Amari Traylor's family was experiencing a challenging time. Because so much of his energy focused on helping his family out at home, Amari found little time and motivation for his studies at Sierra College in California. He decided to take a break from his academic pursuits.
Then Amari heard about City Year Sacramento. And though Amari knew he wasn't quite ready to go back to his classroom, he did feel that he could support K-12 students in their classrooms.
In 2019, he started service at Father Keith B. Kenny  Elementary School working in a third-grade classroom during what proved to be a challenging year because of COVID-19.
However, Amari says he got so much out of the experience, he decided to serve a second year at City Year.
This year, Amari is serving virtually as a team leader at Earl Warren Elementary School. He helps to support a team of first-year City Year AmeriCorps members and works with a City Year impact manager, teachers and school administrators to strengthen the collaboration and relationships between corps members and school staff.
Amari reflects on the essential role City Year AmeriCorps team leaders play in supporting school staff, students and first year AmeriCorps members—and what he's learned in the process.
Like our students, AmeriCorps members need support
"The great thing about supporting first-year AmeriCorps members is that, as a team leader, you've been there before; you know what it's like to go through all the stages of service. So, I have made it my goal to always lead with empathy.
Because of the nature of virtual service, we work eight and a half hour days instead of the usual 10 and a half hours. That may sound great, but I know from experience that this means that corps members have less time to do the work, in a year that has presented unique challenges. For example, you can't just get up and talk to a teacher or student like you can during in-person service. You don't have that natural way to build relationships with team teammates, either.
I try to tell my AmeriCorps members, "Look, it's okay if you're feeling overwhelmed or having a rough day. This job asks a lot of you. I understand."
I think it's also important to support my team members in figuring out what it means to take care of themselves—because you can't get burned out quickly in the role where all your energy is going to the well-being of others. It's easy to forget about what you need to feel well.
I'm always asking my team "What do you need? What are you going to do to take a break? And how can we plan so that you're not taking work home with you?" If corps members aren't feeling their best, then it's hard for them to be fully present for our students, which is what we're here for, at the end of the day.
Academics are important but students need social-emotional support too
"During my first year of service, we learned about a book called Teach Like a Champion (TLAC) by Doug Lemov. The book offers a number of effective teaching strategies so that students have a meaningful and engaging learning experience. Many of the strategies are focused on teaching content, but I've found the social-emotional strategies helpful as well.
In a year where, as a society, we're dealing with the consequences and impact of a pandemic, I think it's even more important that we're supporting students in their emotional well-being.
I know first-hand that if you're going through a challenging time, you're not going to be able to focus on academics if you've got other, real life issues going on.
One of the techniques we use with our students is called "Stretch It" which helps us to make that deeper connections and build relationships. So, if you ask a student, "How are you doing?" and they give you a short, one word answer, this strategy simply says to ask them a follow up question. And if they do share something—especially if it's something deeply personal—it's okay to not know exactly how to react.
The point is, don't ignore it. Acknowledge it. Ask them if they're okay or if they want to talk more about it. Those questions allow them to process how they're feeling, create a safe space for them to share their experiences and also show students that you care about them.
This experience has taught me that students really trust their City Year AmeriCorps members and might share things with them that they haven't shared with anyone else. Because of that, I try to help my team understand how our support can help students feel safe and cared for.
Be creative. Students need to stay engaged
"I'm lucky because even though I'm a team leader, I still get the opportunity to engage directly with students. And one of my greatest accomplishments is the virtual game room that I've had the opportunity to lead which is my way of keeping the learning space fun and interactive.
With our primary kids, we wanted the game room to be focused on active engagement, a space where they can still experience play. We do games like Simon Says, scavenger hunts, and dance with them as well— "Go Noodle" is the most popular with our younger students.
When we do scavenger hunts, we might ask them to find something in their house that is blue. We give them 30 seconds to run around, find something, and then they come back and show it to the class. It's hard to be a six-year-old and sit still in front of the computer all day so they love it! It's the closest thing to recess that we can do.
For our older students, we focus on activities that get them thinking. We do trivia games like Jeopardy and another one called "Memory," where they have a certain amount of time to look at a photo and then, later, have to recall what's in the photo. And lastly, we host "snap debates," where they debate a particular topic. It's supposed to be fun, of course, but also help them build critical thinking and public speaking skills. These activities ensure students are getting more time to speak and socialize with each other—since when learning in the virtual space, they're mostly expected to stay muted.
A second year of service is worth it
"If I had to give any advice to someone thinking about doing a second year or service, my advice would be to just do it!
Come back for the kids; they're really going to enjoy having you there for a second year. Come back for the teachers; they're going to appreciate having that continued support in the classroom. And come back for yourself; it'll give you another year to grow personally and professionally.
I know for me, service for two years was a productive way to spend time away from my own studies. Now, next year, I know I'm ready to go back to college and finish my degree. And I have more clarity in what I want out of my education as well. Before doing City Year, I was majoring in math; now I want to return as an education major.
We may not know exactly what next school year will look like for our students—will it be virtual or in-person? Either way, I'd encourage currently serving AmeriCorps members to consider coming back with an open mind and be willing to serve your students in whatever way they need.
Bring what you've learned in your first year, build on that, and most importantly, have fun by making your second year what you want it to be!
Want to learn more about what it means to serve with City Year?