Resources to support the mental health and well-being of our corps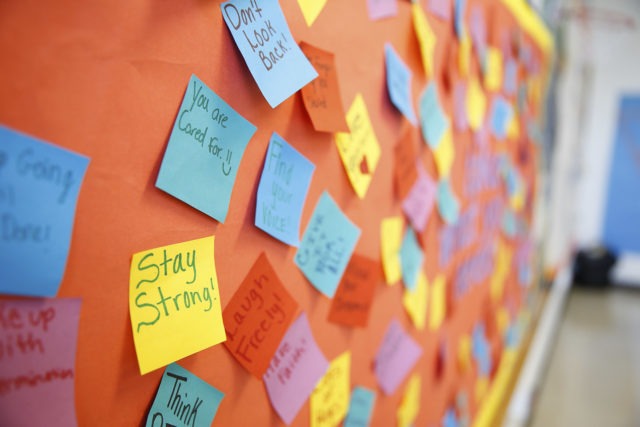 Our AmeriCorps members serve long, rewarding, often challenging, days in schools. Being present for students day-in and day-out—on top of managing life outside of service—is hard under normal circumstances, let alone a global pandemic.
Our goal is to ensure that every corps member is in a position to lead a healthy life with purpose—keeping in mind that corps members who feel supported will be better equipped to support their students and their teammates.
Supporting our City Year AmeriCorps members
Since we know that supporting corps mental health and well-being is complex and does not have a singular, straightforward solution, we're committed to identifying thoughtful and creative ways to address this vital need.
"Empathy is a core value of City Year and is a quality exemplified every day by our AmeriCorps members," says Alexandra Allen, senior vice president of AmeriCorps member experience. "At this uncertain time, we want all of our corps to know that we care about them and their experience as members of our community, and that there are different kinds of support available to them as they experience this pandemic."
In recognition of May as Mental Health Awareness Month, we're highlighting four resources we are currently providing to our corps to help them have a balanced and healthy service experience and effectively navigate the increased anxiety, grief and fear many people are experiencing during COVID-19.
Talkspace
Regular therapy has been shown to be one of the most important contributors to positive well-being, but as AmeriCorps members, we know it may be difficult to fold it into your life, especially with the schedule and structure of a service year on a team, in schools and working with students. City Year has a partnership with Talkspace, an online therapy platform that makes it simple and convenient to connect with fully licensed, respected therapists via video, text or phone, to provide AmeriCorps members with three free months of services. Currently serving AmeriCorps members may access this benefit at any point during their service. AmeriCorps members can use the Talkspace benefit with the knowledge that it is secure and confidential.
Ten Percent Happier
With the advent of COVID-19 last spring, City Year teamed up with Ten Percent Happier—a meditation app that features a wealth of resources delivered by the world's most qualified teachers designed for newcomers to meditation and those with more experience—to provide a free subscription to all currently serving AmeriCorps members and City Year staff.  Numerous studies have found that taking time to breathe, focus your attention on the present moment and release negative thoughts has positive mental and physical health benefits, including reducing stress and anxiety and boosting resilience and a sense of calm.
But some people find the thought of meditating to be intimidating.
The Ten Percent Happier app offers over a dozen courses and 350+ guided meditations on topics ranging from the basics of mindfulness, stress and compassion, to practical tools for responding to our emotions; short talks to listen to while on the go, and an extensive section to help with getting a restful night of sleep.
The app also has a special "Coronavirus Sanity Guide," to help support well-being during these challenging times that includes Ten Percent Happier Live, free meditations, podcasts and talks. The guide features practical and actionable strategies for coping with stress, fear, anxiety and cultivating resilience.
Additional Training
During these trying times, we want to ensure that our AmeriCorps members have access to tools and resources to show up for both one another and themselves in a meaningful way. In our growing collaboration with Active Minds—a leading nonprofit working to "change the conversation about mental health" among today's young adults—City Year is training corps members and their managers on their V-A-R, or Validate, Appreciate, Refer approach. V-A-R is a guide for how to thoughtfully listen to and support the people we interact with every day. It emphasizes the idea that "you do not need to be in crisis to seek help" and, conversely, "you do not need to be an expert" to provide support—it's more focused on how to show up for someone in a time of need.
Supportlinc
City Year's employee assistance program is available 24/7/365 to all AmeriCorps members through the SupportLinc hotline, website and app. SupportLinc can provide referrals and counseling related to anxiety, depression, stress, financial assistance, legal assistance and life concierge assistance (such as dependent care, auto care, pet care and home improvement).
The service offers a number of "on-demand" resources that cover a wide array of topics including: nutrition, grief and loss, effective communication, anger management, personal growth and mindfulness.
Learn more about the benefits of serving with City Year:
Editorial note: This post was originally published in May 2020. It has been updated and revised to ensure information is current.