Three amazing ways to support AmeriCorps members
This month, everything has changed in the wake of COVID-19, including our work here at City Year. In March, we decided to pause in-person service and programming for all AmeriCorps members as long as our schools are closed and instead shift to virtual service and programming. We are committed to the safety and well-being of our AmeriCorps members as they continue their service virtually, through online training and connection points. While our schools are closed and educators are working urgently and thoughtfully to support students, we are also working with our partners to understand how we can safely support and respond to local needs. And when schools reopen, our AmeriCorps members will be there for students to help them re-engage in their school community and accelerate their learning.
In light of these uncertain times, which include missed high school and college graduation ceremonies, young adults may be wondering what meaningful and valuable opportunities will be available to them next year. We hope many of you will consider serving in schools with City Year—a year of service that can change lives, both your own and those of the students you will serve. City Year Baton Rouge is a fantastic place to serve, grown and learn.
Serving with City Year Baton Rouge
Baton Rouge, the capital city of Louisiana, offers a historic and thriving music scene, delicious Cajun and Creole food and unique cultural traditions, like Mardi Gras. Whether you're from Louisiana or another state, Baton Rouge is a great place to serve and make a difference in the lives of students. Each year, about 80 City Year AmeriCorps members serve in Baton Rouge across 10 public schools. And for 10 months, those corps members help to contribute to a positive learning environment by supporting students' academic, social and emotional needs.
City Year Baton Rouge: At a glance
Site established: 2006
City population: 225,374
Number of schools served: 10
Number of AmeriCorps members: 80
At City Year, we know that while service can be deeply rewarding, it is a challenging experience. AmeriCorps members work long hours, navigate personality and working-style differences with their teams and school communities and, most importantly, tirelessly support their students. So, it's important that AmeriCorps members not only practice self-care to avoid burn out, but also feel that their well-being is prioritized by their site leaders and staff.
Read about the challenges of powering through the mid-point of your service year.
Over the years, City Year Baton Rouge has implemented programs and provided resources to help support the health and wellness of AmeriCorps members. Check out three things they're doing to make sure their corps members have a productive, meaningful and healthy year of service:
Mental health support
Supporting AmeriCorps member mental health is a top priority for City Year as an organization. In addition to health insurance, corps members have access to an Employee Assistance Program and to Talk Space, an online and mobile therapy provider, free of change. For over five years, City Year Baton Rouge has gone the extra mile by giving their corps members access to an on-site licensed counselor.
"We take the mental health of our corps members very seriously. And recognize that as they help to emotionally support their students, we have to work to support their emotional needs as well." –Stephanie Mills, Managing Director of Impact for City Year Baton Rouge
Three days a week, the counselor is available in the evenings, when corps members have finished their service day. They're allowed to sign up for an unlimited amount of sessions—all of which are completely confidential. Additionally, the counselor conducts groups session with teams and participates in learning and development days as needed.
Thinking about a career in counseling after service? Check out these exclusive scholarships available to City Year alumni.
Site Pantry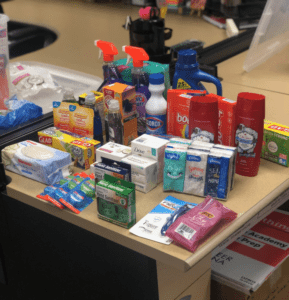 As a benefit of serving with City Year, corps members across the network receive a modest bi-weekly stipend, along with several other benefits. City Year Baton Rouge understands, however, that not all corps members have the same financial obligations or resources, so the site decided to open a site pantry. Through in-kind donations, the site provides items like toilet paper, basic cleaning products and laundry detergent to AmeriCorps members as a way to help make their stipend stretch further. City Year Baton Rouge's staff has also been extremely generous by purchasing and donating items to the pantry. Every month, AmeriCorps members are emailed a list of pantry items that are in stock, and they can then electronically select the items and the amount that they needed.
Want to learn more about financial success while living on a stipend? Here's some advice from a City Year alum and financial educator.
Appreciating the CYBR Corps: At a glance
Annual thanksgiving meal hosted for the Corps
100 gift cards donated for annual holiday party
Suite tickets/parking passes for New Orleans Pelicans game
Gift cards to Raising Cane's, a Baton Rouge based fast food chain
Late-night Wednesdays
City Year AmeriCorps members have pretty packed schedules. They arrive at school before the first bell rings, support students throughout the school day, run afterschool programs and participate in ongoing professional development and service projects throughout the year.
Wondering what to expect? Learn more about what you'll do in schools
It can be challenging to find structured time during the service day to work on other important tasks. To help corps members find that time, City Year Baton Rouge keeps the site office open late every Wednesday night. During that time, corps members are welcome to come in and work on personal or professional development plans—such as writing personal statements for graduate school, planning time for school events or staff appreciations, or preparing for life after City Year by working on job applications. One staff member dedicated to supporting corps members in their post-service plans even hosts mock interviews and resume building sessions!
Like all of our sites, City Year Baton Rouge goes above and beyond to ensure that their corps members remember to take care of themselves while they're in service to others. As a result, corps members feel supported, healthy and will be better positioned to make a positive difference in the lives of their students—and at the end of the day, that is what matters most!
Thinking about serving with City Year Baton Rouge? Learn more today!