Seven cities where you can make a difference to students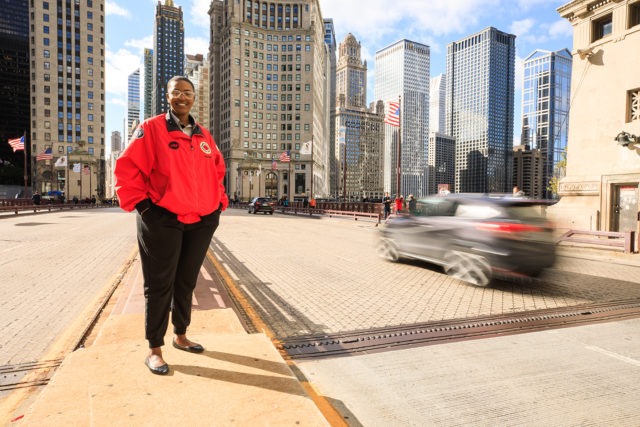 If you're considering applying to serve with City Year, we know hundreds of questions are probably racing through your mind. Stepping out of your comfort zone and embarking on a year of service is not an easy feat, but it is worth it. While serving with City Year is an extremely rewarding and challenging experience, we understand it's a major decision and, with every major decision, there are many factors to consider—including location. No matter where you serve, you'll work alongside amazing staff, students and teachers while also growing as a leader and receiving a wide variety of benefits.
Here are seven cities where we (and our school partners) have a need for extraordinary young adults like you to serve and mentor students.
Tulsa
Tulsa is a thriving and vibrant city. From the Jazz Hall of Fame, John Hope Franklin Reconciliation Park, and the Philbrook Museum of Art, Tulsa is packed with culture and history for you to explore.
Tulsa has a lot to offer and a lot for you to contribute. The students City Year Tulsa serves face challenges including transiency and food and housing insecurity, which affect students both inside and outside of the classroom. About half of students are proficient in math and about half are proficient in reading. There is a critical need for City Year AmeriCorps members to serve in Tulsa and provide students with consistent academic and social-emotional support they need to engage more deeply with their learning and graduate from high school. Your experience serving in Tulsa will allow you to make a true, meaningful impact in students' lives.
As a City Year AmeriCorps member in Tulsa, you'll enjoy a myriad of perks such as free memberships to the YMCA and the Tulsa Young Professional Network, the largest young professionals organization in the country.
Buffalo
Buffalo, commonly referred to as The City of Light, is a unique city by the shores of Lake Erie and near Niagara Falls. With both an Eastern and Midwestern feel, Buffalo is a mid-sized city with a tightknit community. Buffalo is home to about two dozen colleges and universities that together enroll more than 112,000 students each year. For young professionals and college graduates, Buffalo is an extremely affordable city, and the percentage of people in their 20s and 30s has increased considerably in recent years. And because it is the home of the spicy Buffalo wing, you'll never lack a good meal in this city!
We would argue, however, that there are 31,050 even better reasons for moving to Buffalo for a year or two:
Buffalo's more than 30,000 public school students! They need and deserve our support in order to thrive, in school and out. For one year, you could be part of a dedicated and talented AmeriCorps team that tutors and mentors students as student success coaches, showing up for kids every day, making a difference in their lives and in the culture of their schools. Get fired up to serve and learn more about applying to City Year Buffalo.
Kansas City
Kansas City, Missouri is a classically Midwestern town—it's a mid-sized but with an open and inviting community feel. It's cool place to live, drawing people to its growing creative scene, unique history, great food and affordable cost of living. If you like barbecue and jazz and want to live in a city that has about as many fountains as Rome, serving in Kansas City is a smart move for you.
More importantly, all the students served by the Kansas City Public Schools deserve a to have a supportive, safe and joyful learning community. By choosing to serve with City Year Kansas City, you'd help to create a vibrant and caring environment, where students feel valued, listened to and academically supported.
Additionally, City Year Kansas City AmeriCorps member receive unique benefits like a free YMCA membership and free dental and vision care.
Jacksonville
Jacksonville's atmosphere is a balance between a fast-paced northern city and a traditional southern city, making it a unique place to live and work. For history buffs and outdoorsy folks and everyone in between, there is so much to do including biking through the Oak Forest, visiting the Fort Caroline National Memorial, catching a Jaguars football game and exploring over 20 miles of public beaches.
City Year Jacksonville AmeriCorps members work with 7,000 students in need of extra support and resources in order to reach and set goals, feel connected to the school community, stay on track and graduate on time. Given the challenges facing students and the community, City Year plays an important role in ensuring all students receive a quality education and realize their full potential. We need passionate, talented and hard-working young people like you to keep this momentum going and to continue making an impact.
While serving as a City Year Jacksonville AmeriCorps member, you'll receive professional development trainings and attend free events through the local Chamber of Commerce. Other free events that are popular around Jacksonville are movies at Jacksonville Beach Amphitheater and music festivals.
Cleveland
Cleveland is a dynamic and diverse community, nestled on the shores of Lake Erie. With professional sports teams, abundant parks and outdoor activities for nature lovers, and cost of living that's below the national average, Cleveland is an excellent place to serve—especially if you don't mind the lake-effect snow!
The Cleveland Metropolitan School District serves more than 15,000 students across 125 schools, and as a City Year AmeriCorps member, you'll help to create fun, engaging and equitable learning opportunities for the students and future leaders of the Cleveland community.
Detroit
Detroit is a mixture of southern hospitality with northern skepticism, which boils down to people with a passion ready to get things done. Detroit has been through a lot over the years, but more people have been recognizing in recent years how exciting the city's resurgence is and appreciate and the opportunity to make an amazing impact. City Year Detroit is now recruiting AmeriCorps members to serve in the 2021-2022 school year, and if you haven't considered Detroit before, you should think about serving in the Motor City.
Detroit is surprisingly affordable, making it a bit easier to manage life on a stipend. And while it's a large, expansive city, it doesn't lack in natural beauty. Nature lovers can explore near by Belle Isle or walk the paths along the Detroit River. For those who love art and culture, Detroit has long been the hub for artists and musicians, from Motown to Diego Rivera.
As a City Year AmeriCorps member in Detroit, you'll serve at one of 11 elementary, middle and high schools throughout the metropolitan area and have the opportunity to become a part of Detroit's amazing—and historic—community.
New Hampshire
New Hampshire's largest city, Manchester, is an up-and-coming city that maintains semblances of its manufacturing roots mixed with new growth and development. Manchester has a sizeable arts scene with many local music venues such as Jewel Music Venue and The Shaskeen Pub along with one of the world's best poetry slam venues, Slam Free or Die. There are also plenty of green spaces, such as Livingston Park, for hiking, biking and relaxing.
The talented students City Year serves face significant challenges that can impede their education, such as transiency and poverty, and they can benefit from the additional relationships and resources City Year AmeriCorps members provide. On average, in the schools City Year New Hampshire partners with, students have a 40% lower proficiency level in reading and a 50% lower proficiency level in math compared to the rest of the district. City Year New Hampshire needs diverse AmeriCorps members from all walks of life to support students and provide them with the opportunity to connect with a diverse array of tutors, mentors and role models.
City Year AmeriCorps members serving in Manchester receive discounted YMCA memberships, free admissions to museums such as the Currier Museum of Art and often enjoy free tickets to the Manchester Monarchs hockey games and New Hampshire Fisher Cats baseball games.
Learn more about all City Year locations or connect with a recruiter near you: