Meet the Team: Buffalo Collegiate Charter School
The School Where We Serve
Buffalo Collegiate Charter School (BCCS) was founded in 2018 by Brian Pawloski, originally working with grades 4 and 5 with the goal being to become a fully enrolled 4-12 grade school by 2025. BCCS has made a commitment to their students to be an anti-racist, inclusive environment where students are given the resources they need and deserve to succeed and achieve their goals. To provide those resources, BCCS adheres to four core beliefs, which are as follows:
Achievement is a mindset

People matter
Every moment counts
Culture must be intentionally established

 
In line with these beliefs, BCCS is one of many schools affiliated with City Year that utilizes restorative justice practices, such as restorative circles. These circles give students an opportunity to discuss topics usually ignored in educational settings and help to develop them as socially and emotionally mature individuals. Students are also given the opportunity to participate in setting expectations for different environments in the school, which encourages teachers and staff to treat students with respect, as well as giving students more stake in maintaining said expectations. We are proud to say that 100% of partner teachers agreed or strongly agreed that City Year's priorities are aligned with the priorities of BCCS and that City Year AmeriCorps Members help the students of BCCS feel a sense of belonging.
About Our Students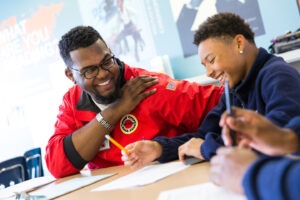 As of the 2022-2023 school year, Buffalo Collegiate Charter School works with students grades 4th through 8th. Of the 281 students currently enrolled, 51% of the students are female and 49% of the students are male. 74% of the students are black, 13% are Hispanic/Latino, 5% are multiracial, 4% are Asian, 3% are white, and less than 1% are Native American. 
The four AmeriCorps Members of the BCCS Team are divided up into four classrooms full time throughout the school where they provide academic support to the students, attendance monitoring, social-emotional coaching, and general classroom management. In these classes, the BCCS team has also worked with school leadership to identify 35 students to receive additional academic support and personal lesson plans to enhance their learning gains. Outside of this classroom support, the BCCS Team also supports whole school initiatives, events, and extracurricular activities.
Meet the BCCS Team
The team serving at The Buffalo Collegiate Charter School is led by Impact Manager Hannah Dickson, a two-time City Year Alumni, and Service Leader Neisha Freeman.
Neisha Freeman
Service Leader & Second Year AmeriCorps Member, She/Her/Hers 
Neisha is returning to her second year at City Year, now at BCCS! Last year, Neisha served at one of our other partner schools, Persistence Preparatory Academy, but now she is a Service Leader to our BCCS team. Neisha partners with Jasmine Finkley in a 5th grade math classroom, as well as performs essential leadership for our service. Originally, Neisha is from Chesterfield, South Carolina. Prior to service, Neisha received her bachelor's degree in Criminology from Coker University and was a Resident Assistant at a Governor School for Mathematics and Science. She serves with City Year because of the impact she can have on students and because she believes that every student deserves an education. In the future, Neisha's goal is to open a halfway house for kids who are kicked out of their homes who feel like there's nowhere to turn, and be there to welcome them with open arms. In her spare time, Neisha enjoys playing video games or reading books. 
Lindsay Constantino
AmeriCorps Member, She/Her/Hers 
Lindsay is partnered with 6th grade math teacher Avyana Morehead, one of our City Year Buffalo alumni! Lindsay is originally from Buffalo, and received a BFA in New Media Design at Rochester Institute of Technology. She then achieved her Masters in Psychology at Queens College. Lindsay serves with City Year because she supports our mission of pursuing equity in education and also felt that she could greatly benefit from the experience of working directly with students. This relates to Lindsay's future goal to continue working in schools as a School Psychologist. Outside of service, Lindsay enjoys drawing and painting both traditionally and digitally. This is a hobby she has engaged in since middle school and allows her to have a great creative outlet and form of stress relief.
Fiona Pratt-MacDonald
AmeriCorps Member, She/Her/Hers 
Fiona's partner in the classroom is 7th grade ELA teacher, Zuleimy Diaz. Fiona was originally born in Alexandria, Virginia, but has lived all over the country, including Northern Virginia, Florida, Southern California, and now WNY (East Amherst) for the past 4 years. She is also a University at Buffalo graduate where she received her BA in Sociology with a minor in Psychology. Service is important to Fiona because she wants to help create safe, equitable learning environments for children. She believes that all students can succeed with the right support in academics and social-emotional growth. Fiona is excited to learn more about not only her students, but also herself and teaching generally, so she can eventually excel in her future plans of becoming a college Sociology professor. Before she does that, Fiona hopes to travel to Japan to teach English there. Besides Fiona's academic interests, she loves drawing and writing because it can keep her joyful and engaged for hours.
Siena Reynolds
AmeriCorps Member, They/She 
Siena serves with partner teacher Jon Garra in the 8th grade ELA classroom. Siena is from Buffalo (Amherst) originally, but they went to school at Binghamton University where they studied Philosophy Politics and Law, and minored in Economics. Siena spent some time working in marketing as well as a few other odd jobs before joining City Year. She was excited to join City Year because service and helping others is a core value for Siena. When they were in college, they were in the community service fraternity Alpha Phi Omega. She believes that all students deserve an equitable education, and that differentiated instruction is essential so that all students can learn. Siena is unsure of their future plans but hopes to continue to support people and communities. They have interests in political advocacy as well as economic, educational, and racial justice. In her free time, Siena enjoys watching TV and playing with her dog.
Thank you so much for taking the time to find out more about the team serving at the Buffalo Collegiate Charter School. If you would like to learn more or meet the team, please reach out to Lizz Spangenthal, Development Manager, at espangenthal@cityyear.org.