4 City Year sites with public transportation passes
We know that not all prospective City Year AmeriCorps members own or have access to a car—but that should not be a barrier to service! That's why many of our sites offer their corps members free public transit passes. The transportation passes allow you to get around town and create extra room in your budget (which is essential when living on a stipend).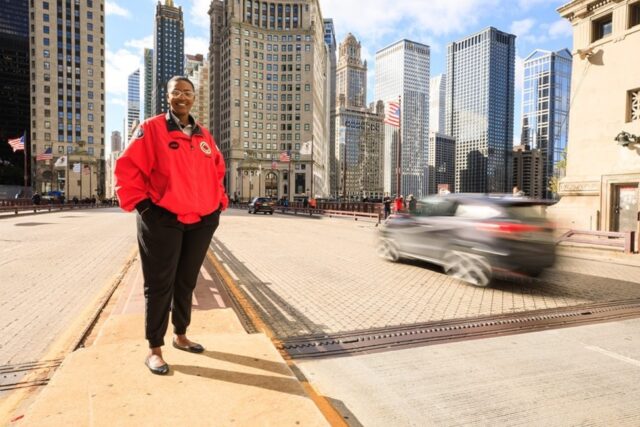 Four cities that offer free public transit passes to City Year AmeriCorps members
New York
Even if you have access to a car, getting around the "Big Apple" via public transport might be preferable. Fun fact: The New York City Subway is one of the world's oldest public transit systems. And with all 472 stations, it has more stops than any other transit system in the world! With the free transit pass, you'll be able to explore the city by bus or train.
Chicago
You'll have no shortage of places to explore if you serve in this thriving mid-western metropolis. From more than 600 public parks to 77 diverse neighborhoods, you'll definitely want to take advantage of all that the Chicago and the Chicago Transit Authority (CTA) has to offer. The CTA reliably connects urban and suburban neighborhoods with eight rail lines and busses that span the entire city.
Denver
An energetic urban environment located in the breathtaking Rocky Mountains, Denver is the perfect place for urban dwellers and outdoor enthusiasts alike! While many AmeriCorps members choose to carpool (particularly when they want to explore the surrounding areas), City Year Denver also offers free public bus passes for Denver Transit (RTD). So, you'll be able to get to and from service without the headache of navigating rush hour traffic!
Washington, DC
Supporting students in the nation's capital comes with plenty of perks! You'll want to take the time to visit all the national parks, museums and historical monuments. The good news is that City Year Washington, DC offers corps members a free SmarTrip® Metro Card with $150 each month. Plus, with transit lines that also serve Maryland and Virginia, it provides a convenient alternative for those commuting in from the suburbs.
Philadelphia
Philly makes a fun place to serve with exciting arts and culture scenes, great sports teams and eclectic neighborhoods. As we serve in schools in north, south and west Philadelphia, you may want to rely on public transport for your morning commute. The Southeastern Pennsylvania Transportation Authority (SEPTA) operates regional commuter lines, subways, elevated trains and trolleys—so there will be no shortage of options for you to move around!
When you commit to serving with City Year, you receive a wide range of benefits beyond site-specific transportation assistance. Explore them all!
Ready to support students and explore some of these fantastic cities? Apply now!