Our executive director, staff, alumni, board members and partners are committed to building a stronger Providence by supporting and developing our AmeriCorps members as leaders in their schools and community.
Jennie Johnson
Executive Director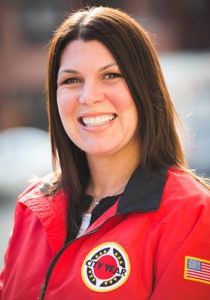 As executive director of City Year Providence since 2006, Jennie has expanded the site from 40 AmeriCorps members in four schools to 60 AmeriCorps members in six schools. Jennie oversees the organization's government and external relations, development and fundraising, communications, service and impact, recruitment, training and evaluation components.
Jennie cultivates and maintains strong relationships with the corporate community, the Providence Public School District and every level of government, serving on several committees and task forces over the past 11 years, including the Providence Children and Youth Cabinet, US Senator Sheldon Whitehouse's middle school task force and, most recently, chairing the mayor's Summer Learning Task Force.
Jennie was named a recipient of the 40 Under Forty award from the Providence Business News, the Women of Excellence award from the Women's Center of Rhode Island, has participated in The American Express Non-Profit Leadership Academy and was named one of GoLocalProv's 12 People Who Made a Difference in 2012. In 2015, City Year Providence was proud to be honored by the Providence Business News with a Business Excellence Award for Excellence at a Non-Profit.
Prior to joining City Year Providence, Jennie worked as a community director for the March of Dimes Rhode Island Chapter. Born and raised in Warwick, Jennie became immersed in public service at an early age; her family was involved in local politics, and her grandfather, Walter Constantine, served on the Warwick School Committee for 20 years. Jennie is a proud Rhode Island College alum who in 2000 earned her bachelor's degree in marketing and psychology.
Learn more about Providence