5 ways to describe your City Year journey to your family
'Tis the season for spending lots of time with family and friends. While you're gathered together, it's likely your loved ones will ask what you're up to. Whether you're currently in the middle of your service journey or getting ready to join City Year next year, you may be wondering, "How do I explain my City Year to my friends and family?"
We're here to help! Read on for five ways to bring your unique journey of becoming an AmeriCorps member to life, whether by sharing what brought you to City Year in the first place or by talking about all of the powerful ways your role does or will support students on their path to college and career.
Share what a day in your life looks, or will look like.
Throughout the school day, City Year AmeriCorps members build positive, caring and consistent relationships with students that enable them to provide whole-class support and individualized tutoring designed to encourage students come to school every day, ready to learn and engage more deeply with their learning. Our goal is to help students stay in school and on track to high school graduation, ready for college and career success.
Read more about the AmeriCorps experience with City Year.
If you're currently serving as an AmeriCorps member, talk about the students you've worked with who have made a real impression on you. Share some of the things you've done this fall in the classroom and within the community. Tell your family and friends about your partner teacher and how you work with them.
Bring the conversation back to students and schools.
Remind people that City Year AmeriCorps members work in partnership with teachers and principals to help provide holistic student support by showing up to school every day. By supporting students academically, socially and emotionally, you're helping them to stay in school and on track to graduate from high school, ready for college and beyond.
Learn more about City Year's holistic approach to student success.
Although some students can face challenges that affect their ability to come to school every day, ready to learn, we know ALL students can succeed when they have access to resources, relationships and supportive learning environments.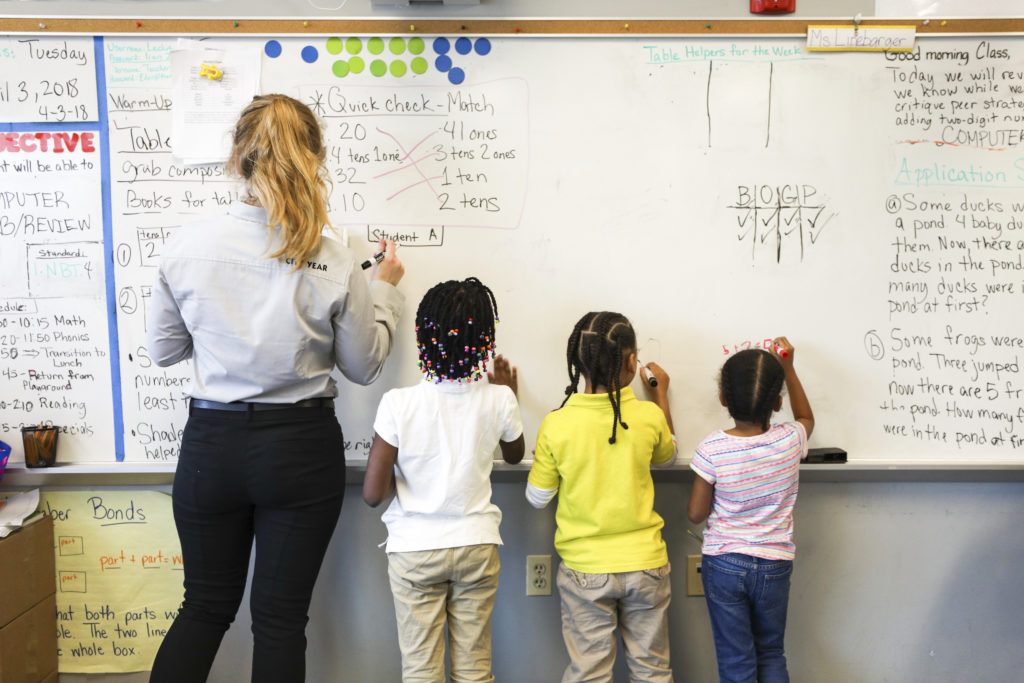 Explain how City Year AmeriCorps members are mentors and role models.
Every day in the classroom is an opportunity to build relationships with students. City Year AmeriCorps members serve as Student Success Coaches—near-peer tutors, mentors and role models—who are powerfully positioned to provide individualized academic and social-emotional supports. Every day, AmeriCorps members help students thrive while helping to improve the school-wide learning environment by planning fun and engaging whole school activities, greeting students when they arrive at school each morning and running afterschool programs.
Read about how relationships with students can make an enormous difference in their success both in and out of school.
Students who have a mentor are more likely to graduate high school and go on to college. Talk about a student you've developed a bond with or ways you're learning to make one-on-one connections with students so that you can help them feel more connected to school.
Remember what's unique about the community you serve.
Even if you're not serving far from home, share what you're excited to learn or explore during your year of service. Maybe there's a new restaurant that you want to try, or a local landmark that represents a powerful moment in history. All City Year sites have character and their own vibe that makes them special. Getting to know your (new or current) home a little bit better will help prepare you to make deeper connections with the students and families you'll work with!
Above all, be authentic about what brought you to City Year in the first place.
All AmeriCorps members come to City Year with a personal story—talk about your own journey and what it was that inspired you to want to give back. Be open about what sparks your passion, whether it's helping the next generation of students, advancing equity in education or making a difference in your community. By being human, authentic, truthful and trustworthy, you embody City Year's values and lead by positive example.
The more you open up about your life with City Year, the more City Year is able to grow the inspiring work we do together to help more students and schools succeed. Be proud, be loud. Most of all, be YOU!
This post was originally posted on December, 18 2017 and was updated in Dec. 2019.