Activating student success through positive relationships [voices from the field]
Social-Emotional learning with City Year
In 2012, on my first day as a City Year AmeriCorps member in Baton Rouge, I was asked to walk a sixth-grade student to the principal's office because he had been causing problems in class. I knew absolutely nothing at all about this student, so as I walked with him, I remember trying to engage him in conversation. I asked him his name, and his response was something I'll never forget: he told me to call him "Nothing/Nobody."
That answer shook me to my core–I was crushed to realize that this student had given up on himself. Before walking him into the office, I told him to never speak of himself that way and that I was going to call him "Something" or "ST" for short. The next morning, I kept my promise and called him "ST," to which he gave no response. However, later in class, he slid me a note that said, "And just so you know, my name is Jeremy*." Then, he gave me a small smile, which was something I did not expect.
As I walked away from his desk, I knew that I had won him over. That moment laid the groundwork for building a lasting bond with Jeremy.
Jeremy started out the year reserved and quiet–he was closed off to most people in the classroom and wouldn't participate in his classes. In particular, Jeremy struggled with reading out loud and refused to engage in the activity in class. From that first day when I met Jeremy, I focused on building a rapport with him. I shared stories about my life and listened to Jeremy's stories. We challenged each other. I knew that Jeremy had to trust me first before I could help him improve his academic skills.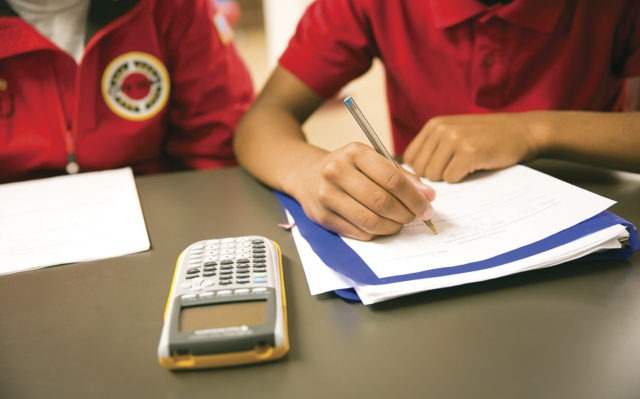 Being able to relate things back to sports with him was a major way that I built our relationship. I would often explain to him the importance of maintaining good academic standing so that he would be able to get actual playing time in any sport he chose. I encouraged him to participate in classes and be more outspoken. I worked one-on-one with him on his reading skills. I think once he saw that I was invested in helping him succeed, both in and outside the classroom, he became even more invested himself.
After one semester, Jeremy very slowly started to open up to me and one of his other teachers. Not only that, I saw a major change in his comfort level with reading out loud in class. He started to raise his hand to read in class, not waiting to be called upon. His confidence grew, and Jeremy soon became the kid who could not wait to find me in the hallway to show me his progress reports because he was proud of his improved grades. Although he didn't change overnight, I saw Jeremy transform from a shy sixth grader who had a temper and struggled to engage in school, to being a student on track to graduate high school in May 2019.
The relationship I built with Jeremy was foundational in helping him take steps towards becoming a better student. Research supports the positive benefits of building these kinds of healthy and meaningful interactions with students as well. The recent interim report released by the Aspen Institute's SEAD (Social-Emotional and Academic Development) Commission makes it clear that learning is both social and emotional, and that for students to succeed, their school experience must reflect the connection between social, emotional and academic development.
Today, I have the privilege of leading a team of wonderful AmeriCorps members who, like me, have decided to dedicate a year of their lives to supporting students and schools. From being tutors, mentors and role models; our AmeriCorps members are putting the research on academic and social emotional development into action in their work with students. Based on their experiences and mine, here are three lessons that I've learned on how educators and mentors can build connections to support students in their academic journey.
1. Building positive relationships with students means being an advocate for the child who may be misunderstood by others, or those who often feel like their voices go unheard. It means being there to listen to them and encourage them when they feel that the world has turned its back on them.
2. At the same time, being a mentor isn't just about providing positive feedback to students. I've found that part of fostering that authentic relationship with students often means being the person that gives them tough love and tells them when they are in the wrong (even if they don't want to hear it).
3. It's far more effective to actually learn about our students in order to help them succeed in school, instead of approaching them with the mentality of "saving them." In learning who they are as individuals we can find a way to connect to them that acknowledges their personhood and their identity.
We can meet students where they are by putting the theories surrounding social-emotional learning into practice, particularly by building lasting relationships with students.  Though I learn something new from both my team and our students every day, the lesson I learned my first day as an AmeriCorps member still holds the same amount of power now as it did then: students need healthy and meaningful interactions with adults in schools, and often, these relationships are the first step to a positive school experience.
Want to learn more about serving with City Year? Connect with us today: