Meet Brandon Chaderton: City Year Alum and Presidential Appointee
Brandon Chaderton's service to his community and his country has continued long after his two years as an AmeriCorps Member with City Year Philadelphia (2009-10; 2010-11) and his time as a staff member at City Year New Hampshire were over. He went on to work on three presidential campaigns, two congressional campaigns, an attorney's general campaign and at a DC consulting firm. He also worked as the director of human resources for the 59th Presidential Inaugural Committee.
In February 2021, Brandon was named Deputy White House Liaison in the Office of the Secretary, USDA.
Brandon spoke recently with Aisha Folkes, City Year National Senior Communications Manager (City Year Providence '14) and a fellow Temple University alum, for a conversation about his career journey and the ways City Year has shaped his path.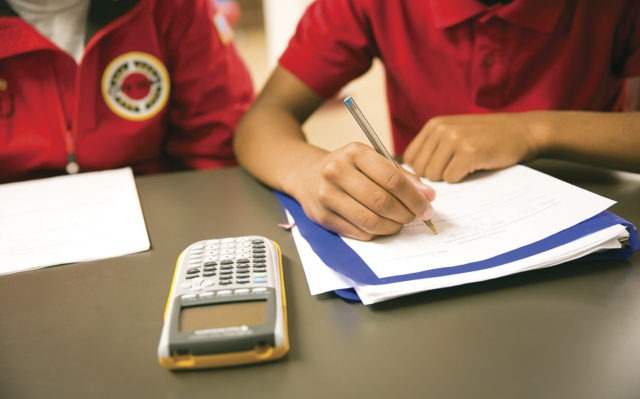 What inspired you to serve with City Year?
I graduated from Temple University in 2009, a few years into the Great Recession. As a political science major, I had a few campaign internships under my belt at the congressional, mayoral and senatorial level. While I thought I'd be able to secure a staff assistant role pretty quickly with my experience, unfortunately that didn't happen because the economy was in disarray.
I remember learning about AmeriCorps late in my college career and decided that if I couldn't do the political route in earnest– like working as a staffer for a senator– I still wanted to serve. And City Year became that outlet for me.
What inspired me to do City Year was that passion to serve my country pretty quickly. It was remarkable to see a bunch of my peers all doing the same thing– giving up a year, maybe more, of their lives to do a small thing for others that could make a really big difference.
A huge part of why I decided to serve with City Year Philadelphia, specifically, was because I wanted to give back to a community that gave me a hell of a lot of opportunities in my young career as a college student. That was critical to my choice in serving in Philadelphia.
What values did you learn during your time at City Year that still resonate with you today?
Throughout my time in City Year, I learned how to truly practice empathy. As a first-year team leader, I had to lead a group of my peers through this program that I was learning alongside them.  I learned to give grace to myself and to practice true empathy as I coached my teammates.
When I first entered the human resources world, I leaned on this very skill. Understanding who people are, finding out what their stories are and amplifying those stories is critical. I've learned that it's important to really think about the person, not just the position that they're being hired for or whether they can do a good job at it but seeing their full potential and allowing them to grow.
Human resources? Wait, what exactly does the Deputy White House Liaison in the Office of the Secretary do?
Great question! To simplify it, my job is to liaise between the White House and the Department of Agriculture to get the best and brightest people hired for the agency.
In collaboration with USDA Secretary Tom Vilsack, his chief of staff, other undersecretaries, and leadership in our agency, we aim to find excellent candidates for various roles. A lot of my work in human resources during my time at City Year is directly tied to the work that I do now.  It's interviewing people, it's finding the resumes of people who would be great staff members for the USDA and shepherding new hires into the agency. As a program manager, or impact manager as it's referred to today, I did these exact same tasks as we recruited and onboarded our corps.
I love the hiring aspect of my job, but the thing that I am really proud of within my work is being able to coach and onboard people. I take pride in intentionally giving them an experience they're going to love they're first day and beyond.
I also have the pleasure of working on the political appointee engagement efforts for the USDA. We curate meaningful opportunities for connection and social outings such as happy hours, baseball games, holiday parties, and access to White House exclusive events such as the Easter Egg Roll. Our goal is to make the USDA a fulfilling, inclusive, and fun place to work and grow in your career. While most of this engagement has taken place virtually throughout the pandemic, I'm so excited to be up and running again in a safer world. This work is critical to employee retention, and more importantly, wellbeing.
That's awesome! What's it like working for the United States Department of Agriculture?
The USDA has a hundred thousand employees across all states and territories doing excellent work that you may not notice every day. When you pick up your chicken and it says "USDA Approved", somebody did that. When a family member receives their SNAP benefits or when a loan is given to a Black farmer, somebody did that. When the news came out that there will be a nationwide extension of waivers that will allow all children to receive nutritious meals this summer while schools are out of session, that's part of USDA's understanding that food nutrition is critical, especially during a pandemic.
More recently, we just announced that we're giving the largest increase to the SNAP program in its history. The USDA announced a 25% increase to the budget, giving nearly every recipient a boost to their benefit.
I don't do the policy work, but I have the joy of recruiting, onboarding and knowing the people who do. And it's so rewarding to be able to point to something that we, the USDA, did for you and for people all across this country.
When I interviewed for USDA, and this is the honest to God truth, I told them, "I haven't worked directly in agriculture before, but I can tell you that I've worked with kids during my time with City Year and if they didn't have a meal in the morning, they couldn't concentrate during class. And it was incumbent on City Year to make sure that they went to breakfast to start the day."
The work that USDA does impacts millions of people and millions of kids across the country, this is why I'm honored to serve in my current post.
We've all seen in TV and movies showing what it's like working on a political campaign. Can you shed some light on what it's been like for you?
Working on a campaign can be an amazingly rewarding experience, but very brutal one as well. For that year-and-a-half to two years you're working day in and day out. It's all leading up to an election day. That's it. One day, and then it ends. I liken it to a Roman candle; you burn really brightly and very fast, and then it stops. It ends.
One thing I love about campaigns is an esprit de corps that is not dissimilar to City Year. The people who are in the trenches on a campaign are there because they're motivated by an intrinsic value of doing the most good. That is incredibly important because you're not being paid very much, you don't get very good benefits, and you're working long hours. But you do it because it's the right thing to do and you believe in the mission.
I would also add that the people who keep you going when you're leaving the office at midnight and you have to be back 7:00 AM, maybe earlier, are the people around you—they're your team. You trust them with the things that need to get done on a day-to-day basis. So similar to City Year as you're working on an intense mission– the people that get you through it are the ones that are sitting next to you on a day-to-day basis, and you have to trust them.
Is there anything else you'd like to share?
City Year is doing incredible work within the education sphere. That's amazing. And there are alumni all over the place that are truly living out City Year's mission to serve communities and students. City Year alums are in many different career fields making a true difference and doing good work.
One of the common misconceptions that I want to shed light on is City Year is not just for people who want to teach or go into the field of education—it's for everyone. You gain a service mindset that continues throughout your life. City Year is critical to establishing a career of service.
I think for me, serving in government is one of the greatest honors that I could have, but also one of the most effective ways that I can effect change for millions of Americans across the country. My career began with City Year and I'm forever grateful.
---
Brandon Chaderton: City Year Alum and Presidential Appointee