Celebrating City Year alum Cadence Pentheny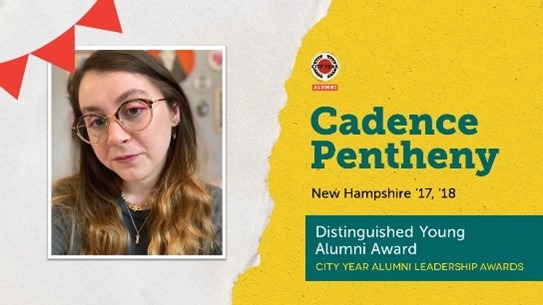 "[My City Year team] set that blueprint for me. And every day I hope that I can give even a fraction of my privilege back to fight for you when you need me to."
Cadence Pentheny was honored as a Distinguished Young Alum at the 2022 City Year Alumni Leadership Awards, held late last year. The Distinguished Young Alumni category honors an outstanding alum who has served within the last seven years, recognizing their unique contributions, voice and initiative.
After graduating college in 2016, Cadence served as a City Year AmeriCorps member in their home state of New Hampshire. During two years as an AmeriCorps member, Cadence wore many hats, including working as a student success coach—a service leader who supports new AmeriCorps members while also serving in the classroom—and a change agent within City Year.
Today, Cadence is a community educator serving the LGBTQ+ community—their "dream job," training people to be allies to the queer community and serving as a resource to queer youth.
Challenging work norms to create a more inclusive workplace
City Year New Hampshire Chief of Staff Jen Little recalls how Cadence was able to practice vulnerability and how "they demonstrated how to bring empathy into accountability." Cadence challenged workplace norms and worked to develop training material to educate AmeriCorps members and City Year staff to have a better understanding of gender identity and pronouns. This resulted in City Year becoming a more inclusive and gender-affirming environment.

Cadence dedicates their award to the City Year New Hampshire '17 corps and staff as well as their school team, who Cadence says always "stood up for me and had my back, whether I was in the room or not."
"In my current position as a community educator, I end up in so many spaces where I do not feel safe or seen. Where folks have already decided what I'm going to say before I say it. Folks who tell me to my face that my own and other queer identities and experiences are not real, that they are all just bad choices, and that having to learn about what queer people and all people who have been marginalized need is just far too complicated.

You never made me feel that way. You never made me feel like I needed to be quieter about anything. You were open with me as I was with you. You helped to remind me to think more about the people I do meet every day, who are stepping up the way that you did and still do. And to remind me to do my best to not dwell on the harmful experiences."
Being a community educator
After serving with City Year, Cadence worked at the University of Mississippi as a LGBTQ+ programming and initiatives coordinator. They are now a community educator at Triangle Community Center (TCC), which they have described as their "dream job." TCC is a nonprofit based in Norwalk, CT that provides social events, vital resources and services for the LGBTQ+ community in Connecticut.
Last year, Cadence educated over 1,500 individuals on the topic of allyship and how to support the LGBTQ+ community. Jen Little points out that not only is this number impressive, but so is the diversity of who was being engaged. Cadence has trained K-12 students, nonprofit staff, medical providers and corporate partners.

"Queer youth need you," urges Cadence. "I know so many of you already live that every day. But I beg of those who have not yet begun making those conscious choices and sacrifices to do so."
Cadence is passionate about being a community educator because people often "do not want to confront these so-called rules of gender, of sexuality, of race and ethnicity, of ability and disability, of nationality, of class, and so much more, because it means confronting that none of us are getting what we need."
City Year is proud to honor Cadence as a Distinguished Young Alum. Congratulations and thank you for being an advocate for LGBTQ+ youth.
Learn more about our alums: