City Year Alumni Leadership Award Winners 2022
Nearly 40,000 alums make up the City Year network and today we celebrate our incredible City Year community.
Since 1995, over 125 City Year alums have been honored with the Alumni Leadership Award. "Social justice for all" is one of City Year's core values. This year we are recognizing four incredible alums who have continuously demonstrated a commitment to build stronger communities through innovative approaches and addressing critical social issues.
Cadence Pentheny (They/Them)
City Year New Hampshire  '17, '18
Cadence  has been doing community education around intersectionality, equity, and social justice, especially around gender and sexuality, since they were a teenager. Upon graduating with degrees in Sociology and Women's,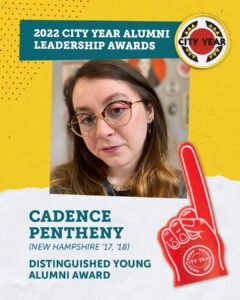 Gender, & Sexuality Studies, City Year seemed like the perfect next step. They are proud to be an alum of City Year New Hampshire, and to have served in the state in which they grew up.
After completing their Service Leader year, they worked for three years as coordinator for LGBTQ+ Programming & Initiatives at the University of Mississippi, running and creating programs for marginalized students, providing cultural competency and restorative justice education across campus, and advocating inclusive policies. They now hold their dream job as Community Educator at Triangle Community Center, an LGBTQ+ focused non-profit based in Norwalk, CT. As Community Educator at TCC, they research, create, and facilitate trainings, workshops, and resource materials for a wide range of audiences, from faculty and staff at K-12 schools, to medical offices and health centers, to businesses and corporate workplaces, all with the primary goal of creating safer and more affirming environments, supports, and services for LGBTQIA+ individuals and communities.
As a queer person living in a world in which many are actively trying to deny (and actively eliminate) the existence of LGBTQIA+ people altogether, the work Cadence does is extremely personal and directly front-facing. Their education and leadership style focuses on storytelling and reflection, creating spaces for learning and accountability with community, humility, and relationship-building held at the forefront. Their ultimate goals are to show people that they often already understand much more than they think, that there are empathetic ways to be held accountable when we do harm, and that we all do better in a world where we refuse to see one another as "other."
Yvonne Garcia (She/Her)
City Year San Antonio '08
Fifteen years ago, while participating in a team building activity as a senior corps member with City Year San Antonio, Yvonne discovered IDEA Public Schools, an up-and-coming charter public school network that focused on underserved and socio-economically disadvantaged students across four states and served her own hometown just four
hours south of San Antonio. These public charter schools focused on providing students every opportunity to get to and through college, an idea that was not pushed on her in high school. After her service year with City Year, Yvonne decided to move back home to work for IDEA and finish her degree as well. She wanted to be a part of the movement to help give every student the confidence to get what they desired and deserved after high school, regardless of their background or financial status.
Yvonne started off as a co-teacher with IDEA and for the past 15 years has worked her way to become a teacher and a critical student interventionist. Early in her career, the opportunity to start the "leadership track" toward becoming an assistant principal was put in front of her but she refused to leave the classroom. As enticing as a promotion was, in her eyes being a teacher was just as powerful as being an administrator. So instead, she sought out different ways to be a leader that allowed her to remain front and center with her students. She held positions such as: Grade Team Leader, English Content Leader, Teacher Advisory Council member, National Honor Society sponsor, Critical Student Interventionist, Direct Instruction Leader, Model United Nations sponsor, Teacher Mentor and Leader, and Regional 10th Grade English Content Leader. While maintaining these roles during various years she has also taught 8th, 9th, 10th Grade English, and AP Language and Composition.
Yvonne is currently taking her maternity leave as she resides in McAllen, Texas with her wife, Laura, and their newborn daughter, Charly. She will soon return to the classroom where she will lead her new group of students toward a successful year.
Nicole Tsang (She/Her)
City Year New York '07
Nicole Tsang is the Senior Director of Enterprise Improvement on City Year HQ's Analytics and Planning Team. Her work focuses on strategy planning and enterprise improvement across the organization. Prior to taking on this role, Nicole spent six years managing National Program Operations and established the AmeriCorps Member Experience department. She was able to meet corps across the organization, support network learning, and deepen the organization's commitment to believing in the power of young people. Nicole first came to City Year serving as an AmeriCorps member at the New York City location, where she later served on staff in a variety of leadership and managerial roles.
Before coming to City Year, Nicole graduated from Barnard College, where she studied Race and Ethnicity in American Cities. Nicole grew up in Forest Hills, Queens, where she still lives today.
Michael Stevens (He/Him)
City Year Baton Rouge '06
Michael Stevens is an experienced nonprofit executive with 16 years focused on national service and education. Michael started his career in service as a founding AmeriCorps member with City Year Louisiana. Following this life changing experience, Michael served another year with
AmeriCorps with Habitat for Humanity in Jacksonville. After his two terms of service with AmeriCorps, Michael would return to City Year to start a tenure that would include holding a variety of leadership roles across multiple locations. Initially joining the staff of City Year Washington D.C. in 2007, Michael later joined City Year Jacksonville in 2014 as the Managing Director of Impact for three years. Michael also served as the National Student Engagement Services Director at City Year HQ, leading the vision, strategy and pilot opportunities for Student Engagement services supporting 300+ schools across the network.
A native of Rochester, NY, Michael was excited for the opportunity to return to Western New York and launch City Year's 29th domestic site in Buffalo, NY as the Startup Director. Michael was formally announced as Vice President and Executive shortly after.  His experience executing a "culture and community building strategy" in a variety of settings has equipped him to return to City Year Washington D.C. in the spring of 2022 as the new Senior Vice President & Executive Director for City Year Washington D.C.
Michael has a Bachelor of Science in Criminal Justice and Sociology from Keuka College, a Certificate in Non-Profit Leadership from the University of the District of Columbia, and a Master's in Education from Northeastern University. Michael is currently an Ed.D doctoral candidate at St. John Fisher College in Rochester, NY.
Want to learn more about the City Year alumni community? Connect with us: