Finding The Best Side Dish To Complement Your Success
As our Community Leader Speaker Series continues this week, our AmeriCorps Members were able to hear from a long time City Year friend and education outreach advocate, Jacob Ray, Pro Football Hall of Fame's Youth and Education Manager. Speaking to the power of perseverance and dedication, Jacob has been able to create powerful transformational relationships and leverage them for success. Knowing that he must foster a spirit of collaboration and take on additional projects with various departments, Jacob quickly stood out amongst his colleagues as a diligent, organized, and highly motivated individual.
Jacob has faced many obstacles on and off the field since his sports days in High School. These obstacles shaped him to become an individual that continuously stood out and embodied the hard working ideals his parents instilled in him. As a result of this, his coach not only connected him with the appropriate people so Jacob can become an Intern at the Pro Football Hall of Fame, his coach also provided the first recommendation he had ever given.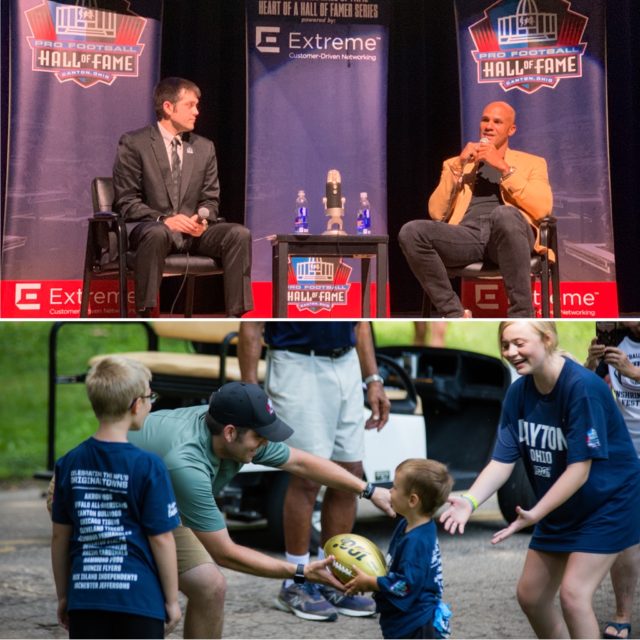 Being an intern for the Pro Football Hall of Fame, allotted Jacob the opportunity to move on and get promoted to where he is now. Thankfully because of his rapidly increasing experience and network, Jacob was able to find a position that promoted his personal growth and leadership skills after his internship ended. When it came time for the Pro Football Hall of Fame to hire new staff, Jacob was offered a position due to his hard work and all the positive impact he helped create with other departments. Within three years, he rose through various positions, every time working more diligently and ensuring the educational programs are adapting to new learning models to be more engaging.
Our AmeriCorps Members received a great lesson to focus on their skills to be able to stand out and, more importantly, to be able to adapt and connect with people much as possible. It's great to have a goal and be focused, yet it's crucial that you never forget all the "side dishes" you may need to move to the next step.
Jacob's Side Dish Recipe
It all starts with knowing your value and pushing yourself to get there
Setbacks can occur, and you just must adapt and be resilient to them
As you begin your work, always remember to go above and beyond
Help anyone on your team that you can
Be organized and diligent with your work
Have a passion for your work and others will see your value
Sometimes it is "Who you know," so it's crucial that you build relationships that you can leverage
It's okay to be a statistic and live with your parents as you're planning and building your career
Be patient, your hard work will pay off
Make time for yourself for you to reflect and center
Have some hobbies that make you happy
Did we mention be organized? Well that goes for your network as well
Click below to hear the whole conversation: