Our executive director, staff, alumni, board members and partners are committed to building a stronger Jacksonville by supporting and developing our AmeriCorps members as leaders in their schools and community.
Allishia Bauman
Vice President and Executive Director
Allishia Bauman is passionate about people and is experienced in building strong teams, culture, deep collaboration, inclusivity, and equity at every level; she has held many positions professionally and as a volunteer where she has deeply contributed to these aspects of work. One of the values she holds nearest is the African proverb, "Ubuntu"- I am because you are, my humanity is tied to yours. Whether it's the work we do in our communities, for our students, in our companies, or in our homes, she believes the humanity of people is foundational. A SHRM Certified Professional through the Society for Human Resource Management, Allishia most recently served as the Managing Director of People, Operations, and Strategy at City Year Jacksonville, where she has been for almost 8 years. She has been on the Executive Leadership Team where she led Human Potential efforts, leader of the Operations Department, and leader of Strategic Planning and Goal Setting. She has also sustained an effective support structure for the director-level leadership team. She leads internal communications, all of which puts people first and results in the advancement of City Year Jacksonville's mission to put students first. She has served as a partner to the Executive Director, providing oversight on time-sensitive issues and initiatives that include cross-functional, organizational, and community dimensions.
A proud Jacksonville native and product of Duval County Public Schools, Allishia earned her Associates Degree from Florida State College of Jacksonville and later earned her Bachelor of Arts in Leadership and Organizational Studies from The American Women's College at Bay Path University. In the past, she has been an engaged community steward supporting organizations and groups such as the Jacksonville Public Education Fund, TEDxJackosnville, and the Women's Giving Alliance.
Allishia is also a former TEDxFSCJ speaker, a Jacksonville Public Education Fund ONEbyONE alum, a One Young World Ambassador, a graduate of LEAD (City Years executive leadership program), a Leadership Jacksonville alum (the collegiate experience), an alum of the Delores Barr Weaver Fellowship with the Women's Giving Alliance, a 2018 Unsung Shero Honoree from the Women's Center of Jacksonville and a former Star in the 2019 First Coast Dancing with the Stars initiative. She is a proud wife to her husband Josh and a bonus mom to Esperanza.
Veronika McDougald
Managing Director of Impact
Veronika has served with City Year in many capacities leading up to her role supporting the AmeriCorps member experience, beginning with her Corps year in 2011 at City Year Columbia, where she served a Senior Corps year as well. Since then, she has served with City Year Jacksonville as an Impact Manager, then an Impact Director, and now the Managing Director of Impact – always ensuring that our AmeriCorps members felt supported as they propelled student success in Duval County Public Schools.
After earning her Bachelor's degree from the University of Georgia in German and TESOL, she earned her Master's degree in Nonprofit Management with a Human Services concertation from Northeastern University. This Georgia native moved to Jacksonville in 2013, where she now lives with her husband and their daughter. Veronika loves a good brunch on the weekend – ask her where to find the best chicken and waffles in the Jax area!
Alexis Holton
Managing Director of People, Operations, and Strategy
Alexis Holton has led our AmeriCorps members and impact powerfully since joining City Year Jacksonville during the summer of 2016 when she worked as an Impact Manager at Northwestern Middle School. She brings years of experience in community impact to her role as Managing Director of People, Operations, and Strategy; managing programs with the MaliVai Washington Youth Foundation, Inter-Tribal Sports and the Police Athletic League's Eastside campus before coming to City Year. As a long-time advocate for education, Alexis graduated with two Bachelor's degrees in Psychology and Criminal Justice with minors in Social Work and American Sign Language from the University of North Florida and most recently earned a Master's degree from the University of Southern California in Public Administration with a concentration on Nonprofit Management Leadership.
Over the years, she has served our community in many different capacities. She was President of the Youth Leadership club at the YMCA and led philanthropic events supporting Court Appointed Special Advocates (CASA) along with Dance Marathon supporting the Children's Miracle Network. In 2013, she served in the Inaugural Class of Weaver Scholars Philanthropic Initiative through the Community Foundation of Northeast Florida, helping to award $25,000 to Communities in Schools. From 2012-2016, she was a Take Stock in Children mentor supporting local youth to achieve academic success. When Alexis is not busy helping our community's youth succeed, this Florida native is spending her free time being a mom and wife to her loving husband, Aaron, and their three beautiful sons, William, Michael and Matthew.
Hannah Oberholtzer
Managing Director of Development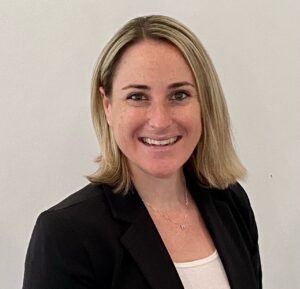 Hannah joined the dynamic City Year Jacksonville team to help support equitable opportunities for our community's young people to succeed in and out of the classroom. She believes that access to quality education is a fundamental right for all our youth, and knows it is the foundation upon which success is built.
She is an experienced fundraising, government relations, and strategic communications professional who is proficient in developing and delivering targeted messages and building relationships. Hannah joins the City Year team most recently from the Cummer Museum of Art & Gardens where she worked alongside the Chief Advancement Officer to develop and implement a strategic and sustainable fundraising infrastructure. Hannah is a proud graduate of the University of Florida where she earned her bachelor's degree in Public Relations and minor in Public Leadership. In 2018, Hannah completed her Certificate in Nonprofit Management and Social Enterprise at Georgia State University.
Hannah is a happy mom and wife and is proud to raise her in the community that raised her.
More leaders in Jacksonville