Our executive director, staff, alumni, board members and partners are committed to building a stronger Detroit by supporting and developing our AmeriCorps members as leaders in their schools and community.
Andrew Stein
Senior Vice President and Executive Director of City Year Detroit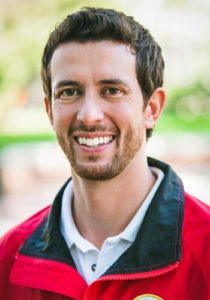 Andrew Stein is senior vice president and executive director of City Year Detroit, an education-focused nonprofit that places 105 AmeriCorps members in 11 Detroit schools for one year of full-time service. The AmeriCorps members serve all day, every day, providing whole school support, as well as targeted interventions to students who are off-track in attendance, behavior or course performance in math or English.
Andrew was born and raised in the Detroit area. He is a proud alumnus of Detroit Country Day School and Michigan State University. In 2004, after college, Andrew spent a year serving as a City Year AmeriCorps member in Washington, DC, where he worked in the schools and neighborhoods in Southeast DC. After his service, Andrew attended law school at Georgetown University. He then worked at the law firm, WilmerHale, before returning to City Year.
Andrew is proud and humbled to lead City Year in his hometown. He lives in Detroit, along with his wife and two children.