Where Service Happens: Enterprise Charter School
The School Where We Serve
City Year Buffalo's first and longest-serving school partner, Enterprise Charter School (ECS), is returning for its fourth straight year. With the leadership of Julie Schwab, superintendent, Enterprise is back for the 2021-2022 school year serving students in the heart of Downtown Buffalo.
Enterprise is a public charter school that was founded in 2003. Enterprise Charter School's vision is to provide all students with instruction tailored to them and continues to work towards the goal of optimizing student performance and experience. The mission of Enterprise is to "[engage] young minds through projects and partnerships", which comes to fruition in their project-based learning, arts education, and individualized instruction. Enterprise prioritizes providing students with a variety of additional opportunities to learn about other career opportunities, which has allowed City Year and National Grid, the City Year Team Sponsor for the team serving at ECS, to play an additional role in the education of the students at Enterprise.
About Our Students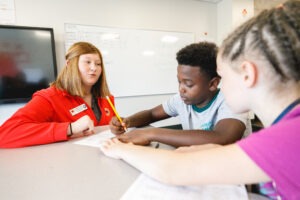 Enterprise Charter School currently serves 405 students kindergarten through eighth grade from throughout the greater Buffalo region. The AmeriCorps Members on the National Grid Team primarily serve students from 3rd to 8th grade through whole class support, which 94% of our partner teachers agreed or strongly agreed provides valuable support to their classrooms and students. The National Grid team also serves the entire student body through morning enrichment and extracurricular activities, which 100% of partner teachers agree or strongly agree helps their students feel a sense of belonging. The student body of Enterprise is 61% Black, 31% Hispanic/Latino, and 2% white. 8% of students are English Language Learnings and 100% of students come from Economically Disadvantaged backgrounds.
Meet the National Grid Team
The National Grid Team serving at Enterprise Charter School is led by impact Manager Jonelle Gordon and Service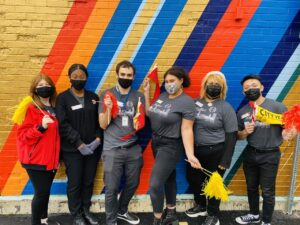 Leader Cloe Aitken. 100% of partner teachers agreed or strongly agreed that City Year's priorities are aligned with the priorities of Enterprise and this is a clear reflection of the National Grid Team's leadership. A total of seven AmeriCorps Members serve on the National Grid team, with six of them being out of state and six of them being recent college graduates.
Cloe Aitken
Service Leader & Second Year AmeriCorp Member, she/her/hers
Cloe is the service leader for the National Grid team.  This is her second year of service with City Year Buffalo and she is serving in Ms. Yorio-Sager's 5th Math class.  She's from Ponchatoula, Louisiana loves reading, and serves because she believes that every child deserves someone in their lives to put focus on them.
Keziah Liburd
First Year AmeriCorps Member, she/her/hers
Keziah is serving in Ms. Jensen's 5th grade ELA classroom where she is able to utilize her extensive background in writing.  She grew up in St. John, U.S. Virgin Islands, and studied English at the University of the Virgin Islands.  She joined City Year to try something new before she goes to graduate school in the U.S.
Andy Huang
First Year AmeriCorps Member, he/him/his
Andy serves in both 3rd and 4th grade ELA classrooms at ECS, working with both Ms. Taylor and Ms. Klee. He's from Chicago and he has a degree in psychology from Roosevelt University, which he hopes to use to become a psychologist, therapist, or counselor.  He serves because he believes that individualized education helps young people build a better world.
Isaac Handy

First Year AmeriCorps Member, he/him/his
Isaac serves in both 7th and 8th grade ELA classrooms where he is able to share his love for writing. Isaac works with Ms. Ellie Strand and Mr. Mike Hogan, who is a City Year Buffalo Alumni, as his partner teachers. Isaac grew up in New York City and got his degree in political science from Oberlin College.  He serves because he wants every child to have someone looking out for them like he was lucky enough to have during his school years.
Alex Dolinger
First Year AmeriCorps Member, they/them/theirs
Alex serves in a 6th grade ELA classroom where they are able to incorporate their creative writing skills.  They're from Pittsburgh, PA where they got their degree in theatre arts at the University of Pittsburgh.  They serve because they believe that every child deserves to feel safe and comfortable in school.
Isabel Algrant
First Year AmeriCorps Member, she/her/hers
Isabel serves in both 7th and 8th grade math classrooms with her partner teacher Ms. Agilata.  She's from Englewood, NJ, and attended Wesleyan University, where she majored in government and theater.  She joined City Year because she's interested in education policy-making and arts education and she believes every student deserves the support they need to reach their fullest potential.
Lourdes Hernandez

First Year AmeriCorps Member, she/her/hers
Lourdes serves in Ms. Briggs 6th grade math classroom.  She's from Brownsville, TX, and got her psychology degree at The University of Texas Rio Grande Valley.  She loves learning languages and has found time to teach her students Spanish and ASL.  She joined City Year because she loves helping and serving others.
Thank you so much for taking the time to find out more about the National Grid team serving at the Enterprise Charter School. If you would like to learn more or meet the National Grid team, virtually or in person, please reach out to Brock Monroe, Development and Communications Manager, at bmonroe@cityyear.org.