Where Service Happens: Charter High School for Applied Technologies
The School Where We Serve
One of our two new Partner Schools in the 2021-2022 School Year is The Charter High School for Applied Technologies (CHSAT). CHSAT is the High School within of the larger Charter School for Applied Technologies district.  This district encompasses an elementary school and our other new Partner School, the Charter Middle School for Applied Technologies. CHSAT is a Buffalo charter school originally founded as a K-6 School in 2001 with the motto, "Every day is career day" and has since expanded into a K-12 School. CHSAT is focused on preparing students to hold "family-sustaining careers" and ensuring that all students have access to internships, enrollment in college-level courses, job shadowing, and other career or college readiness programs. 
CHSAT is a fully accredited high school and is recognized by the New York State Board of Regents. With a faculty and staff focusing on "what it takes" to ensure that students succeed, CHSAT strives to have every student reach their potential in all facets of the school community. City Year now plays an important role in that mission!
About Our Students
As of this year, The Charter High School for Applied Technologies has a total enrollment just shy of 700 students. The student body is 53% female and 47% male, and 79 percent of these students can be classified as 'economically disadvantaged'. 39% of students are Black, 27% are Hispanic or Latino, 21% are white, 7% are multiracial, 4% are Asian, and 1% are Native American. As of the most recently reported data, 98% of CHSAT students receive their high school diploma within four years and 5% of them participate in at least one Advanced Placement class. The City Year team serving at CHSAT primarily supports 9th, 10th, and 11th graders through whole class support. 60 students from our supported classes have been added to AmeriCorps members' Focus Lists and will receive additional intensive support. Our classroom and focus list support is a particular highlight of our service, where 94% of our partner teachers say they are satisfied or highly satisfied with our impact. While not directly supporting 12th graders in the classroom, City Year supports them and all CHSAT students through whole school events and extracurricular activities. It is through these events and activities that 100% of partner teachers agree or strongly agree that City Year AmeriCorps Members help their students feel a sense of belonging. Two particular extracurricular activities that are supported by City Year are the Junior Varsity Basketball team, where AmeriCorps Member Stevie Sedlacko is volunteering as the assistant basketball coach, and the Gay-Straight Alliance, which is attended by AmeriCorps Member Edie Falk.
Meet the CHSAT Team
The team serving at The Charter High School for Applied Technologies is led by Impact Manager Tyler Aitken, a two-time City Year Alumni, and two returning AmeriCorps Members who serve as Service Leader. 100% of City Year Buffalo Partner Teachers agree or strongly agree that City Year's priorities are aligned with the priorities of their school/classroom and we believe this is a direct result of the leadership that our Impact Managers and Service Leaders provide for our AmeriCorps Members on a daily basis. Six out of seven of the AmeriCorps Members on the CHSAT team are from outside of New York State, and all of them are recent college graduates. The City Year Team serving at CHSAT has a great deal of experience, including founding and running a college application support program for rural high school students, working with the Boys & Girls Club, running swimming classes, and multiple previous years of service with City Year. Impact Manager Tyler Aitken has worked with school leaders to deploy the City Year AmeriCorps Members in the most effective way possible, making sure that the team impacts as many students as they can. 
Bryttni Carpenter
Service Leader & Second Year AmeriCorps Member, she/her/hers
Bryttni is serving in Mr. Lynch's 9th grade Global Studies 1 class and 11th grade U.S. History and Government class. She is from Toledo, Ohio and in her downtime, she loves to read, write, and cook. Bryttni serves because she believes that circumstances shouldn't determine the rigor and excellence a student should get. 
Edie Falk
AmeriCorps Member, she/her/hers
Edie is serving in Ms. Hankey's 9th grade ELA classroom and uses her outgoing personality to make interpersonal connections with her students. She is from Annapolis, Maryland, and enjoys hiking and discovering new music in her free time. Edie decided to join City Year to serve directly in the Buffalo community (which she loves dearly), and because she feels that a students' individual external circumstances shouldn't dictate the educational opportunities that they have access to. 
Erin Jurkowski

AmeriCorps Member, she/her/hers
Erin works with both Mr. Whalen and Mr. Kroft to support her students in Algebra and College Math. She is from Springville, New York, and enjoys crafting. She serves because her parents raised her to value the educational opportunities she received and she wants to share this gift with others. She wants her students to feel empowered and capable because of and in search of their education.​ 
Fatimah Abdulmateen
AmeriCorps Member, she/her/hers
Fatimah serves in both 9th and 10th grade ELA with her partner teacher Ms. Brianna Smith. She is from Vista, California, and studied Political Science/Administrative Studies at the University of California, Riverside. She serves because she believes that each and every person deserves an education, no matter where they are born or who they are because education is the pathway to a better future and a better world. 
Marissa Caldera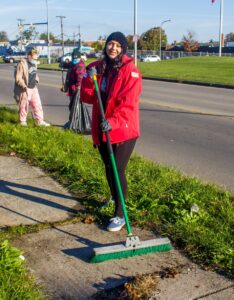 AmeriCorps Member, she/her/hers
Marissa serves in Ms. Baglio's Spanish 1 classroom and is from Pomona, California. She loves art, volleyball, and dance. She decided to serve with City Year to give back and to gain experience before attending graduate school for Psychology. 
Stevie Sedlacko
AmeriCorps Member, he/him/his
Stevie serves in a 9th-grade algebra classroom and a 10th-grade Geometry classroom alongside his partner teacher Mr. Matthew Folger. He is from Ellicott City, Maryland, and is a recent graduate of Butler University.  He serves because youth are the future and they deserve a chance to grow and succeed without ridicule and judgment, and he hopes to find equitable solutions to inequitable problems. 
Thank you so much for taking the time to find out more about the team serving at the Charter High School for Applied Technologies. If you would like to learn more or meet the team, virtually or in person, please reach out to Brock Monroe, Development and Communications Manager, at bmonroe@cityyear.org.