Partnering with SMUD to teach students the importance of sustainability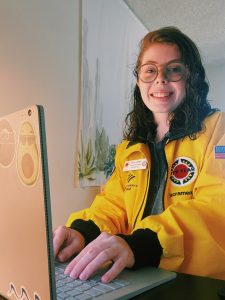 City Year Sacramento is grateful to have a strong and ongoing partnership with Sacramento Municipal Utility District (SMUD). They have committed to environmental sustainability and are engaging students in this work by creating hands-on activities to connect them to STEM subjects and help them learn the crucial role they play in conserving the environment.
First-year AmeriCorps member, Riley, helps facilitate and lead SMUD activities and shares her account of the experience and student reactions below.
---
In Mr. Sam's 4th and 5th grade class, there is nothing the students love more than to ask questions – lots of questions. This is why I introduced biweekly science lessons to encourage them to ponder the world that they interact with and incorporate novel questions and inferences into their schoolwork. After hearing about the amazing opportunity that SMUD offers to virtual classrooms, having a representative leads students through an interactive lesson and experiment about varying STEM topics, I jumped at the chance for my students to benefit from this exciting instructional experience!
Our SMUD representative, Mr. Jacob, entered the classroom with so much energy and enthusiasm about our lesson on solar radiation. I watched as students turned on their video cameras to interact with Mr. Jacob and his incredible lesson! At first, I was nervous about the reception, as this was a new subject for my students to engage with. However, Mr. Jacob was able to explain it to them easily and make it personal to their own experiences. The students learned real-world applications of the lesson, including where power comes from, sustainable forms of energy, and how to protect yourself from the sun.
My favorite part of the SMUD lesson was the experiment that Mr. Jacob hosted with the students. Before the lesson, students came to pick up the SMUD provided supplies for the experiment from the school, which included instructions and UV beads to test solar radiation! Mr. Jacob asked students questions that encouraged them to think deeply and hypothesize about the outcome of the experiment. They were then able to use their UV beads to find their own results! The students were very receptive to Mr. Jacob, asking many questions and comments for him throughout the lesson. One student even told him how much she appreciated him being here and how much she learned. I know the students wish we could have science lessons like SMUD's every day!