Our uniform represents a big idea, one that you will be part of this year. While most uniform pieces will be provided by your site, there are some pieces that you'll need to bring. We'll break down everything you need to know so you are prepared!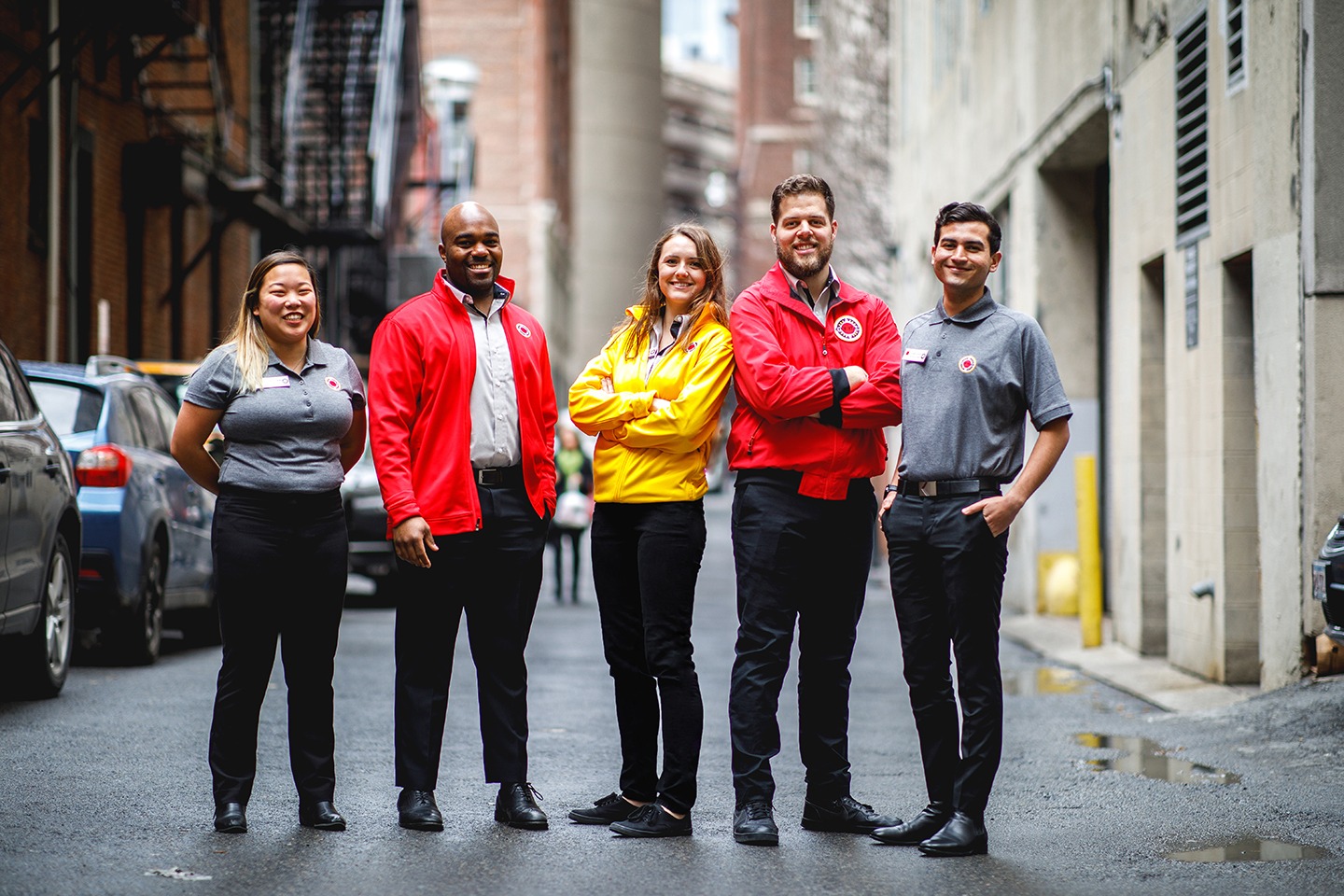 The City Year uniform represents a big idea – that from year to year, school to school, city to city and generation to generation, there is an unbroken chain of idealism expressed by the young people of City Year through service to students, schools, communities and country. As City Year AmeriCorps members, you are now part of that chain of commitment, and you are its stewards.
In your red and yellow jackets, you are the stewards of this big idea and highly visible representatives of our mission, work and organizational values. Your uniform serves as a public display of your personal commitment to service—and the collective commitment of the entire City Year corps—and brings about the commitment of others.
Uniform
pieces you'll need to
bring
You will need to purchase the following items:
Black pants and/or black skirts:

Pants should ideally fall straight, just above the sole of the shoe. No jeans, leggings, yoga pants

, joggers

or sweatpants.

Skirts should be knee-length or longer.

Black belt: a plain black belt with a simple buckle.

Black closed toe shoes: We prefer all black footwear, but if there are accents, please have them be neutral colors. No brightly colored options.

Socks: Express yourself! Please keep any graphics

appropriate for

schools and in line with AmeriCorps and City Year policies.

Tights or leggings: Black or neutral tights or leggings may be worn with skirts.

Winter accessories

(hat, gloves, scarves)

: p

referably plain black; neutral colors/minimal patterns

allowed.
Uniform pieces that will be
provided
Upon arrival at your site, City Year will provide the following items:
Red or yellow City Year jacket

Red or yellow all-weather shell

Gray oxford shirt

Four

g

ray polo shirts

R

ed or yellow full zip (black for returning AmeriCorps members)

Black cardigan

Four

City Year

T

-shirts

City skyline T-shirt

City Year backpack

City Year AmeriCorps name tag

Black winter hat

(at some sites)
Your site will follow up with more information on the ordering process and timing for these uniform pieces as the start of service approaches.
General u
niform policies
Your uniform has three distinct variations of the items listed above, each for a different aspect of your service and training experience.
Student success coach uniform
The centerpiece of your uniform complement is the City Year AmeriCorps student success coach uniform, which you wear while serving in schools. This uniform identifies you in school as a trusted partner and a full-time tutor, mentor and role model to the students we serve.
City Year polo or oxford

Black pants or black skirt

Name tag

Belt

Black shoes

City Year backpack
Training uniform
A simple and comfortable uniform designed to promote unity of purpose during training sessions that you will receive throughout your year of service.
City Year T-shirt:

service

s

hir

t or City Year skyline shirt

Black pants or black skirt

Name tag

Belt

Black shoes

City Year backpack
Physical service uniform
You will be engaged periodically in physical service projects that transform public spaces used by our students, schools and communities, including painting school and community meeting rooms, refurbishing school libraries and renovating playgrounds.
City Year T

-shirt

:

service

shir

t or City Year skyline shirt

Name tag

Khaki

p

ants

Belt

Comfortable sneakers or shoes you are willing to get dirty may be

worn

City Year

b

ackpack
Policies and practices
Read about City Year's policies and know what to expect during your service year.
Benefits & resources
There are several benefits offered to City Year AmeriCorps members, including relocation assistance.