Service Beyond the Classroom – Get to Know CYP's Civic Engagement Team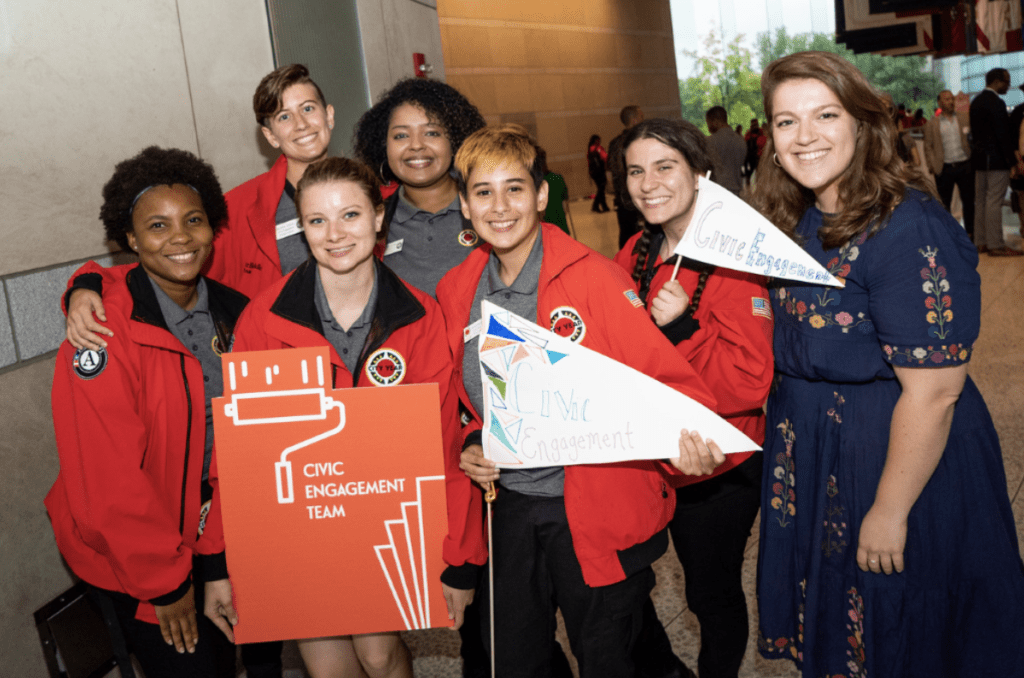 In 1988 Michael Brown and Alan Khazei, founders of City Year, established the organization on the idea that one person can make a difference. Inaugural AmeriCorps members focused their efforts on community rehabilitation, beautification of neighborhoods, and developing community awareness in Boston.  
Over the years, the organization has expanded — opening sites in a total of 29 cities throughout the U.S. — and refocused its mission to helping combat educational inequities. While most City Year AmeriCorps members are deployed in schools, there is a select group whose year is primarily rooted in physical service. This group of AmeriCorps members is known as the Civic Engagement Team and they carry the organization's founding values by engaging school partners in service beautification projects that transform communities and school environments throughout the nation.  
"Physical service brings people together," says Alison Volz, an AmeriCorp member currently serving on City Year Philadelphia's Civic Engagement team which happens to be the second all-female CE Team in City Year Philly's history. "We can craft events that allow community members and corporate partners to work towards a common goal while also improving the environments in which our students are learning. This increases their morale and helps children feel like people care, which we do."   
Volz became a City Year AmeriCorps member to help make an impact on students. While she doesn't currently serve inside a schoolhouse, she says that she feels like she still serves schools and that working on this team gives her the opportunity to create a broader impact on school communities. "Not only do service projects make a school look beautiful, but they also help the psychology of the students within the buildings," Volz shares. "There are many studies that show students who work in vibrant learning environments tend to feel motivated to continue the pursuit of their education."  

Teammate Abbie Kaiser says her motivation to join CYP's Civic Engagement Team was to broaden her skills. "Throughout college and during my initial service year, I worked with students in schools and I knew that I had a lot of skills that I needed there. But I felt like I needed to build on skills elsewhere. I was an Art major in college and felt like joining the Civic Engagement team would give me a chance to utilize my degree." 
Kaiser attributes much of her recent growth to her experience with the team. "I've enjoyed the event planning and development aspects that come with being a member of this team. I've been able to lead and organize in a unique way. There has yet to be a dull moment. I am constantly thinking of solutions and creative ideas to contribute to the overall success of our service projects. I believe that all the skills that I've developed will be useful in my career as a teacher."   
For Emilie Gottlieb, the best part about doing civic engagement is the team aspect. "We aren't doing in–school service like other AmeriCorps members, so this unique experience gives us a chance to bond like no other. Not only is the team experience great, but the work is also very rewarding. Seeing the impact that I can make on a space for not just one student, but an entire student body is extremely gratifying."   
The Civic Engagement team plays a powerful role in City Year's work. Not only are students being tutored and mentored in schools, but with the help of this group, schoolhouses and communities are being enhanced as well. CYP events such as Martin King Jr Day of Service, Comcast Cares Day, and more are all planned by the Civic Engagement Team and help to connect community and corporate partners to our mission. 
If you are interested in serving with City Year Philadelphia and making an impact not only in schools, but also in the broader community, apply today.