City Year Philly Impact Manager Spotlight (Part 1): Amy Siever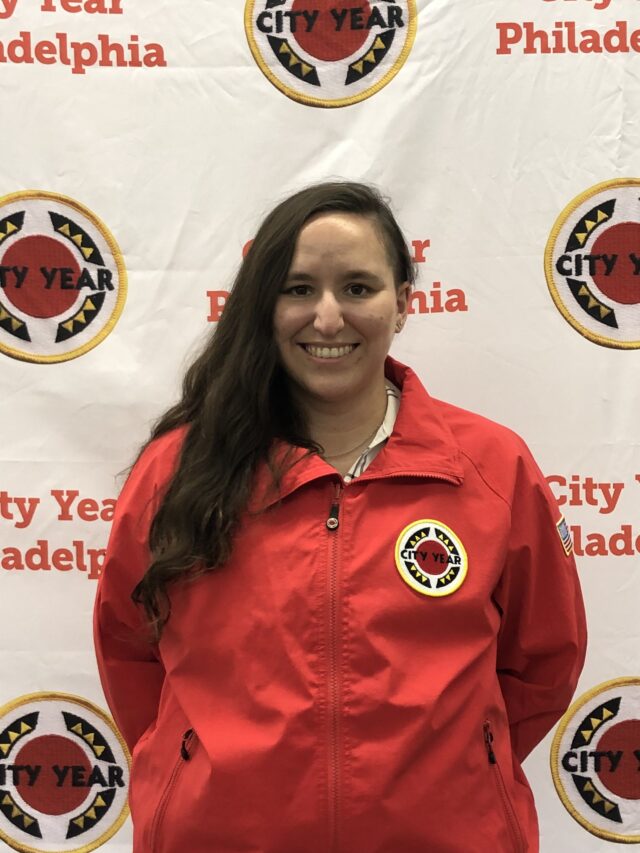 City Year's Impact Managers (IMs) fill a uniquely important role. They lead a team of AmeriCorps members serving in Philadelphia schools, with an overall focus on mentoring AmeriCorps members, developing their leadership skills, and preparing them for the next steps in their LACY (Life, or Leadership, After City Year) plans.
In this multi-part blog series, we're spotlighting three City Year Philly Impact Managers who are in various stages of their CYP career journeys, and each brings a distinct perspective to the role. First up is Amy Siever, Impact Manager at McClure Elementary School. Amy is both brand new to City Year and to Philadelphia, having relocated this summer from Milwaukee where she worked for several years in higher education.
Read our Q&A with Amy to learn more about her career path, her experiences at CYP so far, and why she's excited for this new opportunity! Also be sure to check out our other two Impact Manager spotlights with Star Taylor and Deran Neducsin.
Can you tell us a bit about your career path before becoming an Impact Manager? How did you learn about the IM job, and what drew you to the role and to working for City Year Philly?
Prior to City Year, I worked in admissions at a couple of different colleges and universities. I really enjoyed working with young people who were so full of idealism—like we talk about here at City Year—and I got to be the person that supported them in their journey into that process, being the gateway to education and making it accessible for them. In my roles, I was also able to supervise college students who worked in the admissions office. It was a lot of fun seeing them grow into their leadership skills, as well as identity development, and supporting them through that process and getting to know them one-on-one.
I learned about City Year through a co-worker, who had served as an AmeriCorps member, a Team Leader, and later a staff member. I was talking with him about how I really wanted to work in a place that prioritizes students' needs and works collaboratively, and he told me that I needed to check out City Year's values. As soon as I read "students first, collaboration always," I felt an immediate connection.
The Impact Manager position fit well with my experience supervising college students—the leadership growth and identity development that we do with our AmeriCorps members was a lot of what I was doing with college students. I had also been in Milwaukee for a long time, and I knew I needed a fresh lens, and there are a lot of parallels between Milwaukee and Philly in terms of being social justice oriented.
Amy (back row, green mask) with her 2021-22 AmeriCorps team at McClure School.
What motivated you to make the career transition from higher education to working for CYP? How does your previous experience in higher ed translate to the Impact Manager role?
I knew that I wanted to make the transition from talking about social justice to actively working for social justice. In my roles in universities, there was a lot of time spent on getting caught up in the language that we were using—which is important—but we also must take the next step of doing the work. The Impact Manager position was a great way to take myself from talking to doing.
There's an interesting balance that comes with being a supervisor as an Impact Manager. Because our AmeriCorps members are in such a unique place in life, it takes a bit of a different lens to supervise and mentor someone who's on this identity development journey.
There's also the aspect of educational equity and making sure that we're creating those spaces in the classrooms. Although I was not actively in K-12 schools, I spent a lot of time working with those students and encouraging them to come visit college campuses. Like at City Year, it was about making educational experiences meaningful and fun for students to continue that interest in education, as well as reducing barriers for students from underresourced schools to be able to visit college campuses.
What's the most rewarding or exciting part of your job? What motivates you to do this work?
I love seeing those learning and growing moments with the AmeriCorps members. There was one day where we were having a team meeting and one of them mentioned a student telling them how excited they were to come to school that day and learn. And that's exactly how I feel about our AmeriCorps members when they have those moments where they're excited to take on a leadership opportunity, or they're talking about building relationships with their students.
It's exciting to see where the AmeriCorps members started on the first day of the service year in August—where they were quiet and uncertain—versus where they are now. Even though we all still have a lot left to learn, myself very much included, they've grown so much already.
"When we look at leaders in different organizations, we know that there are certain identities represented. The next step in educational equity is making sure that we're getting our young leaders into those roles, or at the very least setting them up for the next steps to get there."
What does education equity mean to you?
I'm a very visual person, and I love the image of people by a baseball field showing the differences between equality, equity, and justice. I love the idea of removing that fence—but also, can the kids play too? Realistically, we can't all go to an MLB game and play, but how can we push this concept a step further so that young people don't just get to see and learn about different opportunities, but they can one day be in those jobs themselves?
When we look at leaders in different organizations, we know that there are certain identities represented. The next step in educational equity is making sure that we're getting our young leaders into those roles, or at the very least setting them up for the next steps to get there. We're not going to have all this solved tomorrow, but we can start putting those pieces in place so that we're moving towards a more equitable environment.
What's the best piece of advice that you give to your AmeriCorps members?
This experience is what you want to make of it. Your service year might seem long right now when there's still several months ahead, but it's going to be over before you know it. It's important to take a moment to pause and celebrate yourself and your team and recognize how far you've come since day one.
What's your favorite place to visit or activity to do in Philly that you like to share with your Corps members?
I love going to the dog park by the Schuylkill River. I have a dog and she brings me so much joy, so I try to get out there a couple of times a week to walk around and, of course, see all the dogs. There's research that shows that dogs add to your happiness!
This is going to sound very touristy, but I also enjoy walking to Independence Hall and the Liberty Bell and taking a moment to reflect on how we're a part of something bigger than ourselves, and how far we've come since the historic moments that happened in those places. We are still striving for equity, liberty, and freedom every day in the work that we do, and we get to continue to change and adapt those definitions to the needs that we have now.
Are you considering a year of service, or do you know someone who is? City Year Philly is currently accepting applications for the 2022-23 service year! To learn more and start your application, visit cityyear.org/apply-now.