The Year So Far– Parkside Knights Edition
As we wrap up 2021, each of our school teams took the time to share updates and highlights from the service year so far. Read on for reflections and a look into the Parkside Middle School team's 2021!
Hello! We're the Parkside Middle School Team!
Throwback to the first day of school– we couldn't wait to welcome students back to school in person! For our Service Leaders returning for a second year of service, it was a joy getting to see familiar faces, including some that they had only met virtually last year!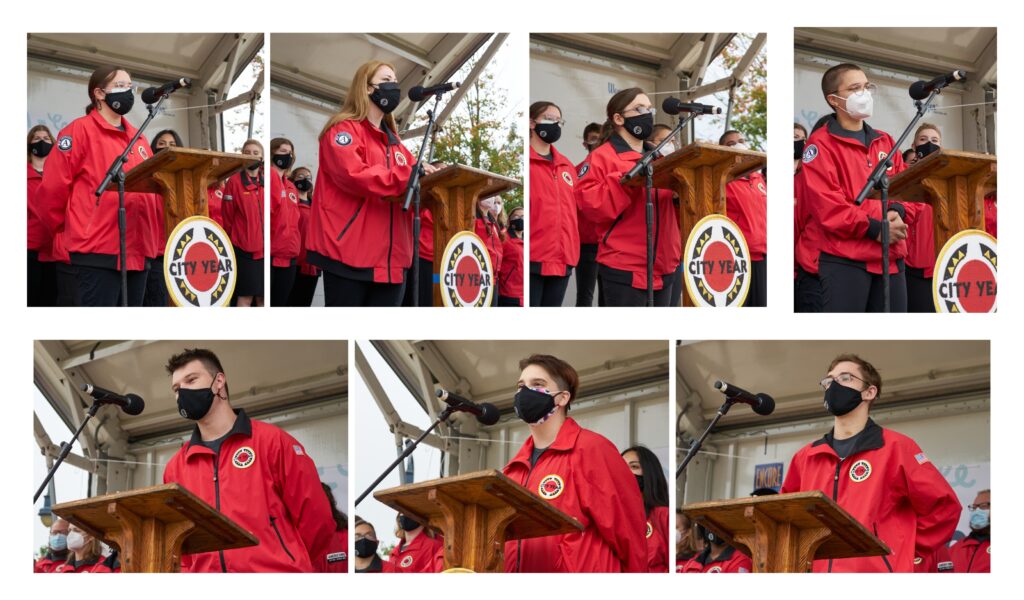 We kicked off our service year at Opening Day as part of Manchester's CelebratEd event. Each AmeriCorps member shared why we chose to serve with the broader community, and formally took our oath of service. It was a joy celebrating education in Manchester with the broader community!
Learn more about our 2021-22 AmeriCorps Members

To commemorate the September 11 National Day of Service and Remembrance, our team worked together with Parkside's principal to develop motivational quotes that were printed and placed in all of the school's bathrooms to inspire students to feel good about themselves and value their unique strengths. Some quotes included: "Become so confident in who you are that no one's opinion, rejection, or behavior can rock you." And "Be unapologetic about who you are and the value you add to this world."

Additionally, we honor Veteran's Day each year through service, and the Parkside City Year team wanted to do something to make our school a more beautiful space for the students and staff. We spent a cold but sunny day in the grounds around Parkside collecting discarded masks, wrappers, bottles, and other garbage to ensure that students had a clean environment to meet and socialize in! Afterwards, we celebrated on the freshly cleaned up tarmac with an epic game of four square.
In our roles in the classroom, our team has built strong relationships with our students that enable us to support them in developing both academic and socio-emotional skills. We love partnering alongside the teachers of Parkside and are excited that several teachers have already shared appreciations for the City Years in their classroom as well as examples of how they've seen City Year's impact: from motivating a frequently absent student to come to school each day, to helping a student understand how to divide fractions so that the student was able to go into a quiz with more confidence and get a better grade than in previous assessments.
HEAR FROM OUR AMERICORPS MEMBERS:
"A huge joy from this year has been the opportunity to follow my students from last year into 6th grade. Many of my students last year were virtual, and I've been able to meet many of them in person for the first time this year, which has allowed me to build a stronger relationship with them. Watching my students grow into their voices and own their learning has been thrilling and inspiring. My students are such a positive force in my life and challenge me to be a better person and City Year!"– Abbey Watson, Service Leader
"A highlight from service this year has been working alongside my partner teacher to help with student council! It's been great helping these young leaders build up their confidence and leadership skills"– Kailey Johnson, Service Leader
"This year has already been filled with many highlights, including playing in the staff vs. students' basketball game before Thanksgiving break. It was amazing getting to play against our wonderful Parkside students and also team up with staff that I had not gotten the chance to work with yet. In all, it's been a privilege getting to know the 8th grade students. They keep my life exciting and are helping me grow as a person." – Dan Beck, First-Year AmeriCorps Member
---
Ready to serve with City Year? Click here to learn more or start your City Year application: