I'll let you in on a secret: nobody walks into the first day of school as a City Year AmeriCorps member already knowing exactly what they're getting into.
City Year's application process is rigorous, and once our members are chosen, they still need to earn their uniforms. During Basic Training Academy, the first four weeks of service prior to entering schools, AmeriCorps members are equipped with the tools they need to be excellent mentors and tutors, trained in City Year's culture and values, and cultivate themselves as leaders. Each AmeriCorps member on the first day of school is the product of weeks, months, even years of growth and preparation, and this is the reason why our members are among the most empathetic, hard-working, resilient, and passionate young people you will find. And yet, as prepared as they might be, the experience of the first day of school for a City Year AmeriCorps member is inevitably one they could not have anticipated. For most of our members, the first day of school is a shock to the system.
To begin with, AmeriCorps members have big shoes to fill. City Year has served in each of our eight elementary schools for a number of years, and the school communities have developed high expectations of our members because of our history of excellent service and positive impact. However, nothing compares to the level of excitement and expectation our students have when they see us on the first day. For most of the students we serve, they have either had remarkable City Year AmeriCorps members work with them in the past, or they have seen our members and heard stories of their powerful connections with students. Brittany Howard, a first year AmeriCorps member serving at Bakersville Elementary School, said this of her students: "They see City Year, and they think 'well, that person was like that last year, so you're going to be like that. You're going to be that empathetic person, you're going to help me when I need help.'" City Year has an established legacy in Manchester, our school communities, and in the minds and hearts of students. Living up to that legacy, taking it on as your own, can be an intimidating challenge for new corps members.
An AmeriCorps member's first day in the classroom serves as their first hands-on introduction into the difficult work that is being a "City Year". In Basic Training Academy, our members are introduced to the unique challenges they might face working with students in our communities; however, putting to use the skills and tools they learn is a different challenge entirely, one that can only be experienced in the classroom. Kaitlyn Graham, a first year AmeriCorps member serving at Northwest Elementary School, reflected: "I was just so caught off guard. In training they would say, 'these certain scenarios might happen and this is how you can respond,' and they were all happening on the first day. I remember thinking 'wow, they were right.'"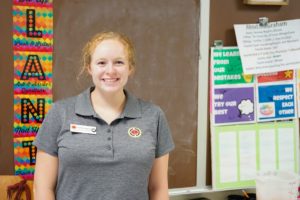 Already, she was called upon to fill the gap between what her students needed and what her school was resourced to provide for them. On the first day, some of Kaitlyn's students were distracting the class. Kaitlyn shared, "I'm the only other body in the room, so in order to let my partner teacher continue on with her lesson, I'm the one who addresses the student and gives them that attention." Applying their learning from Basic Training Academy is its own formidable challenge that most of our members in one way or another face on their first day of school and throughout their year.
However, our members soon learn that they are not without guidance on their journey. Despite the chaos of the first day, the experienced teachers and staff are the calm within the storm. Angel Lee, a first year AmeriCorps member serving at Bakersville Elementary School, shared with me that her partner teacher has already been a huge influence on her and her students, modeling how to be a successful mentor in the classroom. "She's really sweet and patient," Angel asserted, "I have a sense that she has high expectations for people and her students, but she articulates this in a really gentle way…whenever something arises, she just talks to them, asking how their family is, which makes it seem like she's been part of this community for a while now. And whenever she converses with me she's also very down to earth." Though the first day is often an entirely new adventure for AmeriCorps members, their partner teachers, school staff, Impact Managers, and Service Leaders are the voices of experience and guidance. After all, every one of us had a first day once.
At some point during the first day of school, AmeriCorps members start to realize and internalize a simple but profound truth: they are a City Year now. While to most City Year is an organization with a set of values and a mission, to our students "City Year" is a title. During Basic Training Academy, our members learn about City Year culture and how to be effective in the classroom. But it isn't until our members step into their schools and meet their students for the first time that they become a City Year. Kaitlyn didn't expect her students to take to her so quickly, reflecting "I think within the first twenty minutes I had seven or eight students saying, 'Ms. G, Ms. Graham, can I do this? Can I go to the bathroom? Where do I put this?' and I was looking around thinking 'who's Ms. G?' before I realized 'oh, that's me!' I let them know that this is my first day in this classroom too, I have no idea where we turn in our papers, but we're going to learn!" Even before our members realize the significance of their role, students show appreciation for them. "It was really cute," Kaitlyn mentioned, a small smile on her face, "one of my students at recess brought one of her friends over to me and was like 'this is my City Year, Ms. Graham! She's the best!'"
The red jacket is not what makes an AmeriCorps member a City Year. Nor is it the training, the logo, the uniform, the readiness check, the PITWs or the founding stories. What makes an AmeriCorps member a City Year is the look on a student's face when they see you in their classroom on the first day. Students make an AmeriCorps member a City Year.
City Year is a title that can only be granted by students, our most enthusiastic fans and our most honest teachers. It's a title that comes with a legacy established over years of service, care, hand written notes, laughter on the playground, quiet conversations in the corner of the classroom, cheers in the morning when students arrive, encouraging smiles, books read together, and time spent just listening. It's a title that means kindness, patience, persistence, encouragement, and love. To our students, City Year means hope. Students know this even before our members do. But our members soon learn, often on the first day of school, that they are City Years now, and that to their students, they are hope.