New Faces in Impact Leadership
This Fall, we welcomed two new staff members to our Impact Leadership team: Mark Campbell, Impact Director, and Janelle Mulvaney, Impact Coach. Read more about their roles, and how they came to City Year:
Meet Mark Campbell, Impact Director!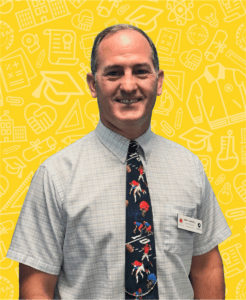 Mark grew up in Farmington, New Mexico, and went to college in Alamosa, CO where he met his incredible wife Colleen (originally from Kittery, ME). They moved to Salt Lake City, UT where Mark taught high school science and coached wrestling and football. They lived there for eight years during which all three of their children were born before deciding to move to New Hampshire. Mark taught high school science for three years at Goffstown High before spending the next 15 years as a school administrator, including 7 years as an elementary principal. In his new role as Impact Director for CYNH, Mark is bringing his years of experience as a teacher and administrator to lead on the strategy and delivery of our core services. Overseeing our Impact department, Mark works with our AmeriCorps members and Impact staff on program implementation as well as works with the Manchester School District to strengthen partnerships and collaborate on best practices to best support students in their learning and growth.
Outside of work, Mark loves taking long walks with his wife, going on hikes, spending time with his family, and playing with his dog Snickers. He loves sports, reading good books, playing card/board games, and has a passion for education and helping others learn and grow. Mark is very excited about working at City Year and giving back to the community.
Meet Janelle Mulvaney, Impact Coach!
Janelle is originally from Marlborough, Massachusetts and completed her bachelor's degree at Bridgewater State University with a degree in criminal justice. Through her studies, she discovered the power of education in transforming lives and decided to serve as an AmeriCorps member with City Year New Hampshire in 2016. She was so inspired by her year in the program that she decided to serve for another year and joined City Year Memphis as a Start-Up Team Leader to bring the impact of City Year to a whole new community. As a Start-Up Team Lead she developed strong relationships with her partner school in Memphis that inspired her to transition to a classroom teacher role there after her service year. Janelle trained through Teach for America and remained in the classroom beyond her initial commitment for a total of 4 years. In her time as a teacher, Janelle got to work alongside City Year corps members and truly enjoyed the collaboration and vision she was able to share with these like-minded individuals.
Janelle is thrilled to now be back where her journey in education all began in New Hampshire. In her role as Impact Coach, Janelle trains and helps AmeriCorps members grow in their roles as Student Success Coaches to best support students and partner with teachers. She develops and leads trainings for our corps members during our Learning & Development days, as well as conducts observations and provides individualized feedback to help our AmeriCorps members enhance their service delivery. In supporting our AmeriCorps members, Janelle hopes to share what she has learned both from her experiences as a City Year herself, and from being a teacher with City Year in her classroom.