An asset-based tool to help students—and our AmeriCorps members—thrive (voices from the field)
City Year's Whole School, Whole Child approach
Since its founding in 1988, City Year has based its work on our deep belief in the power of young people—particularly City Year's AmeriCorps members, remarkable young adults who work closely with students as near-peer mentors, tutors and role models.
Three decades of youth development work taught us that to support the success of our students, many of whom face obstacles that make it difficult to arrive at school ready to learn, we need to take a whole child approach. City Year's work, therefore, is grounded in the near-peer mentoring relationships that our diverse AmeriCorps members build with their students—positive developmental relationships—and emphasizes not just academic support for students, but also social-emotional support and a more positive school climate and culture. Today, 3,000 City Year AmeriCorps members serve in 327 schools across 28 U.S. cities, ensuring that students receive the support they need to stay on track to graduate from high school, prepared to succeed in college, career and civic life.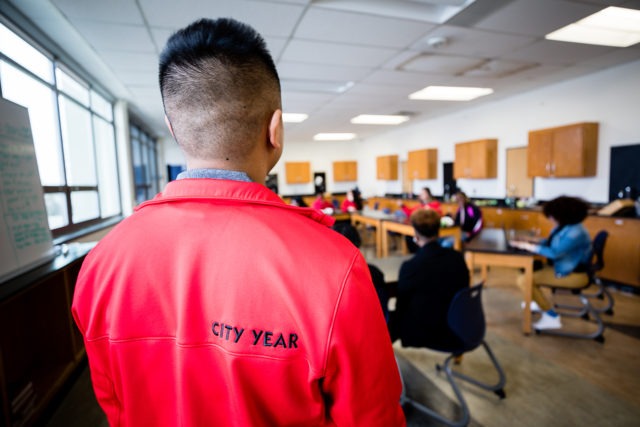 As we continued to learn from and refine our work in schools, we determined a need for an asset-based framework that our AmeriCorps members could use in addition to City Year's own youth mobilization tools that we've developed over time. To meet this need, City Year partnered with The PEAR Institute: Partnerships in Education and Resilience at McLean Hospital, a Harvard Medical School affiliate, to field test, then fully adopt its Clover Model of Youth Development, a research-informed tool developed by PEAR Founder and Director Dr. Gil Noam.
The Clover model highlights four essential elements, or "leaves," that all people need to thrive, learn and develop. The model provides proven strategies, a positive mindset, a way to reframe student behavior, and a common language that can be used to support student strengths and address challenges. Clover is also applicable to our AmeriCorps members as they grow and develop during their service year—a powerful double benefit as City Year seeks to hone the skills and mindsets of its students and the young adults who dedicate a year of their lives to serve in schools.
Adopting Clover for our work in schools
Serving alongside their partner teachers in schools, City Year AmeriCorps members provide academic support, build positive relationships with students that promote their social-emotional development, and plan whole school activities designed to enhance school climate and culture. Our AmeriCorps members are in schools all day, every day, and their experience is not an easy one. Like all adults who work in schools, AmeriCorps members can find the work to be both rewarding and challenging.
Clover has provided our AmeriCorps members with a shared vocabulary and practices, which help them to better understand and articulate their students' developmental needs and work better as a team to respond to challenges. Clover is a lens for AmeriCorps members to apply to their work with students, reminding them of each student's strengths and their complexities, particularly as it relates to how individual students learn. Through Clover, our AmeriCorps members have new tools to reframe what they are experiencing and modify their approach to solving problems.
For instance, instead of characterizing a student as "fidgety," an AmeriCorps member can use the Clover model and recognize that the student has a strong need for active engagement. This understanding can lead to the AmeriCorps member restructuring one-on-one time with the student, so that lessons begin with physical games or a walk. Our members can also use Clover to navigate situations with students that arise in the classroom, during one-on-one tutoring time, in afterschool, in the cafeteria, or on the playground.
Lessons from Clover on building an effective partnership
As we worked with PEAR to incorporate Clover into City Year's existing suite of strategies and tools to provide social-emotional support in schools, we realized that the very tenets of the Clover model are also applicable to building a successful partnership between organizations. During this year's National Mentoring Summit hosted by MENTOR: The National Mentoring Partnership, we joined PEAR's Dr. Noam to share more about our partnership and how working together has helped us better understand how an asset-based framework like Clover can be used to support students' holistic success.
Positive developmental relationships are the foundation for our AmeriCorps members' work with students and we took a similar developmental approach to scaling Clover to all 28 City Year locations across the country. For Clover to truly take root across teams, we learned that our participants and facilitators needed to learn within a community, in a space that made them feel cared for and nurtured, and one that they could commit to wholeheartedly.
To create this community for 400 City Year staff members scattered across four time zones, PEAR and City Year co-designed a training plan that created smaller learning cohorts of staff members, along with facilitators from both organizations, with clear guidelines and expectations for what a quality learning experience looks like. This year, City Year is starting to roll out Clover more widely, with a goal of training all incoming AmeriCorps members within three years.
The initial feedback from our corps and staff on Clover has been positive, with teams who have been using Clover in schools reporting that the model has helped them and their students improve in the areas of self-management and relationship skills. We are energized when we reflect on the origins of City Year's partnership with PEAR, the road we took to build a true collaboration, and how the adoption of the Clover model is helping us expand our repertoire of positive youth development responses to both students and City Year AmeriCorps members. As we continue to roll Clover out to the entire City Year network, we look forward to sharing what we learn about how we can help students and AmeriCorps members thrive.
Click here to read more about how the Clover Model works in City Year Schools. For more information on Clover and PEAR, visit www.thepearinstitute.org.
---
Read more in the Voices from the field series:
Five Strategies for Confronting Oppression
Read our blog post on the five strategies that Stephen Spaloss, City Year Regional Vice President, uses to confront oppression in our society.
Voices from the Field: Creating LGBTQQIA+ Safe Spaces at City Year
Educators who are aware of their positionality, power and backgrounds along with a deep understanding of their students' backgrounds can create meaningful learning experiences.
Learn more about serving with City Year: