Succeeding with the support of Red Nose Day
One of the first lessons City Year AmeriCorps member Jhanae Askew brings to the students she  serves is that making mistakes and learning go hand in hand.
Sixth grader Valentina,* 12, is taking that lesson to heart after building a trusting relationship  with Jhanae, who she met at the start of the school year at Cutler Bay Middle School. Once reluctant to read out loud at the risk of mispronouncing words, Valentina now asks to be picked  to read during their small-group tutoring sessions together.
"She understands now that this is a learning experience for everybody," Jhanae says. "There's no  longer a sense of embarrassment."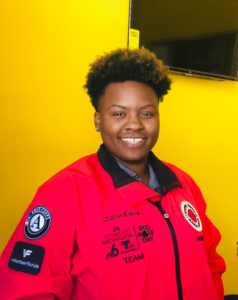 City Year AmeriCorps members in Florida and across the country are helping students stay  engaged with learning despite pandemic realities—including interruptions like temporary  quarantines last fall at Valentina's school. Through their full-time service tutoring, mentoring  and collaborating with teachers, City Year AmeriCorps members have provided critical  additional capacity to help schools adapt and respond to changing classroom demands.
The Red Nose Day campaign
City Year partners with systemically under-resourced school districts with the help of Comcast  NBCUniversal and Comic Relief US Red Nose Day, which sponsor 23 teams of City Year AmeriCorps members serving in 16 cities across the country—including Jhanae's team.
The Red Nose Day campaign to end the cycle of child poverty has raised over $275 million since  launching in the U.S. in 2015, and has helped more than 30 million children here and around the
world. The campaign uses its signature Red Nose and its call to put "Noses on!" to inspire Americans to join them. Red Nose Day will be broadcast on May 26.
The fundraiser supports children most affected by the pandemic as part of Red Nose Day's efforts to address child poverty and the inequities that perpetuate poverty, and ensure children  are safe, healthy, empowered and educated.
Working with students to change outcomes
Last fall, City Year AmeriCorps member Jhanae recognized that Valentina had a quick wit—and  sometimes distracted her classmates from their schoolwork. With encouragement, the middle  schooler is saving more jokes for lunchtime and during class is focusing on her assignments— earning praise from her teachers.
A study published in 2020 by the Everyone Graduates Center at the Johns Hopkins School of  Education found that the more time students spend with City Year AmeriCorps members, the  more likely they are to improve on social, emotional and academic skills and on attendance, with  those furthest behind benefitting the most. Social and emotional skills include decision-making,  teamwork and self-awareness, which can help students in school and in life.
When Valentina missed a reading assignment, she took Jhanae's advice and asked how to make  it up, followed through on the task and earned a good grade. A sense of achievement is leading  her to enjoy school more—and it shows.
Training tomorrow's teachers
"She's doing what she needs to do to be a good student," she says. "She's happier and her  teachers are, too."
Even the school principal has noticed, Jhanae says. Nowadays, Valentina doesn't mind if a peer helps her pronounce a word—and when she wanted to thank Jhanae by making her a holiday  card, she turned to a teacher for help—something she wouldn't have felt comfortable doing early  in the school year.
Jhanae says that Valentina has seen that regularly attending class, listening carefully during  lessons, and consistently handing in her work on time is laying a foundation for success.
Serving with City Year can change outcomes for City Year AmeriCorps members, too. Jhanae, a  23-year-old Miami native, once considered becoming a dentist. But her experiences in the  classroom have piqued her interest in a career in educational equity and leadership once she  finishes her service and graduates from college.
Apply now to serve with City Year AmeriCorps and make a difference in a classroom:
*Student name changed to protect privacy