Columbus is for the cool kids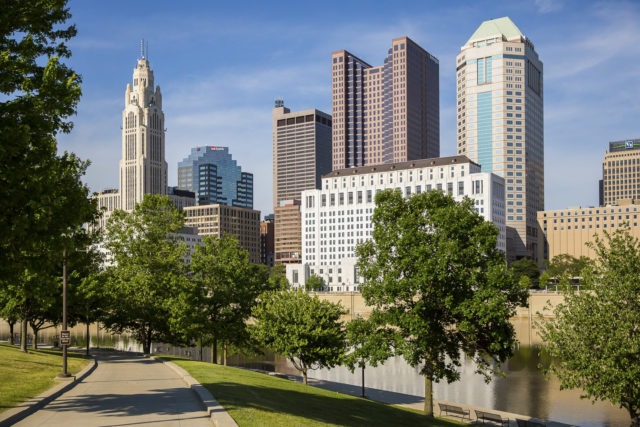 Columbus–The Biggest Small Town in America–is the next up-and-coming American city. Ranked as the seventh-best city for young professionals, it's no surprise that all the cool kids love Columbus, Ohio. Between the things to do, places to explore, museums to see, games to play, food to eat and students to serve, there's no better place to live than Columbus. Check out all the reasons you should consider moving to Ohio's capital city.
Festivals, Arts and Culture
It's impossible to be bored in Columbus with over 300 festivals every year. Whether you're interested in arts or food, sports or music, there's a festival for everything and everyone. Be sure to check out a few popular festivals, including the Columbus Arts Festival and the Columbus Food Truck Festival. You can also attend a wide-array of events, like the Ohio State Fair.
When the weather warms up, you can get outside from late spring to early fall and enjoy free outdoor movies under the stars almost every night of the week or take advantage of theater like Shakespeare in the Park.
With constantly rotating exhibits and programs, the museums always have something new. Check out the Wexner Center for The Arts at Ohio State University to see artist residencies covering music, film, visual art and more.
The Columbus Museum of Art, with free admission every Sunday, is no less impressive with its sunny galleries, rotating exhibits and an outdoor sculpture garden. The museum also contains The Center for Creativity, a large space with galleries, gathering areas and workshops that allow for visitors to participate in hands-on activities. Art enthusiasts can also attend the popular Think Like an Artist Thursdays to engage with local artists.
If you're more interested in history then don't miss out on visiting the Kelton House Museum and Garden. Built in 1852 by abolitionists Fernando Cortez and Sophia Stone Kelton, the house was a stop on the Underground Railroad for fugitive slaves. You can also tour the beautifully restored, Ohio Statehouse and museum to see impressive architecture and beautiful works of art.
For music fans, there is a local venue for every genre. Whether you love jazz, bluegrass, metal or indie rock you can catch a show most nights of the week. And if you want to see your favorite popular artist perform live, head to Newport Music Hall or Express Live.
Parks and Recreation
In the city's many parks, you can get outside and try things like rock climbing or obstacle courses. To get to a park, or anywhere else, you can use The Olentangy Trail, a 13-mile trail that takes you from downtown, out to the suburbs and back. If you're a real bike enthusiast, the trail also connects to other Ohio trails and will take you all the way to Cleveland and Lake Erie.
You can also visit the Franklin Park Conservatory and Botanical Gardens, which contains over 400 species of plants, glass-blown sculptures, a spectacular glasshouse, community gardens, resident butterflies and a fish pond. Another park you might visit is the Park of Roses where you can see over 12,000 roses of more than 400 varieties. And, you can check out Columbus' one-of-a-kind Topiary Garden, a living sculptural interpretation of Georges Seurat's painting ?A Sunday Afternoon on the Isle of La Grand Jatte."
You will also want to wander the Scioto Mile–145 acres of gorgeous parkland that runs through the heart of downtown. Adventurers can explore the Scioto Audubon to go birding and climb the largest free climbing wall in the nation or stop by the Bicentennial Park and Plaza to catch free concerts on summer weekends and cool off in the 15,000 square foot interactive fountain.
Another way to get outside is through the Columbus Public Health Department's Culture Walks: free, guided walking tours that celebrate the history of the city's neighborhoods.
Sports
If you're a sports fan, then you're in luck! Columbus has two professional teams, a minor league team, and (if you ask anyone in the city), the best college sports teams in the country. Catch the star soccer team, Columbus Crew SC, in action; cheer on the hockey team, NHL Columbus Blue Jackets; or take yourself to the ball game and watch the MLB AAA Columbus Clippers. You don't have to go to Ohio State to jump on the buckeye bandwagon and join the cheering crowds at Ohio stadium, the third-largest football stadium in the country.
If you prefer to play rather than spectate, Columbus has recreational sports leagues for activities like soccer or kickball, where you can compete or just play for fun.
Food to Eat
There is no shortage of delicious, local, food and drink in Columbus. Foodies can check out 20 different farmers markets throughout the city and visit North Market, one of the oldest and largest indoor markets in Central Ohio. You'll find fruits, vegetables, flowers, honey, aromatic herbs, fish, candy and amazing cuisine options from around the globe.
Foodies will also love to try all the great restaurants. You can wander over to the historic German Village for a bite to eat at Schmidt's Sausage Haus or Katzinger's Deli, head to Italian Village and try the Nutella pancake balls at Katalina's, visit the Short North for Brassica to get a pita sandwich or stop by Clintonville for pizza at Harvest Pizzeria!
Another great way to explore Columbus is through coffee. If you're a coffee lover, you can check out the Columbus Coffee Trail and find your favorite local spot at Stauf's or Fox in the Snow.
Students to Serve
But, the best thing about Columbus is the 50,915 incredible students in the Columbus Public School District who need your support to help them reach their full potential. By applying to serve with City Year Columbus as part of a diverse AmeriCorps team, you can help students build on their strengths, expand their comfort zone and dream big.
So, what are you waiting for? Make Columbus your next home.