City Year Columbus: Hybrid Service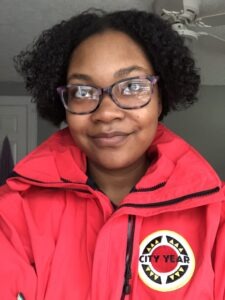 My name is Kendra Penn (She/Her/Hers) and I proudly serve as the SYACM at Windsor STEM Academy here at CYCO. When the pandemic first struck, I was finishing out my first-year of service, I didn't really have any idea what the next year would be like, but I knew that I wanted to continue to serve my students. I had learned and grown so much from my last year that I felt my work was not done, and knowing that the pandemic was continuing to rage, that my students would need our work and dedication now more than ever.
Team Windsor has been in a unique position this service year as we are one of the only teams at CYCO that is currently serving both in an in-person capacity, as well as virtually in classrooms. Columbus City Schools has set up Learning Extension Centers (LEC) across the city for students in need to be able to come in and receive Breakfast/Lunch as well as homework assistance and our team has been servicing the Douglass Recreation center that serves our students at Windsor.
Personally, I was a bit nervous about this transition not only because I was new to Windsor (having spent last year serving at a different school) but because I wanted to really focus on how we could build strong, impactful relationships with our students knowing that we might not get to interact with all of them in person for a long time. However as soon as I met my team and saw them in action, those nerves went right out the window. I have been so fortunate to be able to collaborate with a leadership team that puts the needs and health of our ACMs first, as well as a team who has gone above and beyond to create a caring environment that is focused on the success of our students. They decorated classrooms, set up activities, and have just shown up for our students in the most amazing way possible. We were even able to host an event called Winter Fest where we were able to give food and holiday gifts to over 150+ of our families, they continue to amaze me with their dedication to our students.
In addition to my leadership responsibilities, I have been fortunate enough to serve in the 4th grade space. Every day that I log into class, or walk into the LEC I am constantly stunned by the resiliency of my students. I took one online class during my undergraduate career that I almost failed because learning online was difficult for me. Being able to see them show up, ready to do their best and learn is so inspiring for me. Transitioning to working remotely has definitely had its challenges (I think I have learned more about Zoom and my computer than I ever wanted to know) but, I have also been able to find a lot of hope through this experience. Seeing how my team has shown up, not only for academics but for each other gives me so much hope about the impact we have been able to make so far this year for our students, and I personally cannot wait to see what the next few months will bring.