Lessons learned from City Year to Peace Corps
A gap year with City Year AmeriCorps
Will Reichardt applied to City Year right after graduating from high school in 2009 when the country was in the midst of an economic recession. Unemployment rates were high and Will didn't feel comfortable making the decision to go to college with such an unfavorable job market. He grew up with educator parents and was familiar with the impact that caring adults can have in the classroom and had heard of City Year during a debate about national service. So, when figuring out his next steps, City Year was on his list for consideration.
In Will's mind, City Year had to have a practical value to his future as well as an altruistic one—helping students to graduate from high school and succeed in life.
"During the interview, I remember asking how City Year sets you up for college," Will says. "After hearing about the Segal Education Award and University Partnerships, it really helped me understand that this experience was going to be a springboard into my future."
Learn more about benefits and resources that are part of serving with City Year, including a stipend, health insurance and scholarship opportunities for undergraduate and graduate studies.
Will joined City Year San José in July 2009, serving alongside six AmeriCorps members at Mateo Sheedy Elementary School, which serves students in kindergarten through fifth grade. In addition to working with students on their math and literacy skills in the classroom, Will helped to run a program called Starfish Corps, a social justice program that ran in conjunction with afterschool programming. Occasionally, he would host afterschool English language classes for mostly Spanish-speaking parents.
After a successful and fulfilling year of service, Will decided that he wanted to continue serving with City Year. He decided to apply for a position as a Team Leader, which is a second- year corps member who leads and supports new AmeriCorps members. This time, he decided to serve in his hometown with City Year Milwaukee during the site's start-up year. As with his first corps year, Will intentionally leveraged this time for both personal and professional growth.
"Leading a team of corps members was very different experience from my first corps year," Will says. "It helped me sharpen my communication skills, taught me how to manage various relationships and helped me gain confidence as a leader."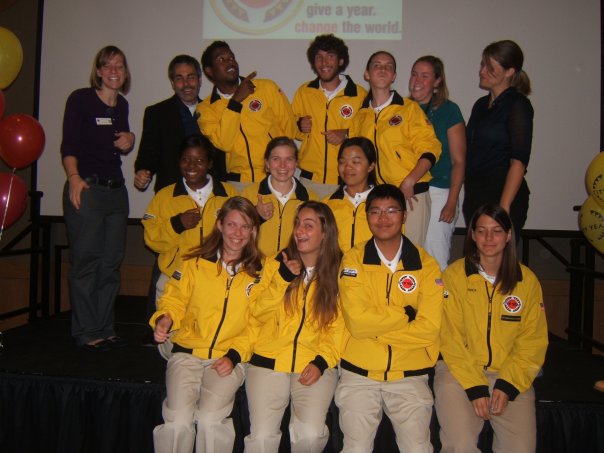 After two transformative years of service with City Year, Will went on to attend the University of Milwaukee after receiving a scholarship through City Year's University Partners Scholarship and eventually graduated with a degree in Community Education. Will then worked for various organizations, including as a City Year recruiter, before deciding to apply to Peace Corps.
"I always knew that I wanted to do the Peace Corps" he says. "After City Year and getting my degree in Community Education, it really seemed like a natural next step."
From City Year to the Peace Corps
In 2018, Will started the second part of his service journey with Peace Corps, serving in Bohol Province, Philippines. As a Children, Youth, and Families volunteer, Will works alongside his Filipino colleagues in a community-based drug and alcohol rehabilitation center. Together, they work with trained interventionists on educating communities throughout the province, so that they are better equipped to work with populations struggling with substance abuse. As a secondary project, Will is working on improving his partner organization's data collection system, with the hope that it will allow them to function more sustainably.
Will is able to reflect on all of his service experiences. He believes the lessons he learned with City Year have directly informed his service with Peace Corps and he breaks this down into three major themes:
Know your purpose
During his first corps year, Will says that his Impact Manager, a full-time City Year staff member who helps corps members track student progress and navigate the school environment, always asked him to identify "the why" behind his work. For Will, that guiding purpose was helping to make a long-term impact in his school—something corps members, being in the classroom for only ten months, often don't get to see. He remembers one of his students in particular:
"I had a student whoI worked with in my math tutoring group and she was one of the most responsible students in the school," Will says. "She took care of her three younger siblings even though she was only in the fourth grade, and as a result, scoring high on math exams wasn't a priority for her."
Being more patient with others than she was with herself, this student would grow frustrated when she didn't get her desired math score, shutting teachers and Will out. Will worked with her the entire year, feeling like he never made any inroads with the student. But when Will visited the school nearly a year later, something special happened—his old student recognized him immediately, ran up to him and gave him a big hug.
"Thank you for having the tutoring group last year," she said. "I'm doing much better in math now because I want to be a role model to my brothers."
In the Peace Corps, Will continued to see that showing up and being present everyday has a huge impact on the people and communities he worked with. One of the goals of Peace Corps being to promote a better understanding of Americans, and Will sees his identity as a Korean American adoptee as unique, especially because in the Philippines, the concept of adoption is not as widely embraced as it is in the U.S.
By virtue of simply being open and willing to share a part of himself, Will has the unique opportunity to talk about the cultural diversity that exits in America. This has opened fruitful conversations with his Filipino friends and colleagues, and Will has been able to share his identity, his definition of family and how being welcomed into his Filipino culture has felt like a second adoption to him.
Build a strong foundation
As a founding member of City Year Milwaukee, Will says site leaders always talked about the value of building a strong foundation. With both City Year and Peace Corps, a solid foundation has meant intentional community integration.
With City Year, AmeriCorps members often start their service with small gains in the process of building trust in relationships with students, teachers and school administration—a long process that requires time, effort and trust. For Will this experience was heightened by the fact that this was the first year City Year was operating in Milwaukee—he knew they were laying the groundwork for what they hoped would be a long-term partnership.
His principal ran a "tight ship," which stemmed from the love and high expectations she had of her students. All decisions they made as a team were ultimately approved through her as she always ensured that their activities were in line with her high regard for student success. But as the year went on, she saw that Will and his team were showing up for the students every day, building strong relationships with partner teachers and hosting school events. They slowly but surely gained her trust. Over time, corps members were able to run their afterschool programs and special events with less oversight, becoming a trusted and integrated part of the community.
Naturally, this lesson followed him to Peace Corps where cultural integration is extremely important. Learning local customs, making connections with new colleagues, and understanding how local institutions work—often in a language you're still learning—is intense but necessary. Without a deep understanding and respect for your community, working and having a sustainable impact would prove difficult.
"With both experiences, people are coming together to help create something bigger than themselves," Will says. "Integration into my school's community at City Year and my provincial community in the Philippines, has been both been the biggest challenges but also the most rewarding aspect of service."
Always take a human-centered approach
Will's time as a City Year recruiter has helped him to develop a human-centered approach to his work. "In recruitment, it's easy to fall into a numbers trap, and lose track of an applicant's humanity," he says. "But for me, I was really intentional about building relationships with any prospective corps member who reached out to me. And I think that helped to bring strong candidates to the application process."
In the Philippines, Will is working on designing a data collection system for one of his province-wide programs. Initially, Will and his team went from municipality to municipality, rolling out their system and solely talking about the importance of monitoring and evaluating programs. But within weeks, it was clear to his team that the town governments weren't invested and as a result, weren't submitting their data.
Will regrouped with is team and realized that they neglected to approach the project in a human-centered way. They realized that they were going into towns, not taking time to build relationships or offer incentives and asking for something in return. Ultimately, they decided to reframe their request. And this time, they framed the data collection project as a way to celebrate the gains of the municipalities, and to celebrate the progress they're making. With this shift, Will says that that he's seen a definite improved in their response rates.
Deciding to apply to Peace Corps after City Year is a big decision, but Will believes that AmeriCorps members naturally gain the personal and professional skills needed to be a successful volunteer abroad. He encourages any currently serving City Year corps members and alumni to consider Peace Corps as a "next step" in their service journey.
"It's so important for you to reflect on your City Year experience, take what was meaningful for you, and bring that into your Peace Corps service," Will says. "For me both have been life changing and I know that I'll be drawing on the lessons I've learned for years to come."
Considering the Peace Corps but want to become a more competitive candidate? Apply now to serve a year with City Year!