Celebrating City Year alum and Award-winning Educator Kevin Dua
"Encourage yourself and others to never just hope for racism to lose, but to encourage others and yourself to strive for liberation to win."
Kevin Dua credits the Black teachers in his life, including his parents whom he considers his first Black educators, for teaching him the value of paying it forward. As a City Year alum and an award-winning teacher for the past nine years in the Greater Boston area, Kevin has been doing just that.
Starting a career in education with City Year
After graduating from William & Mary in 2009 with a degree in history, Kevin began his career in education at City Year Boston. Serving as an AmeriCorps member at the Boston Renaissance Charter Public School for two years, Kevin and his teammates tutored Black and Latinx fourth-grade students on math and literacy.
"Being in City Year reaffirmed what my family taught me growing up: make doing good and being kind happen in places that welcome and oppose that, especially when it comes from someone that looks like me," Kevin said when he accepted his 2021 Comcast NBCUniversal Leadership Award in May. "Ten years later and I still love to learn and teach," he said. "There is no greater lifelong calling that is entrenched in making this country and this world aspire to be a better version of itself, even if said country or world can value you as less than because of their systemic, real and ongoing prejudice and ignorance towards you."
In 2011, Kevin was accepted into The Charles F. Donovan Urban Teaching Scholars program at the Lynch School of Education and Human Development at Boston College, where he earned an M.Ed. secondary education in history.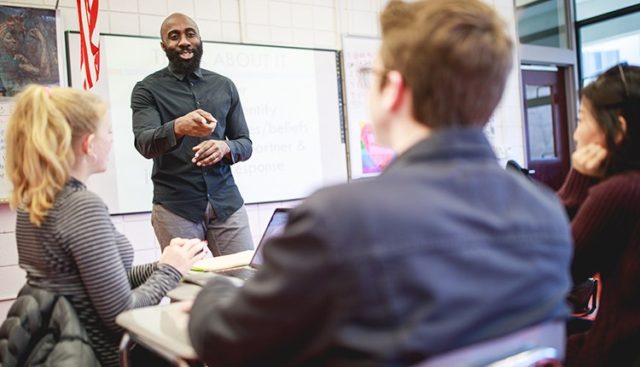 Seeing success through students
Kevin continues to take up space among the few—with Black men making up just 2% of U.S. public school teachers, he is committed to serving as a role model and shaping the minds of the future generation of students. His impact in the world of teaching is best illustrated by the achievements of his students. Inspired by his classroom lessons on civic engagement, Kevin's high school students set multiple Guinness World Records; campaigned for free tampon bathroom dispensers in schools; implemented new royalty titles and crowned their school prom's first same sex couple; advocated for web pages to correct the misidentifications of enslaved Black humans; hosted weekly after-school seminars on Black identity and systemic racism for their classmates, teachers, families; and invited guests as Dr. Cornel West, the Black Lives Matter Cambridge chapter, and Massachusetts Congressperson Ayanna Pressley.
In 2017, Kevin became the first African American to be awarded the Gilder Lehrman Institute of American History Massachusetts History Teacher of the Year, and he was a finalist for National History Teacher of the Year.
Giving back to the City Year Boston community
While Kevin continues to make strides in the world of education, he takes pride in giving back to the very place that began his teaching trajectory. Kevin continues to serve City Year Boston as a mentor for first-year AmeriCorps members and presents workshops on how corps members can support their students with social justice activism within their schools and communities. In 2019, he collaborated with Catherine Wong, Director of Equity Implementation at Leadership Brainery, to establish a partnership between City Year and Boston College that offered M.Ed tuition scholarships for City Year alumni aspiring to teach in urban communities, helping to advance City Year's teacher pathways work.
Kevin, we honor your work and celebrate you! Congrats again on winning the 2021 Comcast NBCUniversal Leadership Award!
Learn more about City Year's unique approach to student success: