2021 Comcast NBCUniversal Leadership Award Winners
Celebrating City Year alums
City Year alums make a difference in their communities and careers long after their year or two of service is completed. Since 2005, City Year National Strategic Partner Comcast NBCUniversal has recognized 80 City Year alums with our highest alumni recognition–the Comcast NBCUniversal Leadership Award.
We celebrate our remarkable alums who have continued their commitment to strengthening community; inspiring, mobilizing and elevating others; creating and developing sustainable solutions for social change and exemplifying the core values of City Year.
Dre Thomas
(Los Angeles '11, New York '12)
Dre has dedicated more than 10 years to bridging the gap in reproductive education access for girls in systemically under-resourced communities. She champions the health and safety of girls as the Founder and CEO of Smile On Me, a nonprofit organization that adequately prepares girls for puberty and provides a space where they can be authentic and discover something new. Since its inception, Smile On Me has provided more than 3,000 hygiene products to girls throughout the New York City metropolitan area and has facilitated programs on puberty, menstruation and reproductive health, body image and mental wellness.
During the height of the coronavirus pandemic, Dre recognized the need for community and belonging more than ever. This led to the creation of Homeroom, a Smile On Me members-only club where girls can digitally connect with their peers, participate in meaningful conversations, and continue to learn and grow. The work Smile On Me does has proven that low self-esteem, poor body image, and unrealistic expectations decrease when girls are a part of healthy environments in which they are valued and heard. Dre has seen firsthand that healthy environments that allow peer-to-peer interaction can be a positive way to encourage girls to embrace their strengths, celebrate their differences, freely express their concerns and struggles, and build confidence and systems of support.
Dre is currently crowdfunding to bring to life the first and only BIPOC-girl-focused Wellness Summer Camp in 2022. This summer camp experience, which will be free of charge to all participants, will provide a unique opportunity for campers to gain and practice life skills in a safe space. With only 10% of the American campers identifying as Black and only 60% of Smile On Me participants having ever attended sleep-away camp, Dre aims to close the gap in access and participation in this enriching summer experience.
Kevin Dua (Boston, '10, '11)
Kevin Dua has been teaching for nine years throughout the Greater Boston area, making him part of a rare group: Black men make up only 1.7% of U.S. public school teachers. Upon earning a bachelor's in history from The College of William & Mary in 2009, Kevin served two years as a City Year AmeriCorps member at the Boston Renaissance Charter Public SchooI. In 2011, Kevin was accepted into The Charles F. Donovan Urban Teaching Scholars program at the Lynch School of Education and Human Development at Boston College and received an M.Ed. secondary education in history. He currently works as a history teacher at Cambridge Rindge and Latin School.
Throughout his teaching career, Dua—as students refer to him— has inspired students to utilize their agency and mobilize to affect positive change. His past students led and set multiple Guinness World Records; campaigned for free tampon bathroom dispensers; implemented new royalty titles and crowned their school prom's first same sex couple; and advocated for web pages to correct the misidentifications of enslaved Black humans.
Within his classroom, Black students have hosted weekly after-school seminars on Black identity and current events for their classmates, teachers, families and invited guests as Dr. Cornel West, the Black Lives Matter Cambridge chapter, and Congressperson Ayanna Pressley.  In 2017, Kevin became the first African American to be awarded the Gilder Lehrman Institute of American History Massachusetts History Teacher of the Year, and a finalist for National History Teacher of the Year. The following year, Kevin was selected to join the nation's first all-teachers Hyland's Boston Marathon team, where he promoted the importance of increasing teachers of color in schools.
Along with his teaching career recognized by NPR, PBS, Learning for Justice, Abolitionist Teaching Network, and UpLift Cohort of Black Male Educators, Kevin travels nationwide delivering keynote addresses and consultation on antiracism and anti-bias. In 2019, he collaborated with Catherine Wong, Director of Equity Implementation at Leadership Brainery, to establish a partnership between City Year and Boston College that offers M.Ed tuition scholarships for City Year alumni aspiring to teach in urban communities.
Currently, Kevin volunteers as a mentor for first-year City Year Boston AmeriCorps members and presents workshops on how they can support their students with social justice activism within their schools and communities.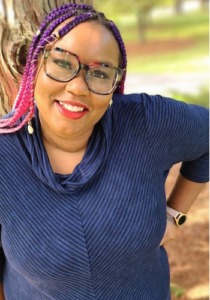 Emerald Anderson-Ford
(New Hampshire, '09, '10)
Emerald Anderson-Ford's penchant for philanthropy and the nonprofit world began early in life—while growing up in Atlanta, she spent time helping to feed the homeless population in the downtown area.  While attending Georgia Southern University, where she majored in philosophy, Emerald began to connect and understand the growing gaps in our nation's education system and how they perpetuate the cycle of poverty.
Emerald went on to serve two years as with City Year New Hampshire as an AmeriCorps member. She dedicated her passions and skills during her first year of service to the Young Heroes program, working with middle school youth on social injustice learning and action through service projects. During her second year, Emerald supported the pre-service experiencing by building relationships and persistence with the applicant pool and confirmed corps. Naturally, Emerald then went on to join City Year's recruitment department. It was at City Year New Hampshire that Emerald met her future husband and started developing her understanding of community organizing and equity strategy for marginalized populations.
Emerald has remained committed to advancing City Year and pushing the organization to become more equitable and inclusive. She has developed policies and programs, facilitated trainings, and led the examination of our current systems in order to create a more equitable recruitment and service experience for BIPOC AmeriCorps members. Emerald helped form the Black Leadership Response Collective, a group of City Year colleagues committed to advocating on behalf of staff members of color.  In 2020, Emerald joined and helped to shape City Year's first Office of Equity where she hit the ground running by creating national affinity groups that held space for all staff and corps, establishing an Equity Point Community of representatives from our 29 sites, and developing and implementing a three-part equity learning series for the entire organization.
Outside of City Year, Emerald dedicates her time, expertise and resources to activism and organizing efforts, both locally and nationally. She is the founder and owner of Communities Reaching for Equity and Diversity (CRED), an equity consulting group that works with school districts, police departments, and various other government and nonprofit entities in realizing their areas for growth in abolition and anti-racism work. Emerald currently resides in Manchester, NH with her husband, Damond, and their two young daughters, Cleo and Reed.
Want to learn more about serving with City Year? Connect with us today: