Advancing equity and social-emotional learning through relationships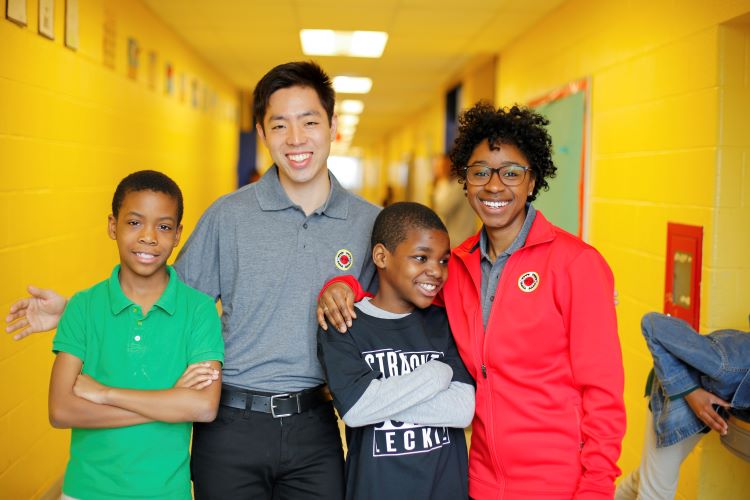 City Year and Search Institute have been working together since 2017 to explore how City Year AmeriCorps members in Columbus, Ohio are creating developmental relationships with the students they serve every day, helping to ensure successful student outcomes. At the 2019 SEL Exchange, leaders from City Year, Inc., Search Institute and City Year Columbus shared what they've been learning and how City Year has changed its training for its AmeriCorps members as a result of this collaboration, which now includes Milwaukee and Memphis.
The essay below reflects some highlights from their presentation: Advancing Equity and Social-Emotional Learning through Developmental Relationships.
Advancing Equity and Social-Emotional Learning through Developmental Relationships
This year, 3,000 diverse young adults are serving full-time with City Year across 29 U.S. cities as AmeriCorps members. These corps members serve in teams in 350 public schools as student success coaches—near-peer tutors, mentors and role models who are mature enough to offer guidance while young enough to relate to students' perspectives. The near-peer status of City Year AmeriCorps members uniquely positions them to form positive, caring and consistent connections with the students they serve—developmental relationships—which Search Institute describes as the active ingredient to help young people "be and become their best selves."
As a youth-focused organization dedicated to putting research into practice, Search Institute is exploring how the Developmental Relationship Framework it developed is used by real-life practitioners working with students—including teachers, guidance counselors and AmeriCorps members.
The five elements of developmental relationships are:
Express care – Show me that I matter to you
Challenge growth – Push me to keep getting better
Provide support – Help me complete tasks and achieve goals
Share power – Treat me with respect and give me a say
Expand possibilities – Connect me with people and places that broaden my world
Relationships with these five qualities are vital for students' growth, Search Institute has found. Young people who have developmental relationships are more likely to be motivated in school, more resilient when facing challenges and less likely to engage in high-risk behaviors.
Yet, far too many young people say they have just one or no relationships that reflect these elements, and this is particularly true for students who have historically been marginalized, including those growing up in economically disadvantaged neighborhoods and young people of color.
City Year, Search Institute and SEL
In 2017, Search Institute launched the Relationships for Outcomes Initiative with five partners, including City Year, to develop innovative tools and resources that strengthen developmental relationships with and among students of color and students living in low-income households—the same students served by City Year—and can be immediately put to use by practitioners. Both organizations have been learning a tremendous amount about the opportunities and challenges of building developmental relationships with students. We are excited to share insights into our work with City Year Columbus.
City Year's holistic approach to supporting student success—academically, socially and emotionally—is grounded in research about what all students need to thrive, including positive relationships with caring adults who are part of their educational experience.
Research finds that learning happens through relationships, and that students need to feel welcome, cared for and secure in order to achieve, grow and succeed in school and in life. Studies also show that when students feel supported by caring adults who push them to grow and set high expectations for them, students do better in school and go on to attend college at higher rates.
Learn more about the science behind learning and development through the SoLD Alliance.
Over the past 12 years, informed by evolving research and our own experience serving in schools for three decades, City Year has become more intentional and refined about how AmeriCorps members are trained and what tools and curricula they can access to best support student holistic growth—academic, social and emotional.
As we added approaches and resources, such as the Clover model of youth development and the Devereaux Student Strengths Assessment (DESSA), we realized that our AmeriCorps members would also benefit from tools that connect the near-peer mentoring relationships they are forming with students to the outcomes they are trying to achieve. At times, corps members struggle to understand how all of the pieces of service fit together.
Last year, we enhanced our training for the 60 AmeriCorps members serving in Columbus to include tools developed by Search Institute.
What we are learning:
Self-awareness is an essential first step
At the beginning of the school year, we asked corps members to reflect on caring adults who had showed up for them during the course of their childhood and adolescence—parents, grandparents, older cousins, neighbors, mentors, teachers or coaches. What did those relationships look and feel like? How was trust established? How did they help to set and reach goals?
Then, we introduced them to the five elements of developmental relationships. Keeping in mind up to three caring adults they had identified, we asked them to answer a series of questions such as: Who showed you that you mattered them? Examples included how they payed attention to you and showed they enjoyed being with you. Another question was: Who pushed you to keep getting better? Examples include encouraging you to go further and helping you to learn from mistakes.
This tool helps AmeriCorps members to clearly see—from the very start of their service—not just who their support system was growing up, but the concrete ways these adults excelled in one or more of the five elements, and how essential these relationships have been in their own growth and development. We witnessed tremendous growth in self-awareness from our corps members, and this, in turn, has influenced the way they support students.
Build in touchpoints throughout the year
Later in the school year, we introduced an "intentionality tool" that prompts AmeriCorps members to reflect on how much attention they are paying to their behavior and actions related to the five elements of developmental relationships: express care, challenge growth, provide support, share power and expand possibilities.
Corps members are asked to rate themselves on various actions and behaviors and use this exercise to continue to refine and improve their relationships with students. We also began including monthly check-ins with corps members about the relationships they develop with students using the developmental relationship framework, so the five elements are always topmost in their minds. Both corps members and the City Year school-based staff that support them—impact managers—said they found the monthly structure very helpful.
Read our three steps to create positive relationships with students.
Paying attention to all five elements is difficult and requires continuous effort
We learned that expressing care comes more easily to many AmeriCorps members, but challenging growth and the other elements can be far trickier. Being able to nurture a relationship that not only inspires trust in young people but also pushes them to try new things and recover from setbacks takes time and skill—and intention.
Last year, a corps member struggled with a group of four elementary students she met with weekly to strengthen their reading and writing skills. Even though the group had developed a working agreement that they would all begin work promptly, use kind words and not interrupt, the students had a hard time settling down when they arrived and were not always considerate with the corps member or each other. They were several weeks behind where they should be in the workbook they were using.
The AmeriCorps member was frustrated and losing confidence. Using the developmental relationship framework and intentionality tool, the corps member and impact manager were able to clearly identify where the corps member was struggling. In an effort to build rapport with the students, she realized she had been reluctant to call out behavior that conflicted with the agreement the team had made. She was afraid that correcting or redirecting a student might damage their relationship.
However, through reflection and coaching, she also was able to see that allowing the students to break the agreement was eroding trust between the students and corps member. Having a structure and being held accountable would help the students to focus and succeed.
Once the corps member started reminding the group about their agreement and addressing inconsistencies, the students responded. The corps member was also relived to find that holding students to high expectations didn't always require a long conversation that derailed that day's lesson. Often, just a reminder: "Use kind words," was enough to get things back on track
Access creates more equity
Prioritizing developmental relationships in public schools that serve large numbers of students of color and students growing up in low-income areas helps to create more educational equity. All young people need these relational elements in order to succeed in and out of school and by intentionally strengthening connections between students and caring adults and ensuring these resources are available to all students, regardless of zip code, we are helping to expand opportunity and equity.
We are continuing to learn how to make developmental relationships actionable and accessible for caring adults working in schools. City Year and Search Institute plan to gather more information and share insights as these tools are adopted by additional City Year sites.
By Search Institute President and CEO Kent Pekel; City Year Chief Impact Officer Stephanie Wu; and City Year Columbus Senior Impact Manager Zandra Casto.
Want to learn more about serving with City Year? Connect with us today: