Support student well-being as a school social worker
Alum Nicolas Gonzales talks about how City Year helped launch his career in social work and the importance of representation in the social work field.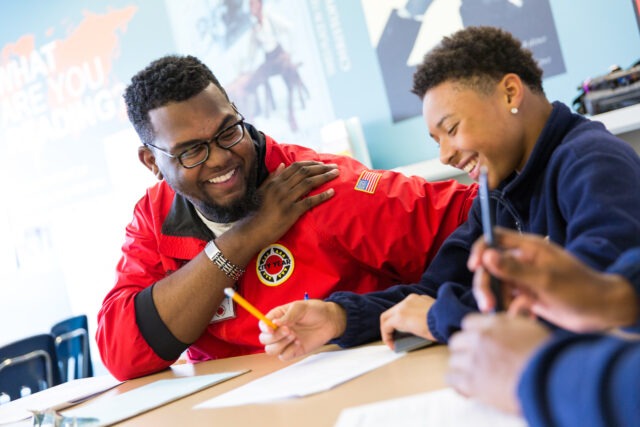 Supporting student well-being with City Year and as a school social worker
At age 10, Nicolas Gonzalez, City Year Boston '12, '13, immigrated to the United States from Colombia. His family settled in Cambridge, MA, where Nicolas attended, The Amigos School, one of the few Spanish-English bilingual schools in the area. After the 8th grade, Nicolas attended the Newman School in Boston, MA and then went on to college in Worcester, MA. He graduated from Assumption College with a bachelor's degree in International Business and Latin American Studies in 2011. After hitting roadblocks on applying to business jobs, City Year Boston was at a career fair during Nicolas's senior year of college where Nicolas gained interest in City Year. Though originally interested in pursuing international business opportunities, Nicolas was inspired by his mother's work as a social worker. After long conversations about Nicolas's future, his mother encouraged Nicolas to work with students in schools to see if he might enjoy it as a career.
As a City Year AmeriCorps member, Nicolas served in a third-grade bilingual (Spanish-English) classroom at Dever-McCormack K-8 School in Dorchester, MA. After his first year, he developed a passion for supporting students in their social-emotional learning journeys and decided to serve a second year as a Team Leader at Blackstone Elementary in the South End, Boston.
After two years with City Year Boston, Nicolas continued to work with youth as a paraprofessional and ABA (Applied Behavior Analyst) until he was ready to go get a master's in social work from Boston College School of Social Work (Class of 2017) and has worked in schools across the Boston and Chelsea area since graduation. In his current role as a social worker for Boston Public Schools, Nicolas primarily provides counseling and social emotional support to children with individualized educational plans, students with social emotional needs, students with learning and behavioral disabilities, and to students who have recently arrived to the United States.
"I work with middle schoolers, and I provide mental health services in English, Spanish, and some Portuguese" Nicolas says. "I strive to support all students regardless of their upbringing, culture, or language, so that all students receive the best support that they can and need. If a student is struggling beyond the classroom, learning comes second for them, and I support them and guide them towards a better tomorrow."
We spoke with Nicolas to learn more about how his City Year service helped launch his career as a social worker:
From City Year to a career as a social worker with Boston Public Schools.
Nicolas Gonzales (NG): First, I'll say that I love every minute of my job. I primarily focus on supporting newcomers, which is how we refer to students and families new to the United States. It's a full-circle moment for me because I was a newcomer once, so I know what it's like to be in my students' position. Empathy is a big part of how I can support them through this major life transition. In addition to working with newcomers, I also work with students with behavioral and  learning disabilities from ADHD to Down syndrome and/or autism.
Aspects of City Year service that help prepare members for a career as a social worker
NG: Being a City Year corps member isn't always easy. Your days are long—with early morning starts and ending your day well after school dismissal. And the work you're doing throughout the day can be challenging, too. You'll have students trying their best to navigate challenging home and community environments. Because you're a trusted adult, they'll confide in you and share what they may be going through. And that's tough.
As a social worker, it is similar because you need to be able to help your student navigate their lives in the healthiest way possible. It's different from being a corps member in that I am the one who can provide specialized support for a student in need. The situations I'm pulled into are often more complex than what corps members are equipped to deal with.
A large part of being a social worker is learning to manage the toll of the work. It can be challenging emotional labor. But as a City Year corps member, I learned how to start managing this aspect of the work before I went to grad school or had my first job as a social worker. Learning to take care of myself while still providing the services my students deserve is something I carry with me every day.
Commonly held misconceptions about social work that may prevent people from pursuing social work as a career
NG: The biggest misconception is it's tough work for very little pay. While this is undoubtedly true for some positions—and I think we have work to do when it comes to valuing the profession—it's not true for all positions. At Boston Public Schools, I am happy with my salary and get all the perks of being an educator: snow days, school district holidays, summers off, but most importantly, I get the support I need to not burn out and receive guidance to handle complex cases.
If you know you want to go into social work but are worried about salary and benefits, I suggest looking for unionized positions. These positions generally pay more and have more protections and support for their workers.
The second biggest misconception people tend to have is that social work is purely case management. But social work is quite diverse! In my role, I do individual and group counseling, family engagement, case management, teach parents skills to work at home with their child, and more. For example, many clinical social workers serve more as mental health providers. In addition, social workers can work in a variety of settings, from schools, hospitals, to even non and for-profit agencies. Within the field, social workers can specialize in communities struggling with homelessness, substance abuse, elder care, child advocacy, or other complex matters. You can even get your PhD in social work and focus on research that helps inform social work practice.
There are so many things you can do with a social work degree! Thinking about it as simply case management often deters otherwise interested people from going into the field!
Advice for City Year AmeriCorps members thinking about pursuing a career in social work
NG: Do it! Apply to the social work program! I would especially encourage Latinx men and other men of color to go into the field. The profession needs you, specially if you're bilingual or multilingual and can help non-English speaking communities. Representation really matters here because it can make or break our ability to provide the support services our communities deserve.
For example, in my school, many of our students are Spanish speakers, but, unfortunately, many of our staff don't speak Spanish. On the flip side, however, being a Latinx male, I have built strong connections, primarily to the young men of color in my school, as I am able to relate to their upbringings or able to speak the language that they feel comfortable in.
I'm hoping that by me talking about my experience as a Latinx man, more men of color will want to join the field.
City Year AmeriCorps members are uniquely positioned to bolster their students and support their social-emotional learning needs. And if you're like Nicolas and want to pursue a career in social work, serving with City Year can help you build the skills you need to be successful in the field.