Our executive director, staff, alumni, board members and partners are committed to building a stronger CITY by supporting and developing our AmeriCorps members as leaders in their schools and community.
Karen Velazquez-Vargas
Senior Vice President

and

Executive Director for City Year 

Miami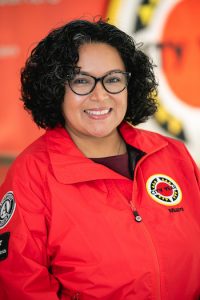 Karen Velazquez-Vargas serves as the executive director of City Year Miami in this role, Karen maintains strategic relationships with Miami Dade County Public Schools. City Year Miami's Board, corporate and philanthropic partners, and the wider Miami community.  
Karen Velazquez-Vargas currently serves as vice president and executive director of City Year Miami. Prior to her executive director role, Karen served as the managing director of impact and senior program director at City Year Philadelphia for six years. As an innovator in impact, Karen worked closely with the executive director of City Year Philadelphia to build a coalition of district partners and principals to create the site's first principal summit. Her contributions and leadership resulted in an improvement in impact, staff engagement, and culture, and increased funding from the district.
Prior to City Year, Karen worked as a bilingual discipline and truancy liaison to navigate crises and disciplinary procedures with students, families, and district personnel covering 44 schools and impacting 16,000 students with the School District of Philadelphia. Earlier in her career, Karen also worked with several consulting and social work agencies, with a focus on performance management improvement and supporting bilingual communities.
Karen is a first-generation U.S. citizen and first-generation college graduate, holding a master's of group counseling and organizational dynamics from Drexel University and a Bachelor of Arts in psychology with minors in spanish and latin american studies from the University of Pennsylvania. She is a native New Yorker, as is her husband of 19 years. Karen now calls Miami-Dade County home and loves the welcoming and vibrant spirit of her new community. She is passionate about equal rights for women and considers education key to attaining gender equality for all women, both locally and globally. As the mother of three girls, this is not only a passion, but an incredibly personal cause for Karen.