From City Year Student to AmeriCorps Member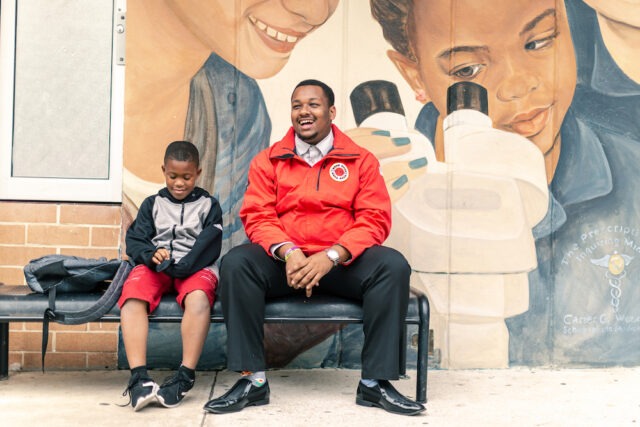 "I know what it felt like to get left behind," says Colby Latimore, a Service Leader serving his second year with City Year at Carter G. Woodson Elementary School. Throughout elementary and middle school he had trouble reading and keeping up with his peers. When he started high school at Jean Ribault High he met his City Year AmeriCorps member with whom he had an instant connection, this young adult felt closer to him than any teacher had. Colby began to work to improve his reading scores with City Year, and along the way, they supported him through his personal struggles and confidence. The City Year AmeriCorps members in his life made a lasting impression on Colby, they helped him find the confidence he needed to succeed and graduate on time.
A few years after graduating high school Colby found his way back to City Year, this time as a City Year AmeriCorps member himself. As he began working with students he realized this is where he was supposed to be – helping kids, just as he had needed when he was younger. Colby was placed in a 5th-grade classroom where he was able to help students with the transition from elementary school to middle school, the same transition he had struggled with as a student. It's not just academics that Colby supports his students through – he is a constant support for students going through personal struggles, struggles that he can't believe they have to go through at such a young age. That is the power of City Year – AmeriCorps members build relationships over the school year that help students work towards social-emotional and academic success.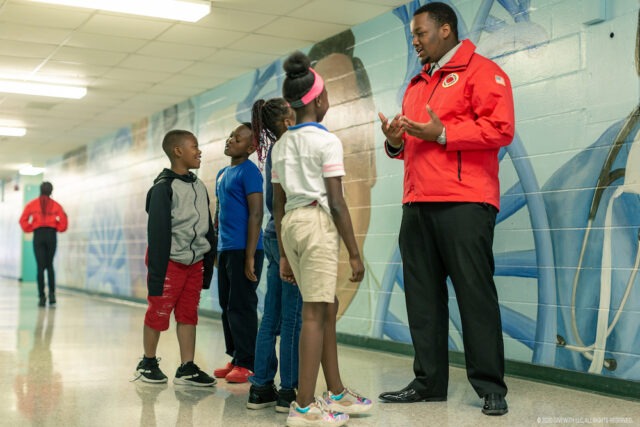 As students returned to school this year, so do did Colby. He is a Service Leader who leads a team of first-year AmeriCorps members through their year of service while continuing his own student support. After six months without teachers or AmeriCorps members, the students were nervous and getting back to school has been an adjustment for them. Students throughout the school have looked to Colby for reassurance and with questions about why school looks different now. Colby explains to his students that while COVID is a real danger and everyone needs to be mindful of one another, the love and support that they expect at school from staff and City Year remains unchanged.
Returning to school Colby was excited to see his Starfish Student (a student that an AmeriCorps member knows they made a difference with). When they met at the beginning of last school year, Colby had to be strict to get him to listen during class, so his Starfish began to resent him. When Colby called his mom to talk about his trouble in class, the student lashed out at him. However, the next day he came and apologized saying that he never had anyone who was there for him like that – someone who advocated for him. After that, he became one of Colby's closest students because he wanted to excel and he knew he had to work hard. This year Colby's Starfish has opted into Duval HomeRoom, so they get to interact virtually. After working hard last year, the student now has the tools to succeed as a virtual student who can motivate himself.
Colby is one of many graduates of Ribault and Raines High Schools who serve with City Year Jacksonville now. They are students who worked hard, whether with City Year or not, to graduate successfully and decided to dedicate a year of their lives to serving the students in the community that raised them. At City Year we don't only seek to support our students from 3rd to 9th grade, we work to empower young adults to work towards their own career goals. We believe in the power of young people because each student has the potential to grow up and make a real difference in their community, just as Colby has.
All photos in this post are from 2019. AmeriCorps members now are mandated to wear masks and social distance while in schools.