Raise your hand if you like to save money. If you just raised your hand, keep reading. Even if you didn't raise your hand, keep reading anyway because who doesn't like to save money.
Living in Boston can get expensive. After paying rent, utilities, and groceries, there isn't always a lot of extra money to go out and explore. So when your co-workers ask you on Monday morning about your weekend plans, maybe you don't want to admit that you just spent it at home on the couch because it's just too expensive to go out. If that's what you're thinking, I'm happy to say that I can prove you wrong right here, right now. There are several resources available throughout Boston that will allow you to enjoy yourself without hitting that overdraft in your bank account.
"Having fun isn't hard when you've got a library card." -Arthur
One resource is the library. Surprised? Well, I don't think you should be. Libraries host all kinds of events and classes that are open to the public. Central Library in Copley Square offers free daily tours that highlight the building's architecture, and each branch has museum tickets that you can reserve. Some of these reservations come with free tickets while others offer admission at a discounted price; it depends on the attraction. If you really don't want to leave the house over the weekend though, they also have DVDs that you can borrow and watch at home. The public library is a great resource for getting out of the house, or staying in, so check out your local branch and see what kinds of experiences they have to offer. The newly renovated main branch of the Boston Public Library is so close to City Year HQ you can walk there on your lunch break.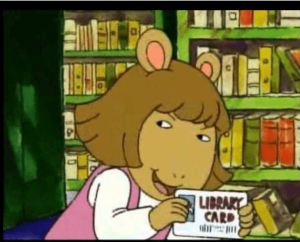 "Now I know what true power feels like." – D.W.
Exploring the city can be done on most budgets. Or just lace up your sneakers and explore the city on foot. Boston is a lively city no matter the season. Fall is a great time to explore Boston Common or bike through the Arboretum. The Arboretum is part of Boston's Emerald Necklace, a chain of nine parks designed by Frederick Olmstead, linked by parkways and waterways. Both are a great way to enjoy the changing colors of fall and get some fresh air. When the nights start to get colder, head over to the Institute of Contemporary Art; they offer free admission on Thursdays from 5-9 pm. Then to get into the holiday spirit, head back over to the Boston Common in December to enjoy the Tree Lighting and Skating Spectacular. As the snow starts to melt, take the time to learn more about Boston's history by walking the Freedom Trail. But the full Boston experience isn't possible without visiting at least one of the beaches. Go to Castle Island and take a free tour of Fort Independence. (They offer guided and self-guided tours.) And to top it all off, jump on the blue line T to Wonderland and see some awesome sand sculptures in July at the International Sand Sculpting Competition at Revere Beach. They even have an amateur contest so pack your bucket and shovel and get ready to create some amazing sand art of your own.
Top left: Boston Common in the fall. Top Right: Tree Lighting Ceremony. Bottom Left: Freedom Trail marker. Bottom Right: Winning sand sculpture from the 2019 International Sand Sculpting Competition titles "Vanishing Muse."
How am I supposed to get there? I'm glad you asked. As a Team Care Force member, your T-Pass can be reimbursed. For myself, I buy the weekly pass and can then use it to travel as often as I want, on the subway (the T) or Boston's bus system. One more resource to use that you might not realize is EBT. There are all kinds of discounts that you can receive when you have an EBT card. Some museums and aquariums offer discounted tickets for visitors when they show their EBT card; find your next weekend trip in Massachusetts here. There are even some subscriptions you can get at a cheaper rate using your card. On a recent Care Force event, Team Care Force received discounted admission (only $6) to the Cincinnati Zoo.  As you can see, having a good time in Boston doesn't require breaking the bank. There are many free things to do in the city and many more that you can explore on your own. So what are you waiting for?
Need some more suggestions for exploring Boston on a budget? Keep scrolling.
The Rose Kennedy Greenway
Castle Island and Fort Independence
The Charles River Esplanade and Longfellow Bridge
Massachusetts Historical Society
Harborwalk
Fanuil Hall Marketplace
The Lawn on D (open May to October)
Tour Harvard
Tour the Massachusetts States House
Climb the Bunker Hill Monument
Walk the Black Heritage Trail
Walk the Irish Heritage Trail
Originally published 11/14/2019