Care Force Mid-Year Summit
A component of the City Year calendar is the Mid-Year Summit, where AmeriCorps members come together to reestablish expectations and attend trainings and professional development sessions. While this is the traditional format, Team Care Force's Mid-Year Summit is a little different. Two Care Force staff members work remotely: Hugh Harlow based out of Sacramento and Samantha Sadlier based out of Chicago. Due to the distance, the entire team only comes together two or three times a year. Our Mid-Year Summit is one of those few times, which is one reason it is so special. This year's Mid-Year Summit took place across three days, from February 10th through the 12th.
Since the entire team was together, we used this time to not only focus on work, but to bond and learn more about each other. Building stronger relationships helps us keep our cool during times where we may be stressed while traveling and remain close to one another. We started with an improv game called "Why Are You Late?" with six players – four office employees, one boss, and one late employee. The boss and late employee are asked to leave the area so that the rest of the players can come up with a reason for the player's tardiness. One example of this could be because an AmeriCorps member was looking for an unusual animal on their way to work. It is then up to the four office employees to mime out the reason to the late employee, who must guess what it is.
After this activity, we had a building competition. We divided into three teams and used materials in the office to build a structure designed to hold as many water bottles as possible. The winning structure was able to hold 25 water bottles! We ended the week with a silent appreciation. In this, Care Force Deputy Director Chris Farzner read a prompt and we took turns walking around tapping people on the shoulder who we felt fulfilled the prompt. This was powerful for me because I felt, as a tapper, that many of my team met most of the prompts and when I was sitting down, I was getting tapped for most prompts.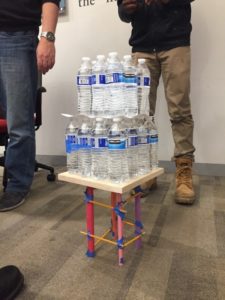 One thing that was unique about Mid-Year Summit was that our Senior Program Manager, Molly Stuber, asked Team Care Force members (TCF) what sessions we wanted to see and factored that in when making the schedule. These sessions included: troubleshooting problems during events, going over a workplan for events, and explaining the Employee Assistance Program (EAP) benefits. Sam and Hugh led the session about troubleshooting problems that have come up during events, and this was helpful because they gave us potential solutions to use in the future. Going over the workplan gave the team an inside scoop on what an event manager completes before an event to prepare for event day. We learned that a workplan can be used to plan anything from big projects to surprise birthday parties. The last session that we requested was a session going over the EAP benefits. The EAP offers various levels of support to AmeriCorps Members, ranging from six free sessions of counseling to legal services.
My favorite session in the Mid-Year Summit was the 360 Feedback session with Charlie Rose. In this session, each TCF member gave positive feedback (glows) and constructive feedback (grows) to one another. I really enjoyed this because it set up a space where I could give feedback to my teammates. I get very anxious when delivering feedback, but there were some topics I wanted to discuss with my teammates and Charlie provided this outlet. We also had a second session with Charlie Rose building on our knowledge of the leadership compass that we learned about in our Basic Training Academy. This session involved us walking around the room and putting our initials on a continuum of two phrases. For example, one of the prompts was really liking physical service and the other was hating physical service.  We then had the opportunity to walk around the room and see where others placed themselves. This allowed us to see how other members on the team function as individuals.
The Mid-Year Summit was a great experience and really allowed our entire department to come together. It created time for the entire team to connect and offered opportunities for growth and development. It was a great refresher before the spring season arrives and with it, more events.