Our Return to In-Person Service
As we embarked on the first Care Force in-person event in 615 days, the air was filled with much excitement and nerves! Upon landing in Chicago, we met Hugh Harlow, our Event Manager for the week, in-person for the first time. That afternoon, we hit the ground running by beginning to prepare the site where we'd spend the next week and by learning more about our service partner, Canal Shores. Canal Shores is a non-profit golf course located just north of Chicago in Evanston, IL whose mission is to provide a fun and affordable golf experience to the local community.  Hole #3 – where our event took place – is located off the Central stop on the CTA Purple Line and serves a walkway for frontline workers commuting to the adjacent hospital and fire station. The vision of this event was to transform Hole #3 into a space for community members to sit outside and enjoy nature, and to deepen Canal Shores' connections with the local community.
We were joined in service by the City Year Chicago Civic Engagement team, who helped us to prepare the site for the event and to lead volunteers on event day. During prep, Alissa was our "Paint Captain" and led the preparations of the Cabin painting project while Angelina served as our "Cut Captain" and took point on measuring, cutting and kitting wood for our construction projects. While our prep schedule can seem intense, it is critical to ensuring we and our volunteers are successful and efficient on event day.
Event day arrived in no time, and it was inspirational to see so many employees from Aramark and North Shore Hospital turn out to volunteer their time for a cause greater than themselves. Among the day's highlights were kicking off the day the with PT (Physical Training!) and having the local fire station stop by to help on some of the service projects. By the end of the day, we had built four picnic tables, two planter benches, four garden boxes, and three vertical gardens. In addition, we painted a logo mural and the entire outside of the Butler cabin and added numerous new local plants to the landscape. It was a fun event to lead, and it is our hope that the work we did will have a lasting positive impact on the Evanston community.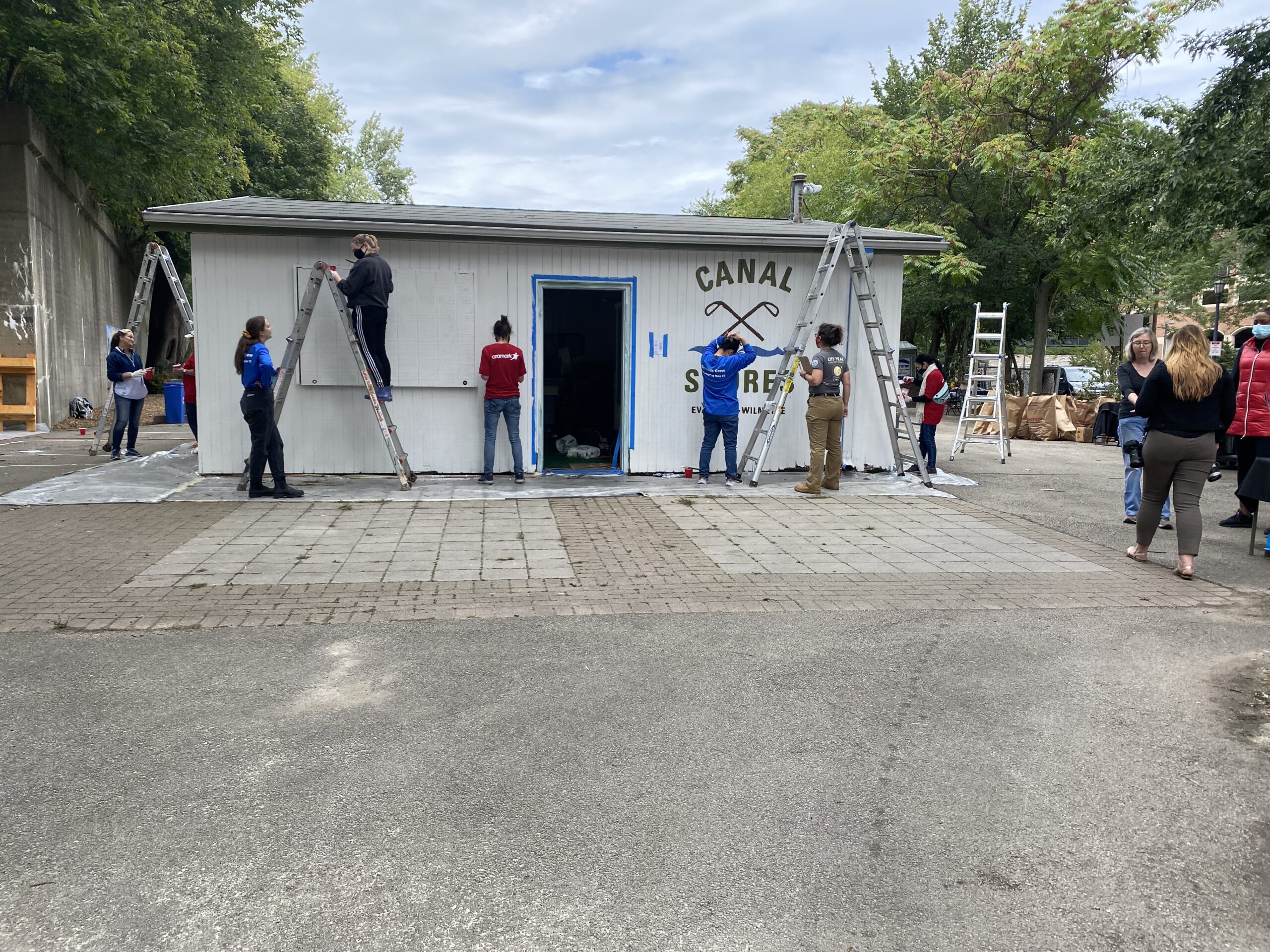 There were lots of great moments that shaped our first trip experience. Alissa's favorite part of a trip was the infectious enthusiasm of one of her volunteers – she was visibly excited to be painting and took a lot of pride in her work. Angelina's favorite moment was when a staff member from Canal Shores had the opportunity to walk around the service site and was visibly in awe of the transformation. When we returned the next day to send off Care Force 2, our supply container donated by CSX, we saw the community members who took the route through Hole #3 to work each day stopping to take pictures and to enjoy the space. The community reactions to the completed projects were a powerful reminder of why we do this work.
By the end of the week, everyone was sore and exhausted but the first in-person Care Force event since the beginning of the pandemic was a resounding success: an overgrown area was transformed into a new seating area, garden boxes, and a beautiful logo mural. While the week brought its share of challenges, we are walking away from this event with new knowledge and confidence. For future trips, we know that the work we do can be challenging but can be completed by pacing oneself, being flexible, and never being afraid to ask questions. Most importantly, we know that collaboration and mutual support is critical to our success on event day – Care Force members should always be ready to ask for help and step up to support others.