Aramark Building Community Day (Philadelphia, PA) 2019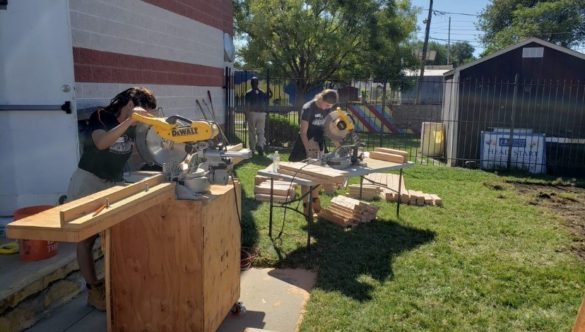 It's my second week in the Greater Philadelphia metropolis, and I'm so pumped for my second project! During our first week, my teammates Nana, Delaney, and I worked in Camden, NJ, with our event manager, Sam Sadlier, and two City Year Seattle Civic Engagement AmeriCorps Members. The first week was challenging for me because it was my first time leading a group of volunteers. It was a bit stressful not knowing what could go wrong, but it turned out better than I expected. I knew I had made some mistakes leading volunteers, which is why I was so excited for another chance to correct my mistakes and have a better plan.
In our second week in Camden, sadly, Sam left, but Ted Marquis, Vice President and Director of Care Force, had arrived! The first day, we woke up, ate breakfast, and left our hotel promptly at 8:00 A.M to go to the service site. The event was larger than the previous week, so we had more Care Force Reserves, which meant more help! We arrived at the Center for Family Services Inc and met with the facility manager, who gave us a tour of the site. During the tour, Ted explained the different projects, and I could immediately tell that this event was going to create a major transformation! Shortly after we arrived, so did Care Force 1, our 52-foot container loaded with tools donated by CSX! Mati and Lynn (from the Chicago CE team), Jordan and Alaina (from the D.C. CE team), and Delaney and I started our prep work. For anyone that likes working outside on a hot and beautiful day, you would have loved our prep experience. It was my first time being the Cut Captain and measuring and cutting all the wood for the event on the first day really built up my confidence. The next couple of days consisted of a lot of taping and tarping because volunteers were going to be painting six full rooms, a hallway, a mural, and a white board wall.
Reflecting back to the previous event, I knew I wanted to change my planning, so I set up my project the night before, leaving me more confident that I was prepared to lead my volunteers. We started the event day by picking up AmeriCorps members from the Philadelphia Civic Engagement team for some extra event day support. Once all the volunteers arrived, it was my turn to lead Physical Training, which involved giving an introduction about City Year. I was nervous and scared that I would mess up. While I made a few mistakes, my team's encouragement made me feel like I did a good job. After opening ceremony, I started explaining to my volunteers what our task would be for the day. Our goal was to paint six rooms in two different colors: one color on the top half and then a different color on the bottom half. I told the volunteers we had to cut in first, which meant painting four inches from all taped surfaces (i.e. doors, ceilings, corners). After all the cutting in was finished, we started rolling the top half color first. Our goal was to have the top color with two coats of paint finished before lunch. But my team was zooming! We finished two coats of the top half of the wall and one coat of the bottom half before lunch. All that was needed to complete my project was a final second coat; I was so happy that everything was going smoothly. The second half of the day progressed without a hitch and when the service event finally ended, everything looked transformed! The environment had changed completely, and I couldn't have been prouder of my team!
These two weeks had been such a learning experience for me; as a team we talked so much about the skills we learned and would use moving forward. I felt completely prepared for this event. Nothing went wrong, and the volunteers were so amazed at the difference the new coats of paint made. Altogether, our volunteers built community garden beds and benches, created a brand-new atmosphere, and painted murals. Additionally, the friendships I made with the CE team members were so awesome; I would love to work with them all again. After our great event, we had the best food known to mankind: The Mac N' Cheeseburger! Yup you read that right, deep fried mac n' cheese on the bottom, with more mac n' cheese and a juicy burger in the middle, topped off with more fried mac n' cheese! Nothing could get better than that. No matter what, Camden was the best learning experience so far, and I can't wait to keep learning more and more during each upcoming trip.