Care Force Alumni Spotlight: Alejandro Villafuerte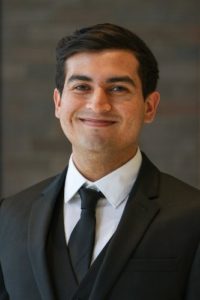 Ben and Brittany were able to do a call with Alejandro Villafuerte about his experience serving with City Year. We knew Alejandro from an event we did in the fall that he was a Care Force Reserve on, Synopsys San Jose, and it was nice to reconnect with him. We also got to talk to him about what he is up to now and how he uses his Care Force experience to further his career.
Ben: What is your favorite memory from your first AmeriCorps year?
Alejandro: "My first Corps year was in New York City, and I am not from the northeast or anywhere cold at all. It was actually my first-time seeing snow with my students. We were in Harlem, that's where we were based, and we took a Queens-bound bus to watch a play. I remember the snow falling gently for the first time and it was very idyllic, and all my students were making fun of me because I was a Southerner being enthralled by the snow. That was a genuine moment of connection between myself and my focus list students."
Brittany: What was your favorite Care Force trip and why?
Alejandro: "I would say my favorite Care Force trip was when I got to come down to Miami. This was around April and at the time I was interested in possibly pursuing development operations post-Care Force. The whole year I insisted that Molly send me to Miami because I wanted to live there someday. Thankfully I was chosen to go, and it was just a really wonderful trip. The weather was perfect. At this point we were near the end of our service year, and we felt confident and competent in what we were doing. And for the most part, prep went really well. The service day itself was great; I think we got a 92 or a 95 net promoter score for that project (A Care Force fact check revealed a score of 98+).  I was very proud about that. We also had a lot of free time in the city, without going into too much detail, it was lit; I had a great time. I was able to connect with someone working in development that year and fast forward to now I have the position that I was going for. Partially because of that trip, and that's great."
Ben: What is your current position and what do you do?
Alejandro: "I am presently the Development Operations Manager here at City Year Miami, and I would say that my work falls into three main buckets. The first one is planning and executing our signature events here. That includes our MLK day of service, the Gala, and other smaller specialty market events. The second one is general social media management. I essentially function as the brand ambassador for the site. The third one is my actual job, which is the development operations part. I manage all the databases and run our donor pipeline meetings. I essentially do all the background work so our frontline development staff can go out and raise the money that we need to function."
Brittany: What skills did you develop with TCF that you think are most relevant to your current work?
Alejandro: "To sum it up, I would say event management, along with a cluster of skills that we were able to learn as a team and cultivate throughout the year. Within that cluster I would say there is: leadership, communication, document creation, data management; that realm of stuff. All of those things are as vitally important to my job now as they were when I was a Corps member."
Ben: What piece of advice do you have for future TCF members or potential City Year AmeriCorps members?
Alejandro: "Remember to be grateful. Yes, the work can be difficult. It's challenging physically and psychologically at times but being on Team Care Force is such a unique and one-of-a-kind opportunity in that you're able to provide service nationwide. You are able to go into different communities and experience different cultures and ways of living. There is a lot of beauty in it, so try not to forget that it is a good thing that you are doing and you are helping."
Brittany: What made you want to come back to City Year?
Alejandro: "City Year's culture is what keeps bringing me back. There is a genuine sense that we are all in this together and that there are a lot of folks out there that do have your back and genuinely want to help you advance and help the organization advance so that we can do good. In summation, I would say City Year culture and those relationships."
Ben: In your continued work with CY, what CY culture piece do you strongly believe in and want to continue growing in?
Alejandro: "I am going to speak about the values for a little bit. Well one in particular. From day one of basic training academy when I was new to New York City, we were going over the values and a couple of the founding stories. One that really stuck with me to this day is the value of Ubuntu. I forget what it means exactly, but the idea that we are all interconnected and that by helping others we help ourselves and that by building others up, we build ourselves up is a really beautiful idea and one that I personally subscribe to and try to live by. The value of Ubuntu is one that I really value and something that I will continue to grow in, in terms of having it be a focal point or a way of living or moving forward in my professional career."
Brittany: What has been one of your proudest accomplishment thus far as a staff member with City Year?
Alejandro: "I joined CY Miami in early December and ended up having to plan and execute MLK day, which took place in mid-January. I had about a month and a half to plan this whole sha-bang, and I arrived in Miami that Sunday night. That Monday they were like, hey you need to start working on this event for 700 people. That was nerve-racking in many ways and to say that there were challenges would be an understatement. There were a lot of learning moments, but there was a lot of support from the City Year community across the country. We had folks from Chicago that were helping, specifically Sam Sadlier who is also a staff member on Care Force now. Truly wonderful human being; I am really grateful for her and her support. That is my proudest accomplishment: the process leading up to and including our MLK Day of Service. It was challenging, but I am very proud of the work and effort that was put into it to make it a successful event day."
Thank you Alejandro, we truly appreciate you taking time out of your day to share your experience with us. Thanks for joining us!