Preparing for life after City Year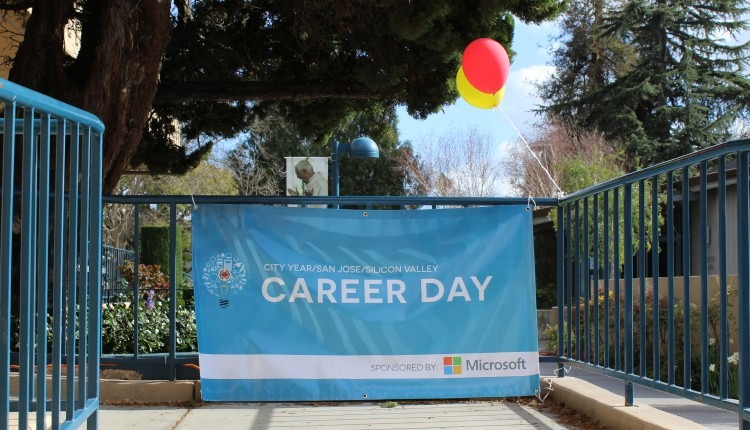 Being a City Year AmeriCorps member is not only a transformative opportunity to make a lasting impact in the lives of students and the communities we work in, it is also an exceptional chance to grow both personally and professionally. The 11 months we dedicate to our service year are as equally rewarding as they are challenging. City Year has helped me immensely to develop my professional and networking skills in various ways. Our staff is always eager to assist in any way they can with our "Life After City Year" (LACY) plans through both individual coaching and large-scale events focused on our post-service aspirations.
One such event was our Career Day and the "18-Minute Networking" session. On Career Day, we were permitted to take a day off from our trademark yellow jackets in exchange for business casual dress. I felt like Clark Kent, taking off my Superman suit for a moment and emerging from the phone booth in a tie and slacks. We kicked off the day with workshops focused on resume counseling, helping us to identify our career interests, and sharply articulating the wealth of transferable skills we gain from our City Year experience. We also were fortunate to receive direct coaching from some big-time employers in the area, including a crash course on LinkedIn provided by LinkedIn representatives and a fun seminar on interviewing given by NVIDIA. We ended the day with a session that would be my favorite part of the day, yet the one I dreaded the most: 18-minute Networking. Here's how it worked. Stations were set up based on our varying career interests; there were stations for fields like education, technology, business, psychology, etc. At each station, employees with experience in those fields volunteered to meet us and offer insight. We each chose three stations we were interested in and rotated to those stations every 18 minutes. The session was incredible; it put an exciting twist on networking for someone who gets as anxious as me at the mention of the word! The employees who volunteered were extremely helpful, and very enthusiastic to learn just as much from us about what we do at City Year. The 18-minute networking event gave us some much needed practice, but it wasn't just a rehearsal! We were able to make real connections with the volunteers and left with distinguished contacts.
Following my service year, I hope to pursue a tech career in software development. Located in the heart of Silicon Valley, City Year San José/Silicon Valley has provided me with a rare opportunity to pursue my dreams. Many of the tech companies in the area avidly support City Year and actively seek out our AmeriCorps members. We have been able to visit big tech companies like SanDisk, Microsoft, and Google—all nothing short of Disneyland to me—where our staff has always fervently introduced me to employees of each. I have explored companies, gained valuable contacts, and talked to CEOs I never may have been able to without City Year. Though it is a year of service to a cause much greater than myself, this experience has also been critical to my own personal and professional growth. We may refer to our career plans following this as "Life After City Year," however City Year endows us with an invaluable transferable skill set and a robust network that employers will treasure long after we retire our yellow jackets.