A Special Note from Our Executive Director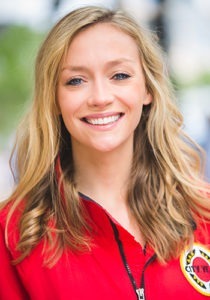 These are very uncertain times for each of us, but what we at City Year know for sure is that our belief in service and the care we have for our community will help see us through. Today we were meant to be hosting our signature Ripples of Hope event and honoring Paula Gold-Williams. As you can imagine, the decision to cancel this year's Ripples of Hope dinner was a difficult one to make, as the event raises a substantial amount of funds to support the work of our AmeriCorps members. However, the safety and well-being of the City Year San Antonio community – our AmeriCorps members, students, champions, staff members, and the broader communities we serve – is always our top priority.   
 
I've been reflecting a lot on the name of our event, "Ripples of Hope," derived from Robert F. Kennedy's 1966 speech given to the National Union of South African Students during the height of apartheid. His words have had an everlasting impact on society because the idea that many distinct acts of courage create ripples that turn into currents of justice is a powerful concept, for it tells us that our idealistic actions are not isolated, and that a cumulative effect of the work of many committed people and institutions can have a dramatic impact. As the entire world is being asked to stay apart in order to move forward together, the idea that our individual choices and the ripples they create seems more profound than ever before. 
 
We have shifted our service to support our students virtually, while also continuing to deliver learning and development opportunities for our AmeriCorps members to help prepare them for their career and ongoing educational goals. 
 
While we are disappointed to not have the chance to celebrate Paula with each of you in person, we have been uplifted to see ripples and continued generosity nonetheless. In true San Antonio fashion, after deciding to cancel the event, every event sponsor converted their sponsorship gift to a direct donation. 
 
Our AmeriCorps are struggling with the idea of potentially not seeing their students again, yet they still show up to virtually serve every day with the same energy, passion, and kindness that they bring to the schoolhouse. 
 
When the COVID pandemic subsides, its impact on the health, economy, and, especially, the education of our nation's young people will mean that City Year's work to create more equitable learning environments and develop the skills and mindsets of all children and young adults will be more important than ever. 
 
Our greatest need right now is additional financial resources to ensure we have the funds to support the work of our AmeriCorps members during this unsettling period. Please join us in honoring Paula, celebrating our AmeriCorps members and recognizing the ripples throughout our community by donating here.
Thank you for your support. We are so grateful. 
 
Kelly Hughes Burton 
Executive Director