Learn why President and CEO of CPS Energy, Paula Gold-Williams Supports City Year!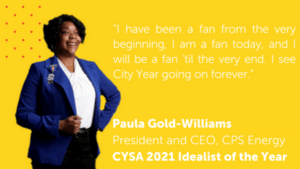 A Letter from Paula Gold-Williams, President and CEO of CPS Energy.
City Year San Antonio's 2021 Idealist of the Year
For 25 years, City Year AmeriCorps members have powerfully served the San Antonio community. They put the well-being of the students in the San Antonio Independent School District at the forefront of everything they do each and every day. I have been a fan of City Year San Antonio's work from the beginning, and I am thrilled to join in their 25th Anniversary Ripples of Hope Celebration honoring the Power of the Red Jacket.
As a graduate of Sam Houston High School, I know the critical role AmeriCorps members play in the lives of our students. The young people in the Red Jacket make a difference. Through their dedication, perseverance, and willingness to show up every day, they help our students gain confidence in themselves, grow academically, and reach their fullest potential. A City Year AmeriCorps member in their Red Jacket is a steady force San Antonio and our students are fortunate to have, particularly this year, as we all work together to navigate the effects of COVID-19.
I had the opportunity to spend time with those serving in the Red Jacket last year just before the pandemic took hold. Their passion was evident – they are eager to learn and eager to help. As different as things look a year later, the Power of the Red Jacket stands firm; worn by those who continue to make an impact and create ripples of hope for thousands of students and their families across our great city.
As a supporter of City Year's work in our schools, I am grateful to be a part of the incredible community of champions who help make service in the Red Jacket possible. I imagine each of you feel the same level of gratitude for City Year's commitment and service to our students and our city. In a year that has brought such challenge and hardship, City Year's Red Jacket is something to celebrate, so join us on Wednesday, March 3rd to do just that – celebrate. And if you're able, please consider making a financial contribution to support the work of this great organization.
I look forward to continuing to support City Year and the Power of the Red Jacket for another 25 years and hope to celebrate with you all virtually on March 3rd.
President & CEO, CPS Energy
City Year is proud to partner with CPS Energy! In 2018, CPS Energy committed to investing $200,000 which was matched by Valero Energy in order to deepen our impact on the west side of San Antonio by expanding to another school within the Lanier feeder pattern!
You can learn more about CPS Energy and all they do for the community by clicking the link
here
!
We hope to see you at our Ripples of Hope Event on Wednesday, March 3rd! To ensure the safety of all of our champions, this event will be virtual! Learn more by clicking the link
here
!