Spotlight on Lewis C. Cassidy School: A Recap of City Year Philly's Virtual Visit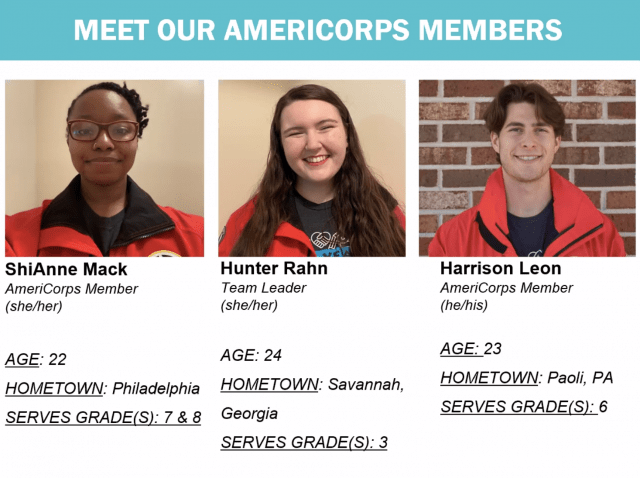 On Wednesday, May 12, members of the City Year Philadelphia (CYP) community gathered for the fourth and final virtual school visit of the 2020–2021 academic year with Lewis C. Cassidy School, a Pre-K–8 school located in the Overbrook neighborhood of West Philadelphia. Cassidy School is one of CYP's new school partners and, while unusual to establish a new partnership completely virtually, the AmeriCorps team has stepped up and gotten creative to keep students engaged remotely.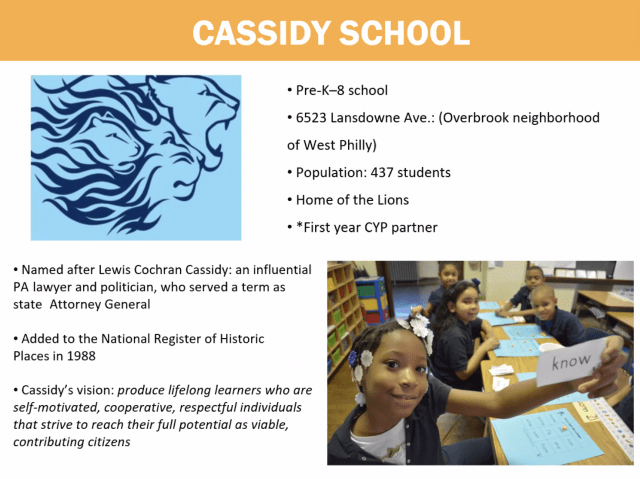 The discussion was moderated by Isaiah Gonzalez, Impact Manager at Cassidy School. Throughout his seven-year career with City Year, Isaiah has worked with several school teams in Philadelphia and New York City (specifically in the Bronx, where he grew up). He stated that he was especially impressed with the strong sense of collaboration and community present among Cassidy students, staff, and families—particularly during these challenging times.
"We've all been virtual for over a year now, so it's even more important that we stick together, focus on the connections that we've built among each other, and lean on community to collaborate and move forward so we can continue to make the school as engaging as possible for our students, faculty, and the parents," said Isaiah.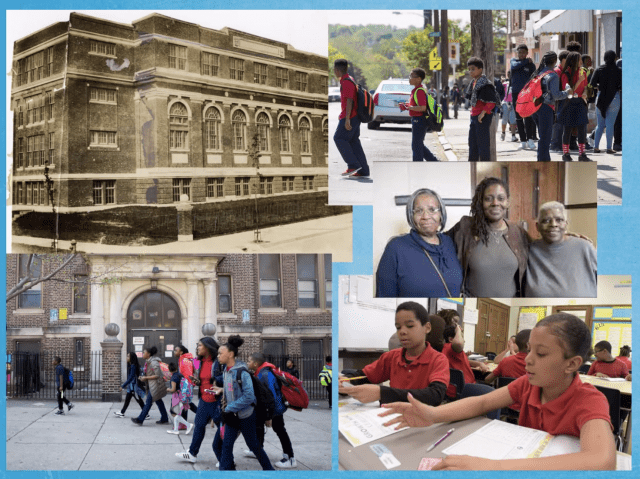 Isaiah then introduced the three AmeriCorps member panelists from the Cassidy team: ShiAnne Mack, Hunter Rahn (Team Leader), and Harrison Leon. Each Corps member began with a brief introductory statement in response to a question about their experience with virtual learning and serving with City Year, followed by an audience Q&A.
In response to the question "What drew you to serving with City Year?," ShiAnne Mack reflected on how she had always been passionate about community service throughout her time in high school and college: volunteering at her local library, participating in food and school drives, and working as a volunteer campus tour guide at Penn State. As a native of Philadelphia, she was particularly enthusiastic about the opportunity to directly give back to her local community, and found that City Year's mission resonated strongly with her personal values.
"When I decided to apply to City Year, I wondered how an organization's goals mirrored my own so well. This organization understands how inequity affects marginalized communities, this organization understands how young adults can make a difference in the lives of those around them, and this organization understands how a year of service can change someone's life for the better." -ShiAnne Mack
"This year has been a rollercoaster," admitted Hunter Rahn in answering her prompt: "What has been the biggest challenge about working virtually this year?" She spoke about how the pandemic has created new barriers for students who are already disproportionately impacted by systemic racism and inequitable access to educational opportunities—digital poverty, a lack of digital literacy, and home environments that aren't conducive to learning, to name a few examples. As a result, the AmeriCorps members have had to get particularly creative in order to engage students virtually. Throughout the year, the team has organized 17 (and counting) different initiatives designed to engage students through enrichment activities and incentives.
"Throughout the second half of the year, we broadened our efforts by reaching out to households to provide additional support through positive phone calls home and supporting parents [and students] through the technical challenges of the virtual classroom. Usually, a phone call home carries negative connotations, so we strive to highlight the positive actions of the students we call home for, which builds a sense of community between our team and our students' families." -Hunter Rahn
Lastly, Harrison Leon responded to the question "Can you talk more about a student you work with?" He shared a story about helping one of his students, Hope, gain confidence in reading aloud through small group sessions known as LLI (Leveled Literacy Intervention). At the beginning of the school year, Hope was extremely shy and reserved; she rarely spoke in class or participated in the chat, and she even once had a breakdown when struggling to read in front of her classmates. During the smaller LLI sessions, Harrison and the other students worked to actively support and encourage Hope. After initially refusing to participate, she was able to work up enough confidence to read the material out loud. This pattern continued for weeks until, one day, she came off of mute in front of the entire class and asked the teacher if she could read for everyone. [Note: This student's name has been changed for privacy reasons.]
"To illustrate how much of an impact this moment had on Hope, I'd like to share a message from her. During a teacher appreciation initiative led by one of my peers, students were given a platform to send private messages to teachers. Here is what Hope had to say: 'Mr. Leon is so nice and always reminds me how smart I am even when I have a hard time reading. He is my favorite teacher and I hope he is my teacher next year.'" -Harrison Leon
After graduating from City Year, ShiAnne, Hunter, and Harrison all plan to pursue advanced education. ShiAnne will be moving back to central Pennsylvania to start her master's degree in Public Policy at Penn State (her undergraduate alma mater). Hunter will be entering the workforce as a paralegal before returning to school to pursue a law degree. Harrison will be moving to Boston to complete a second year of service with City Year's Care Force team, where he'll be organizing community service events across the country. Afterwards, he will begin working towards his master's degree in Public Policy.
Thank you to Isaiah, ShiAnne, Hunter, Harrison, and all of our attendees for taking the time to join us for this event! Are you considering a year or service or do you know someone who is? City Year Philly is currently accepting applications for the 2021-2022 service year; to learn more and start your application, visit cityyear.org/apply-now. To learn more about CYP's other upcoming events, click here.
To watch the full recording from this event, click the video below: