Recognizing the 2021 City Year Philly Graduation Award Winners
City Year Philadelphia's 2020-2021 service year formally concluded last Friday, June 11 with a virtual Graduation ceremony. AmeriCorps members, CYP staff, partners, and families and friends gathered on Zoom to celebrate the graduating Corps and congratulate them on completing an exceptionally challenging and unusual year of mostly virtual service.
Each year at Graduation, a handful of AmeriCorps members are presented with awards in recognition of demonstrating an exceptional commitment to service. This year's awards were given to five Corps members: Alexia Nebrao, Kevin Cordova, Tanya Jain, Felisha Nation, and Sara Pasquarello.
First up, the Comcast Leadership Award was presented to Alexia Nebrao, Team Leader at Bethune School. Alexia's manager, Tim Schmidt, noted her exceptional leadership capabilities, particularly in supporting her teammates and students through the challenges of virtual schooling.
"Transitioning to virtual service was a tough challenge that Alexia embraced. She is always two steps ahead of technology issues and whenever you need a link, meeting maker, email, form, survey, etc., Alexia is ready and willing to lead others from getting lost to the internet. She has incorporated various forms of media and games to increase virtual engagement during team parties and student spaces like After-School. Without her creativity and her genuine care to connect with others, our virtual team building would look very different." – Tim Schmidt, Impact Manager at Bethune School (City Year Philadelphia Alum '17, '18)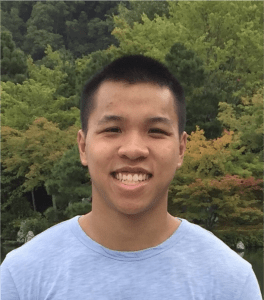 Kevin Cordova from Olney School was the recipient of the Water Village's Greatness Award. His manager, Calli Umipig, was impressed by his unwavering kindness and willingness to help others.
"As a second-year Corps member [Kevin] has been an incredible role model for the team and has set a great example of what a strong work ethic and dedication to service looks like. Kevin is always ready to volunteer his time at a moment's notice to help his team and Olney students. Regardless of the matter, he wholeheartedly offers his support. Kevin is a reliable thought partner and sounding board. From joining lunch bunches with fourth grade to hopping on phone calls, to leading teambuilders there is no such thing as a trivial task to Kevin. He treats all aspects of the work with the utmost respect." – Calli Umipig, Impact Manager at Olney School (City Year Philadelphia Alum '19, '20)
Tanya Jain, AmeriCorps member at Southwark School, was awarded the Greatness Award for the Lighthouse Village for her dedication to organizing social justice initiatives for students.
"[Tanya] is always envisioning a better world, but there is no performance in her aspirations. Tanya doesn't just talk the talk or even walk the walk—she runs the run. Tanya incorporates themes of social justice into every aspect of her service. […] She doesn't shy away from difficult conversations like so many adults and educators do out of fear of controversy. Her way of tackling complex issues in the classroom is unique, but it shouldn't be. Her tactics are in line with a long overdue type of pedagogy: one that shows students that they have a right to a better world than the one we live in, and that they are capable of shaping that world." – Sidonie Brown, AmeriCorps member at Southwark School
Felisha Nation, AmeriCorps member at Harding School, received the Greatness Award for the Ripples Village. Her fellow AmeriCorps member, Jahgod Jones, was inspired by her perseverance and positive attitude in the face of difficulty.
"I worked with Felisha as our site's Social Justice Coordinators and, unfortunately, one initiative that we had planned had a very low attendance rate. Only two students showed up. But this didn't deter Felisha one bit. She happily interacted with the two students that came and carried on with the program as planned. Thanks to her positivity and warm aura, the students thoroughly enjoyed themselves during the program and were actively engaging with the material we had prepared for them. […] I'll never forget that day, because it's when I saw the true nature of Felisha. She enjoys the work we do, cares for our students, and cares for her team." – Jahgod Jones, AmeriCorps member at Harding School
Last but not least, Sara Pasquarello was presented with the Greatness Award for the Civic Engagement (CE) Team. Jheri Grossman, former CE Program Manager, wrote that Sara demonstrated exemplary leadership skills and a cheerful spirit during this demanding year.
"CE has always been a very collaborative team, but even more so this year. Sara has managed to both step up to lead and motivate her team, while always remaining a reliable collaborator and team player. It is no secret that this year has been tough and there have been uncounted changes and curveballs thrown at CE. But through it all, Sara has remained engaged, enthusiastic, and encouraging to others. She brings joy to our team spaces, takes great care in planning, and genuinely cares for her teammates and our volunteers." – Jheri Grossman, former Civic Engagement Program Manager (City Year Tulsa Alum '16, '17)
Thank you and congratulations to all of our 2020-21 AmeriCorps members! Are you considering a year or service or do you know someone who is? City Year Philly is currently accepting applications for the 2021-22 service year! To learn more and start your application, visit cityyear.org/apply-now.