Passionate Journeys: Exploring AmeriCorps Members' Interests Outside of Service
As a City Year Philadelphia (CYP) AmeriCorps member, it's easy to get consumed in the day-to-day of service. Having hobbies and passions outside of City Year can give you the opportunity to expand your creativity and learn more about what matters to you outside of the schoolhouse.
Through my own process of figuring out my passions in life, I became curious to learn what my fellow AmeriCorps members (ACMs) are passionate about outside of service. I love being able to serve alongside such creative ACMs because it inspires me to get in touch with those parts of myself. Additionally, learning about my fellow ACMs and their passion projects has opened my eyes to appreciate how diverse and intentional the CYP community is about their interests, and how it can inspire others in a positive way.
I recently spoke with four CYP community members to learn more about their passion projects, hobbies, and even entrepreneurial ventures outside of their work with City Year. These ACMs and staff also share their insights on how others can keep that fire and be intentional with the steps they take to pursue their own passions. Read more below!
Chantell Gillette, First-Year AmeriCorps Member at Warren G. Harding Middle School
Growing up in Ewing, New Jersey, Chantell saw the systemic challenges faced by Black and Brown folks within her community. As a result, Chantell was driven to make impact by starting at the root: the youth. After much frustration and reflection, she decided to start her own nonprofit organization, None Will Fail, which focuses on changing the narrative of youth in citywide communities by providing intentional support for young people socially, emotionally, and academically.
Throughout her journey, Chantell has prided herself in seeking areas of growth, taking risks, and learning from those around her. This past Thanksgiving, None Will Fail was able to donate 25 boxes of nonperishable items to a school in Trenton, NJ. They additionally provided homemade Thanksgiving meals for 103 people in the Camden community.
Chantell provides insight on how taking that risk and facing your fears can lead to fulfillment and happiness.
"Everything that you want from life, consciously and subconsciously is on the other side of fear. Along the journey you will experience difficulty, setbacks, and days where you just want to quit, but on the other side you will also experience fulfillment, freedom, happiness, and much more simply because you took the chance on YOU!" -Chantell Gillette
In the future, Chantell hopes to expand None Will Fail by developing an after-school program that provides homework help, trade skills, STEM and financial literacy programs, and sports training—specifically, a boxing gym for students to learn self-defense and discipline.
Tomir Johnson, First-Year AmeriCorps Member at John F. Hartranft School
Growing up, Tomir was surrounded by musical family members. Therefore, it was only a matter of time before Tomir began playing the drums and guitar at eight years old and the piano at 14 years old. But it wasn't until he took part in a talent show at age 16 that he realized his true passion for performing. Tomir found himself consuming and thinking about music at all hours of the day. After going on tour with his cousin Pink Sweat$ and seeing what a career in music can be like, Tomir began to create his own songs with the goal of becoming a professional musician.
Despite the doubts that he initially faced, Tomir encourages others to not be afraid to pursue their passions.
"I say take the risk because for the longest I've always been fearful and would have a lot of self-doubt. When you think that way, you stop yourself from receiving certain opportunities and you never know the impact you could have." -Tomir Johnson
Tomir is hoping to kickstart his musical career by releasing his first song on all music streaming platforms this year.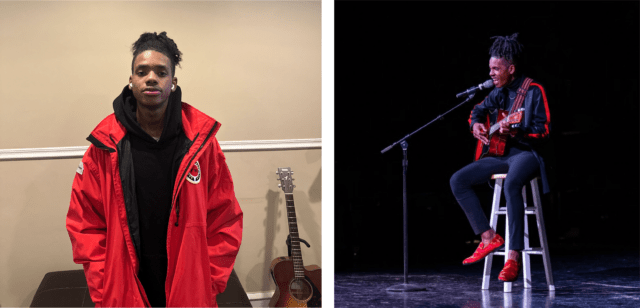 Monique Edwards (CYP alum '19, '20), Impact Manager at John F. Hartranft School
After learning that many beauty products have harmful ingredients, Monique developed an interest in creating her own products that paired well with her hair and skin. Despite first doubts she had, Monique was determined to learn everything she could about skincare and haircare to create her own line of beauty products. By saving parts of her biweekly stipend, Monique was able to obtain her LLC and launch her own e-commerce business, Mo+Ni Elements, in May 2020.
Monique encourages others to believe in themselves and to stand by their own unique abilities.
"Just because someone else has a similar passion doesn't mean that they will fulfill that passion in the same way you do. You are you, so be yourself and take the leap. There isn't a right or wrong because it is your passion so no one can tell you what that looks like." -Monique Edwards
Monique is currently working towards having her own storefront and is hoping to use her company as a platform to highlight the importance of education by awarding scholarships to high school seniors.
Tom McLoughlin, First-Year AmeriCorps Member at Lewis C. Cassidy School
Throughout his life, Tom was involved in music in various ways. However, Tom became fully invested after connecting with fellow musicians, who encouraged him to be the best that he can be. Tom found that being surrounded by others who are also passionate about music encourages him to explore this interest more intentionally.
Whenever Tom feels unmotivated or frustrated, he seeks inspiration from musicians who perform at a higher level.
"If I can't bring myself to pick up my sticks, I watch a top drum line. If I can't get into the vocal work, I listen to my favorite choirs. If I hit a stump [while] writing something, I listen to my favorite composers." -Tom McLoughlin
When realizing that music education wasn't offered at Cassidy School, Tom collaborated with his partner teacher to start a drum line to provide students with opportunities to learn about and perform music. After his service year, Tom is planning to attend a university to receive a music education degree, combining his experience with City Year and his passion for music into a career path.
Finding your passion may not happen overnight, and there might be times when the light within your passion fizzles out and self-doubt creeps in. However, discovering and investing in your passion, and finding ways to uplift your spirits throughout your journey, can make a world of a difference on not only yourself, but those who are around you. When you take the risk on yourself, growth and new experiences will come about. Whether it be facing your fears, inspiring others, or starting your own business, you deserve to say "YES" and to take that chance on yourself!
A special thank you to Chantell, Tomir, Monique, and Tom for sharing their stories with us. I hope their journeys and words of encouragement will inspire you to pursue whatever it is that you're passionate about.
Are you considering a year of service, or do you know someone who is? City Year Philly is currently hiring full-time tutors and mentors for the 2023-2024 school year. Click below to start your journey.