Making the Most of Your Corps Experience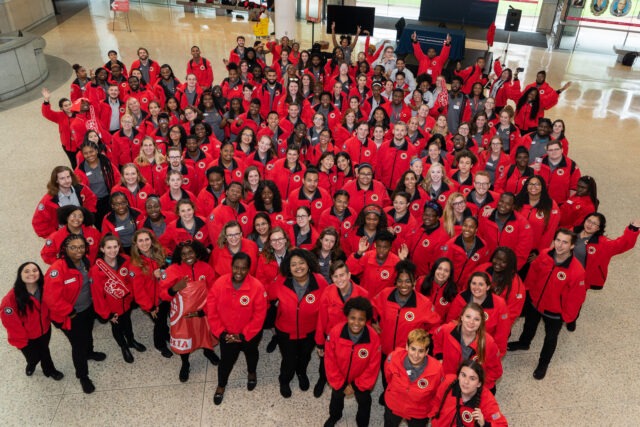 Last Monday, August 9 marked the official first day of City Year Philadelphia's 2021-22 service year with the start of our Summer Learning Institute (formerly Basic Training Academy) pre-service training. To all of our new and returning AmeriCorps members, a big welcome and thank you for dedicating a year (or more) of your lives to support Philadelphia students! We could not do this work without you, and we are incredibly grateful for your passion and commitment.
For first-year AmeriCorps members who are brand new to City Year, the experience can be equal parts exciting and daunting. Between meeting your team, learning as much as you can to prepare for your service in schools, and (for some) adjusting to life in a brand-new city, we don't blame you if you're feeling a little overwhelmed. But we're here to help!
To ease the transition, we asked members of the CYP community—including second-year AmeriCorps members, alumni, staff, and partners—to share their best pieces of advice for incoming Corps members. Below are some of their responses.
On self-care and preparing for the day:
Prioritize your rest, specifically sleep! Get lots of it during your service year.
Drink water and have a morning routine that centers you for the day!
Do not bring work home with you. Leave it at the school. You are off the clock.
Take care of yourself, because you cannot pour into others if you are empty.
Maintain a work/home life balance. Your self-care is just as important as your students.
Explore the city! Enjoy the museums! Especially if you're from out of town.
On working with your team and students:
Patience is a virtue when you're working with adults and students.
Listen openly to everyone – your team, staff, adults, and STUDENTS!
Learn to roll with the punches. Something almost always doesn't go according to plan.
Learn about the community where you will serve.
Be authentic. Know that every student is different. Your team is there for support.
Lean on your team! Mine became some of my best friends.
On personal and professional growth:
Don't stress during summer training, you will learn so much once you're in schools.
Don't hesitate to use all of the support available to you.
Have an open mind! You're going to learn and unlearn A LOT more than you expect.
Enjoy every minute of service and be open to new experiences and new people.
This may be the hardest 10 months, but you will emerge 10x stronger prepared for anything.
Network and build relationships with as many people as possible, not just your team.
I hated to hear it, but it's true – "trust the process."
Rest. Ask questions. Take risks. Speak up.
Don't be afraid to ask questions but also remember you won't know everything at first!
Lean into your service year. Challenging it will be, but the reward and growth will be worth it.
City Year Philly is currently accepting applications for our mid-year term of service! This full-time role begins in December and continues through the end of the school year in June. Learn more and apply: https://www.cityyear.org/apply-now/