Indigenous People's Day Initiative at Alexander K. McClure Elementary School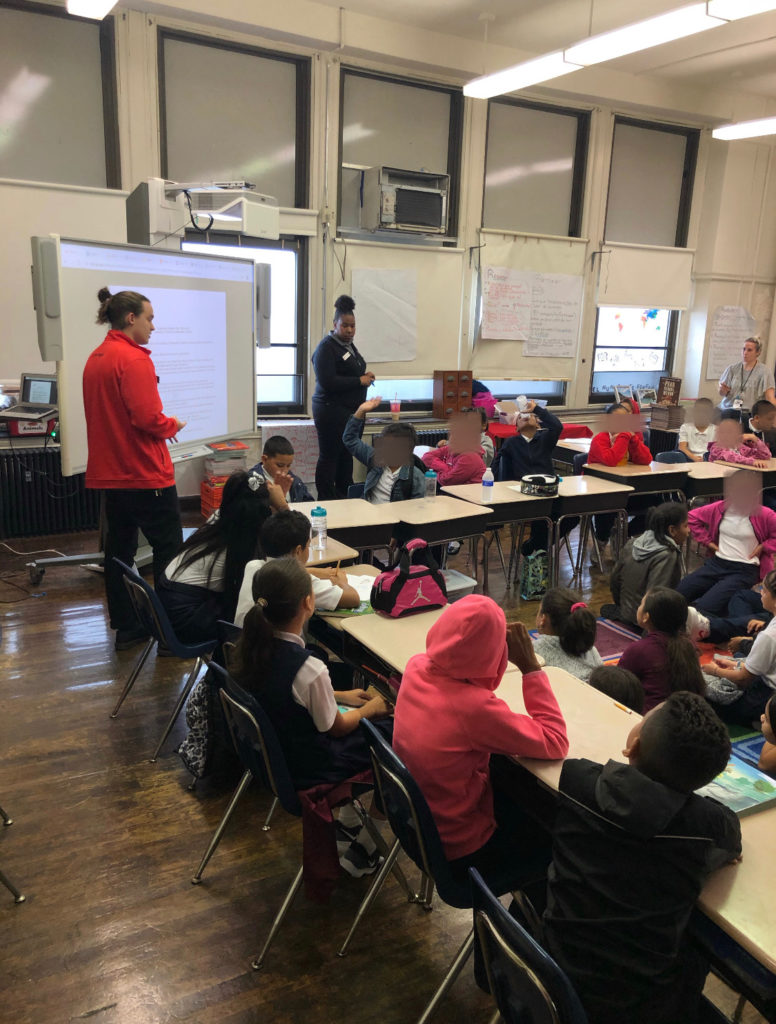 This school year, the City Year Philadelphia AmeriCorps team serving at Alexander K. McClure Elementary School saw a unique opportunity to address two significant issues surrounding Christopher Columbus Day/Indigenous People's Day.  
Throughout the United States, public schools are often required to teach curriculum that portrays a misguided story of Columbus, his journey, and his time in the Americas. Such teachings shadow the abuses committed by Columbus and the legacy of European conquest in the region. Additionally, such curricula fail to recognize the rich history of Indigenous people and their contributions in this country and beyond.  
Christopher Columbus Day/Indigenous People's Day is sometimes misinterpreted as a day off from class. In the city of Philadelphia, for instance, attendance on Christopher Columbus Day/Indigenous People's Day hovers around 60% across all schools.  
October 9-12, the City Year team at McClure Elementary designed and implemented a two-pronged approach to address these issues. I'm proud to have partnered with our Team Leader, Zachary Pennix, to co-lead the effort. This involved a three-day curriculum retelling the story of Christopher Columbus and celebrating Indigenous people alongside a week-long attendance initiative promoting Monday, October 14th as a school day.  
With the support of our principal, Sharon Marino, and teachers across the 4th and 5th grade, the initiative placed the City Year team right at the heart of the educational space. Each AmeriCorps member was tasked with spending between 30-45 minutes providing questions, videos, and assignments for students to complete. Classroom discussions were spurned by talking points intended to push students' understanding of the Indigenous experience during and after Christopher Columbus' arrival in the Americas, the meaning of indigeneity, Indigenous culture, and heritage. On the final day of the initiative, students were asked to provide an illustration or short response to convey why they value the teachings of Indigenous People's Day. Upon the arrival of the 4th and 5th-grade students on October 14th, their illustrations and responses were hung together as a mural in celebration of Indigenous People's Day.  
For Ms. Ricci, one of our team's partner teachers, the implementation of the curriculum was of tremendous value and importance to the student's education. "As educators, we can be responsible for spreading knowledge of these past events to individuals at a young age," stated Ricci. "We are responsible for helping each student form their own opinions instead of forcing them to believe the 'norm' and what's considered acceptable in our country." Through the work of City Year, "our students will forever understand why this day recognizes and honors the history and culture of Indigenous People and its impact on our nation." 
Regarding attendance, the City Year team was diligent in spreading the word about October 14th as an official day of school. Corps members, with support from our Team Leader and Impact Manager, distributed over 600 flyers to students, family members, guardians and community members over the span of the three days during each morning greeting and dismissal period.  
The impact of the initiative further solidified the City Year team's role as educators and supporters of community engagement. On October 14th, Alexander K. McClure reached 89% attendance, a significant milestone on a day where the district average hovers around 60%. Additionally, over 200 students were provided a space for thinking critically about the meaning of Columbus Day. Class discussions and assignments helped deepen the students' understanding of Columbus' role in the Americas and expanded their knowledge of Indigenous culture and people.  
As stated by Ms. Strain, McClure's Assistant Principal, "City Year's initiative was a wonderful way for the community to learn about Indigenous people. The initiative informed students of the often–untold side of Christopher Columbus Day. McClure was able to see an increase in overall attendance and students were overjoyed to come in and see the culmination of their work reflected in the City Year mural."  
Our City Year team was grateful to have provided an opportunity for students to question the meaning of a historical period and to transform how it is taught.