2019 Corps Winter Celebration
With the holiday season around the corner and 2019 ending, it's the perfect time for reflecting and looking ahead. For City Year Philadelphia (CYP) AmeriCorps members, they had the opportunity to reflect, at the mid point of the service year, during CYP's Annual Corps Winter Celebration at Philadelphia's own Blue Cross River Rink. This year the Winter Celebration fell on December 16 and served as the unofficial the midway point of the 2019-2020 service year. While the celebration is used as a time to celebrate AmeriCorps members for all they've accomplished in the year thus far and to have an excuse to eat Chickie's & Pete's goodies – we used it an opportunity to catch up with AmeriCorps members and ask them about the first half of the service year. 
"One of my most memorable so far has to be when a student drew me a picture during my first day of shadowing. She drew it for me because she said I was nice, that made me feel good about myself," says Tyrea Barnes a first-year corps member serving at Mary McLeod Bethune Elementary school. 
"My students have made so much progress already at this point in the year," Tyrea says. "They have been one of my main motivators for coming to service each day. I am looking forward to seeing the progress that they make during the second half of the year."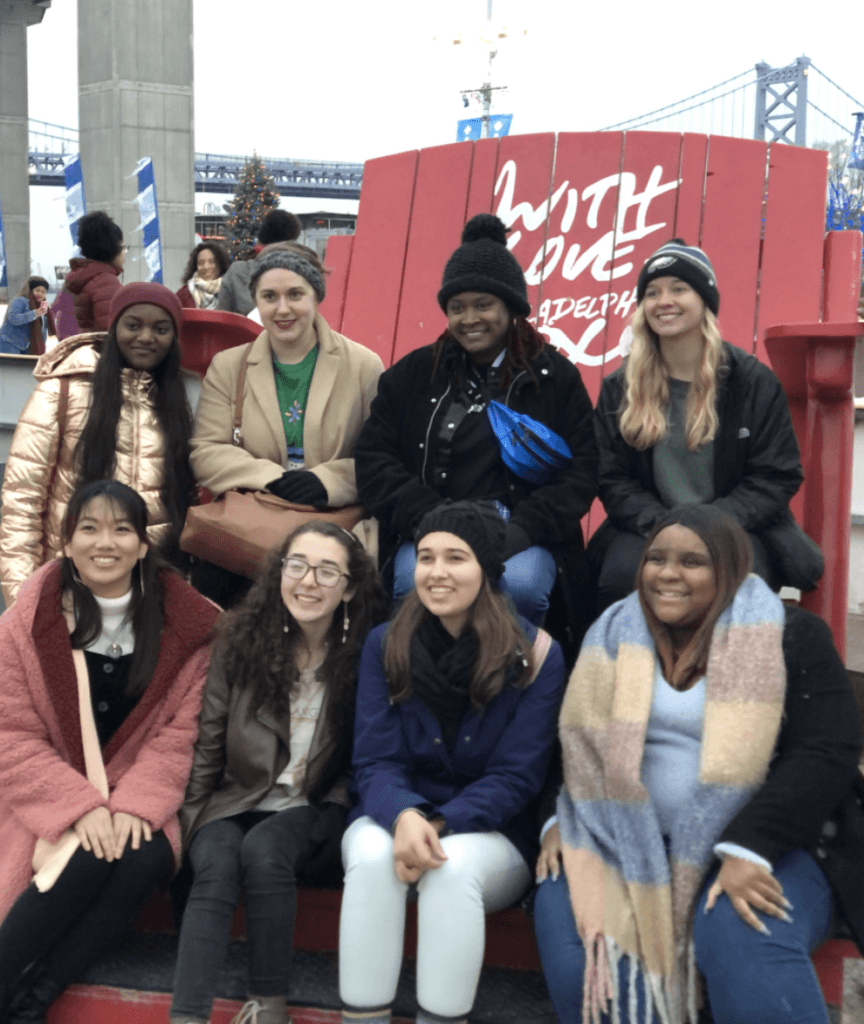 Tyrea ends by saying that she can't believe that we're already at the midpoint of the service year and that she's not ready for the year to end because there is more work that needs to get done. 
Charles Whitney, an AmeriCorps member serving 8th graders at Thurgood Marshall Elementary school, says "The first half of the service year exceeded my expectations. Coming into a new school where the students do not know who you are sounds tough. But the students had respect for us because we worked with City Year. The students lean into the support that the organization gives, and it is just our job to form a bond with them along the way. My team, on the other hand, has been great and our chemistry is phenomenal. I'm really grateful for my experience thus far." 
When asked about his most memorable moment at this point in the year Charles says, "For me, the Edfest Conference that I attended with CYP's Men of Color infinity group, has been my most memorable moment up until this point. Being around so many black male educators and having dialogue around the space that we operate in was very refreshing." 
Charles plans to apply to work with Care Force following his service year ends and applauds City Year for providing so many LACY (Leadership After City Year) and professional development opportunities. 
With our biggest service project of the year, MLK Day of Service, coming up not just at one but two schools – our AmeriCorps members are in for a very impactful second half of the year. While some were not impactful on the ice at the River Rink – it is safe to save that all our ACM's have made a big impact in the school communities during the first half of the service year.  
If you are interested in serving with City Year Philadelphia and making an impact in the community click here to apply now before our next deadline.