Q2 Partner Highlights 
City Year Philadelphia's work is made possible thanks to organizations and community partners across the city who often donate time, funding, resources, and much more in support of Philadelphia school students as well as City Year AmeriCorps members. Each quarter, we spotlight the most recent highlights of our work with partners and their support of City Year. Below is our second quarter roundup. 
Willis Towers Watson Service Day – 10/11/19 
On October 11, over 50 Willis Towers Watson employees and City Year Philadelphia AmeriCorps members took over the halls of James J. Sullivan Elementary School for a day-long beautification effort. Volunteers painted geo shapes and inspirational quotes on the third and fourth floors of the school to help enhance the learning environment for over 700 students. 
Wells Fargo Day of Caring – 10/26/19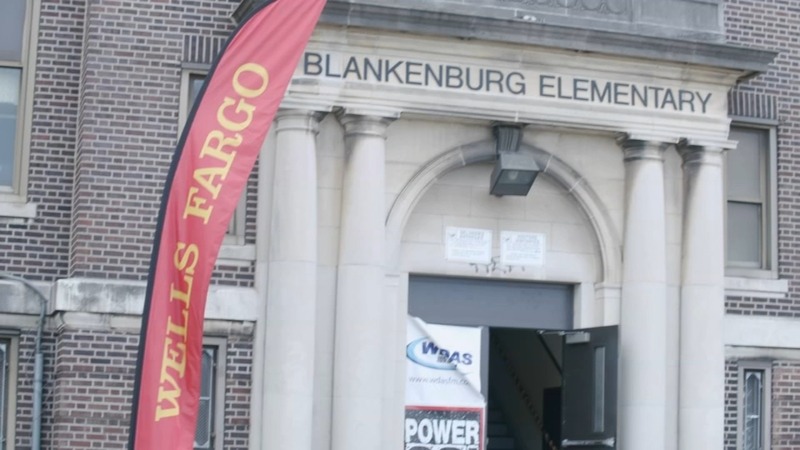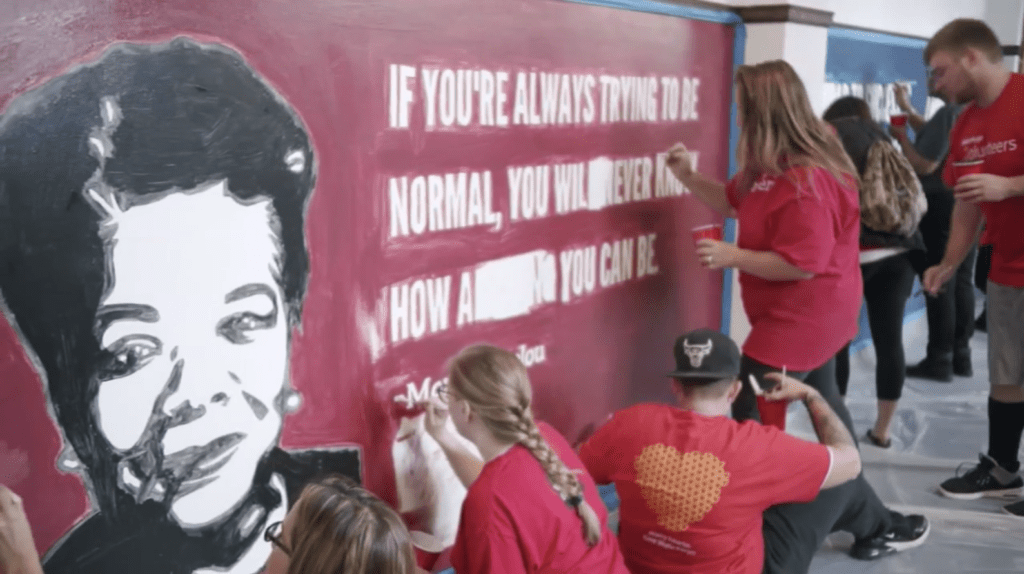 On October 26, over 200 Wells Fargo employees and City Year Philadelphia went to Blankenburg Elementary school in the name of service and giving back. Volunteers painted over 70 murals, helping to transform the hallways, the gymnasium, and the school's main office while creating mindfulness and Zen rooms for students. Wells Fargo also donated $170,000 to the school for future supplies and upkeep. 
CSX Awards Blaine a $10,000 Grant – 11/1/19 
(Photo of Panther's Den before the renovation. Renovations will be completed by Summer 2020) 
On November 1, Rodney Oglesby, Resident Vice President of Philadelphia Government Affairs at CSX, visited the City Year AmeriCorps team at James G. Blaine School. The team shared what brought them to serve with City Year, the impact they're having at Blaine, and their plans for leadership after City Year. Principal Gianeen Anyika also joined the conversation with Oglesby and the team then together, Principal Anyika and Deran Neduskin, City Year Impact Manager at James G. Blaine School, made a request in support of Blaine's new Social-Emotional Learning space, the 'Panther's Den,' along with jerseys for the school's basketball teams. This gathering led to CSX awarding the Blaine school a $10,000 grant to create a Panther's Den and to purchase sports uniforms for students.   
Scholastic Showdown – Sponsored by American Airlines – 11/7/19 
On November 7, City Year hosted its first-annual Scholastic Showdown. This young professionals event tested attendees on their knowledge of middle school studies with trivia-style teams answering questions from 1st – 5th grade curriculum in history, math, English, and geography. The winner took home a grand prize of 80,000 AAdvantage Miles sponsored by American Airlines. This event raised nearly $5,000 for City Year Philadelphia! 
Operation Brotherly Love – The Wawa Foundation – 12/22/19
On December 22, over 5,000 volunteers and families throughout the city of Philadelphia came together for Wawa's 9th annual Operation Brotherly Love Carnival held at the Liacouras Center. The event included an afternoon of gift-giving to over 2,000 children, carnival games, entertainment, food, and lots of fun. Roughly 10 families and almost 30 individuals from the Warren G. Harding Middle School and James J. Sullivan Elementary School communities were invited to attend. 
Duane Morris gives members of the Kensington Health Science Academy community gifts this holiday season 
During the holiday season, partner Duane Morris took part in supporting students of Philadelphia by providing 500 copies of the book 12 Angry Men to Kensington Health Sciences Academy (KHSA). KHSA principal, Nimet Eren suggested the book as part of the school's annual literacy initiative aimed at increasing students' reading hours during holiday break. Staff and partners at Duane Morris held a packing party in the office on December 12 to put each book into a gift bag flanked with Duane Morris and City Year stickers for each KHSA student and teacher. Principal Eren suggested the book as part of their annual Literacy initiative to increase reading hours over the holiday break. Throughout the month of January, each student advisory section held discussions on the book's themes and plot from an ethical and legal point of view. Duane Morris staff were also invited to join in the discussions.